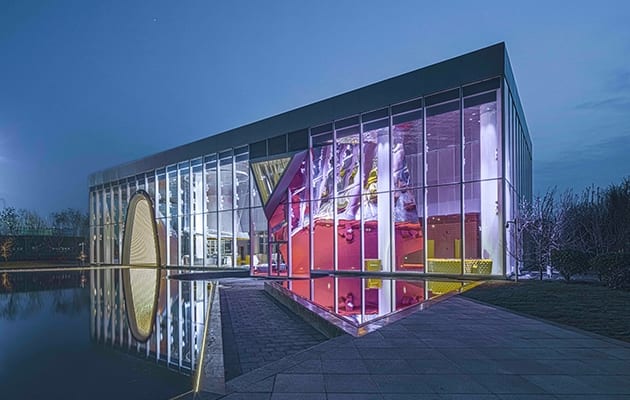 The sales office is located in the eastern Chinese city of Heze|||
Puri Lighting Design has transformed a spare modernist building into an illusionistic fantasia. Heze Guanzgzhou Road No.1, in the eastern Chinese city of Heze, is a sales office for a local real estate company.
Inspired in part by the intersecting geometric shapes of the Russian supremacist painter Vladmir Malevich, Puri's design uses a combination of 'warm yellow' and 'full-colour' to create a dream-like tableaux.
The interior contains numerous contrasting surfaces. Photo: Ligang Huang
The office is entered through a portal itself surrounded by dozens of light bulbs. Inside, trios of lamps are arranged along vertical rails at different angles, to allow for an ambition of ambient and accent lighting. Interior design features, such as the red carpet of the negotiation area, become magnified and emphasised by their illumination.
The building's glass walls allow for the lights within to be visible day and night, and a surrounding pool of water mirrors the lights to a mirage-like effect. The designers have used the reflective qualities of stainless steel to reflect light outside, preventing a dazzle effect.
The building serves as an office for a developer. Photo: Ligang Huang
Serving as something of a showpiece for the Puri Lighting — "Here Guangzhou Road No.1," the firm writes, "has been destined to start an attempt and exploration of actuating the light potential which starts from vision but goes beyond vision" — the building has already won several awards. These include Best Use of Light at the 2020 Frame Awards and the prize for Environment Lighting at the LIT Awards 2019.
The illuminations spotlight the colours of the building's interior fixtures. Photo: Ligang Huang
Since its establishment in 2010 by the lighting designer Hu Fang, the Beijing-based Puri Lighting has blazed a trial across China's architectural landscape. Fusing research and experiment, it has lit a panoply of buildings and interiors across the country. Recent projects include curving strips of white light for the Zhongzun Time Square development in Chongqing, and golden highlights for the Luneng Jinshitan Hilton in Dalian.
The Beijing-based lightning designers has transformed a lakeside office building into a riot of illuminations