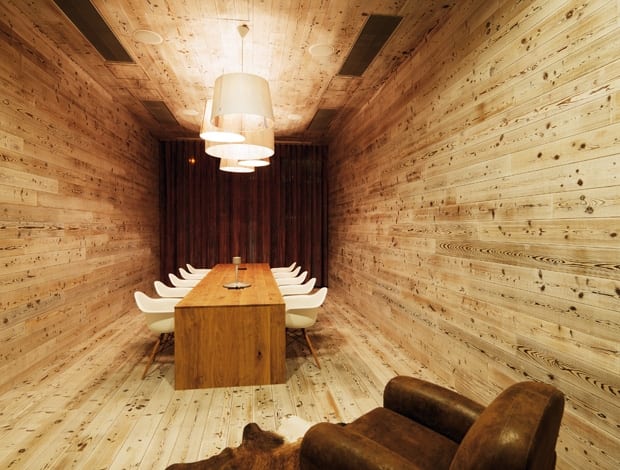 Microsoft Vienna's tech-inspired interiors|The aquatic Flow room, one of the building's 23 themed meeting rooms|An image of an X-rayed Microsoft laptop backs the reception wall|The ubiquitous slide: "It even allows you to stand up gracefully at the end"||
Four years ago, Microsoft unveiled a pioneering Sevil Peach design for its Netherlands office, inspired by the emerging concept of "activity-based working". In the service of promoting social interaction and collaboration, the Schipol scheme got rid of all desks, going far beyond the established notion of hot-desking to "not-desking". Employees were encouraged to work wherever they wanted, whether that was at home or in the office.
Then, last year, Microsoft's Vienna headquarters unveiled its own activity-based workplace design, by Austrian architecture firm Innocad. This time, the desks are back. About 200 of Vienna's 340 staff can sit at a desk at any one time, with 65 desks specifically assigned to particular workers. "One lesson from the Schiphol project was that we should respect people who really need their assigned desks – such as in the human resources and finance departments," says Paul Zawilensky, who is responsible for managing Microsoft's real estate at the Vienna site. "Desk-sharing is not always the antidote to the old-fashioned way of working."
Another lesson from Schiphol was in the design of the open areas or breakout spaces. In contemporary offices, attractive breakout spaces can be left largely unused, a problem that Martin Lesjak, Innocad CEO and the lead architect on the project, observed in the Netherlands. "Schiphol didn't really work that well, particularly in that the open communication areas are rarely used. That office has helped us get our design right," he says. After looking at feedback from Schiphol, he opted to concentrate the so-called "open communication areas" in the centre of the building instead of dotting them around. "People are more able to bump into each other, so these spaces get used a lot more," he says.
Microsoft Vienna's H-shaped, three-storey building, sited in an unremarkable business park, inspired the architects to create a wide variety spaces for people to work in according to their changing moods and needs. "The 'H' is a good shape to work with as it makes it easy to create differentiated spaces," says Lesjak. Inside, Innocad reconfigured all the walls and pierced holes through floors and ceilings to create lounges, hidey-holes, green walls and 60 variously sized rooms including 23 striking, themed meeting rooms. There are also "focus rooms" that seat up to four people, and phone booths if you need peace and quiet when making a call.
"These rooms help give staff back a sense of ownership and individuality that not having your own desk can take away from you," says Lesjak. "They may not have pictures of their families but they do have their favourite room, which helps them to express their sense of identity."
The rooms do offer a wide variety of atmospheres, from the intimate and womb-like larch-panelled Nature room, through the blue and watery-looking Flow room and the Japanese-themed Sapen room, which features low seating and an exciting forest of Anglepoise lamps. Staff were closely involved in the office design, with two workers from every department consulting on the interiors project, which can only have increased their sense of control over the workplace environment.
However, some elements of the project could only have been devised by designers: behind the glossy white bespoke reception desk glows a giant backlit image of the inner workings of a Microsoft laptop. "We actually took the computer to a hospital radiologist to have it X-rayed, which was fun," says Lesjak. It offers a clue to Innocad's inspiration for the office's textural and visual palette, which was based on the features of a computer. White furnishings and floorings denote the "open communication areas" in which staff can wander, bump into each other, or recline, sit, perch or stand for an impromptu meeting. Data stream – or USB cabling – has its representation in the transit areas, which are carpeted in whooshy, striped vinyl flooring.
Instantly recalling Google's office design at its Zurich headquarters is another "horizontal movement line" – otherwise known as a slide. If you are struggling to imagine busy executives ruffling their dignity on an adult-sized playground toy, Lesjak will put you right: "It is actually a very common sight to see a manager in a suit, mobile phone to his ear, sliding down to the lounge – and the slide even allows you to stand up gracefully at the end. It is a great symbol of the dynamic movement that Microsoft wanted to create."
Innocad's brief was also to showcase Microsoft's latest technology in the design. So the company's software controls the climate in the office and each meeting room features 360-degree cameras for virtual meetings, as well as its own Outlook address for bookings. The wayfinding system uses plasma screens to direct visitors to the many events that Microsoft hosts there.
The building has welcomed an impressive 5,000 visitors since October last year – just to view the office design – as part of Microsoft's New World of Work guided tours. "Companies are very interested in learning more about the office and how it works," says Lesjak, who claims that "every big company in Austria" has visited.
But more than its visitors, the real test of success for Innocad's design is in what the staff think. In a survey, Microsoft found that the new office has boosted employee satisfaction with their workplace by 30%, whether they chose to actually work in the building – or out.