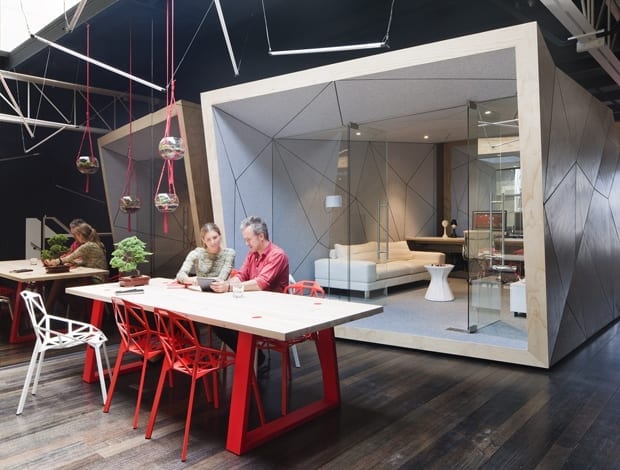 Ply-clad pods inspired by a camera barrel|Red detailing picks up on Compulsive Production's corporate colour|The pods contain acoustic finishes to dampen sound while they remain visually connected|The design reflects a sci-fi and film noir aesthetic|||
Australian film studio Compulsive Productions gets a makeover by Matt Gibson Architecture + Design so that its space can incorporate co-working with other creative businesses.
Melbourne-based film production studio Compulsive Productions has worked with Matt Gibson Architecture + Design to update its premises and introduce third-party co-working spaces.
The brief was to design a hybrid private and public work and event space, including a studio, gallery and events area with the flexibility to house different workplace arrangements. The company wanted it to be more than a shared office space; it wanted to create a community and a network of mutually supportive businesses that would engender a cross-pollination of ideas.
Another key requirement was to introduce a state-of-the-art, film editing suite for the primary business that could potentially be hired to third parties.
Inspired by the geometry of its client's tool of trade, the team created a series of open-ended ply-clad pods, inspired by the camera barrel. They are acoustically lined, but allow visual permeability and connectivity and avoid 'cabin fever' which the company says is a common symptom of traditional edit suites. The structures are colour graded to control natural light and transform dark spaces so they can be used for production reviews.
A tight budget meant that major changes were unfeasible; however, the rest of the space is finished in various shades of black paint or bronzed mirror to recess and camouflage existing elements, and draw attention to the newer and more sophisticated elements.
Practice founder Matt Gibson explains that the fit-out aligns with sci-fi and film-noir genres, by creating tension between light and dark, and old and new. The company name isn't featured inside the building, but its corporate colour, red, is subtly woven through details of the interior, furniture and neon artwork.
"The futuristic pods – finely detailed, high-tech and enclosed – play off the seemingly vast and infinite exposed nature of the existing warehouse where surfaces are left rudimentary, old and industrial, allowing a relaxedness and the ability to personalise these leftover spaces," says Gibson.
To accommodate stage sets and night-time events, Gibson says the space can be transformed with lighting and dark reflective surfaces to be both sumptuous and mysterious.
The building now contains facilities for the owner and his staff in one pod, space for a sub-tenant in another, and a feature-editing space for dry hire, as well as a series of hot desks run alongside to cater for short or medium term renters.
The Australian Bureau of Statistics has estimated that by 2020, around 40% of the national workforce will be made up of freelancers, temps and independent contractors.
"The macro-sustainability of this design is to embrace this paradigm and be at the forefront, creating something unique in the industry,' says Gibson.