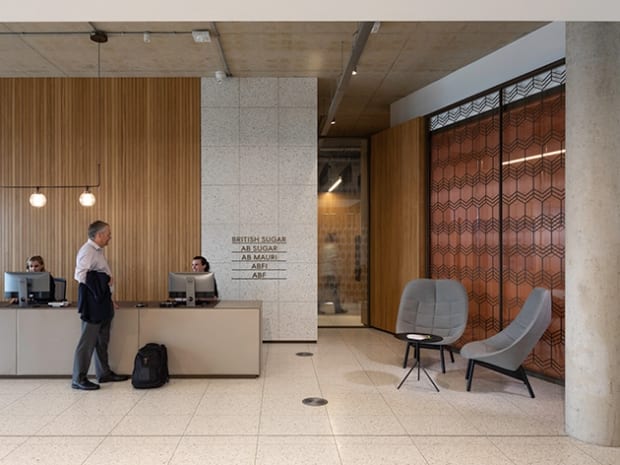 Located in Peterborough, British Sugar's HQ acts as a central hub for the homegrown sugar producers four beet processing plants in the East of England, alongside its associated businesses.
For its employers, the business envisaged a workspace with four pillar – collaboration, integration, flexibility and wellness – and CPMG Architects were brought on board to create a dynamic new office design. The underlying principle was that it had to be the complete opposite of its former office environment – a rather uninspiring workspace, and it was clear the client was prepared to think outside of the box and invest a design concept.
An atrium sits at the heart of the building, and the majority of the facilities are situated in relation to this space. Breakout and communal working areas are located closer to the atrium, while the social working areas were located on the ground floor, along with a restaurant, a separate coffee bar and meeting rooms. 

A central atrium that's visible from all floors helps to contribute to the idea of transparency. 
While the exterior of the building is sleek and contemporary, with a striking silhouette created by external solar tracking glass fins which move to control the sunlight, changing the building's appearance to change throughout the day, the interiors, created with interior designers Morey Smith, are warm and earthy. 
Organic materials such as wood and stone bring a comfortability to concrete and metal textures, and ground the building for a business that primarily operates in agriculture. 

Solar tracking fins move throughout the day to offer relief from direct sunlight through large glazed windows, without requiring blinds that dull the employees' connection to outdoor spaces.

The office is a mixture of formal desking areas, meeting rooms, telephone booths and a large amount of flexible space, spread across different spaces. Each floor has a balance of closed and open workspaces with 'light' and 'dark' areas to suit all work activity, alongside 320 fixed desk positions.
The architecture of the space also plays around with a figurative and literal sense of transparency – from large sliding doors which help to connect interior and exterior spaces to the open staircase which acts as a unifying element. Partial screens are used throughout the space to help zone areas for different functions, yet allowing the space to feel open and unrestrained, encouraging physical interaction between staff members of all levels at every opportunity. 
This geometric motif, recalling hexagonal sucrose molecule diagrams, is a recurring theme throughout the space. 
To foster a sense of wellbeing, windows on upper floors can be opened, and fresh air is also provided through a displacement ventilation system. Shower and changing facilities have been factored into the design, along with a multipurpose room with timber floors which can be used for exercise classes. 
With an existing belt of trees nearby, landscaping has been employed to make for an inspiring green area, which can also be used for outdoor working, socialising and exercise.