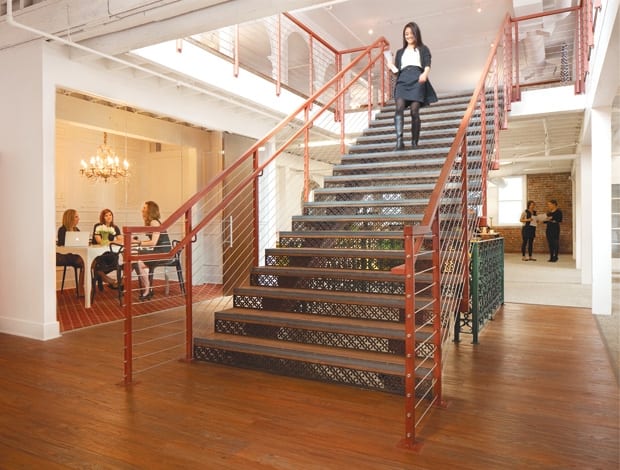 Meeting alcoves border the newly installed staircase|Feminine charms: the reception and conference room|School desks were custom powder coated in a yellow hue used for BMW's|Oak floors feature in the high-traffic areas. The furniture is by US firm Poppin|The executive spaces, where desks sit atop pink rugs, separated by curtains|Elaborate archways from a salvage company mark out the boardroom area|Decorative architectural mouldings create the feel of a Parisian apartment|Designer Josef Medellin painted the mural behind the mantelpiece||
Hoping to channel the ambience of a cosy Parisian loft apartment, interior designer Josef Medellin approached the San Francisco office of marketing agency Grow as if it were a luxury home rather than a company headquarters.
Grow Marketing's San Francisco office is unashamedly domestic – girly, even – from its decorative architectural mouldings and eclectic antique furniture to its ornaments, chandeliers and use of pink, and refreshingly bears no resemblance to the raw, industrial aesthetic that has become par for the course in Silicon Valley.
"It was definitely a battle, going against what people think a business environment should be," says Medellin of the project. "Architects seemed to want us to do things the way they're typically done."
"We definitely did not do this in the usual way," continues Gabrey Means, co-founder of Grow, who worked closely with Medellin on the interior design (he also designed Gabrey's home). "We build brand experiences for huge brands like Google and Gap and we're all about the details, so we couldn't do anything else. This is our calling card, and when our clients come in, they see exactly what we stand for."
Situated in trendy Jackson Square, one of the city's oldest historic districts, the four-storey brick and timber building was built in 1911, and, back in the day, was a saloon bar with a hotel and upstairs brothel. It had since been a hotel under various names, but when Grow arrived – taking over floors three and four – it had already been stripped back to its shell.
Striving to fit the loft apartment brief, Medellin first retained and spruced up the existing architectural features including the brick walls, painted timber rafters and original ironwork, with newly added iron details painted the same warm pinky-copper tone.
"We spend so much time here that we wanted it to be as warm and inspiring as our homes"
The biggest structural intervention was a new central staircase joining the two floors, which were previously linked only by a small stairwell at the rear. "There were things on our wishlist that, of course, got cut out along the way, but this [staircase] we knew we had to have," says Medellin.
"It connects the office, it brings in light, but it's also about the drama. It has impact as soon as you step into the office." The designer then worked with the architects on planning the interior to circulate around this new core.
Entering on the third floor, visitors arrive at a reception lounge that wouldn't look out of place in House and Garden, with plump pink and white armchairs, soft grey carpet and antique sculptures. Next door is a more contemporary conference room with a glass boardroom table and white Gigi swivel chairs from Knoll, visually linked to the rest of the scheme through its vintage chandeliers and ornaments.
Scattered liberally around the third floor are meeting areas of all shapes and sizes, treated individually as 'artistic vignettes', each with their own look, feel and name. "While the space is open and collaborative, Joseph also carved out all these nooks and crannies, where people can have their quiet space, or do team work or a conference call," says Means.
The Nest is enclosed by French windows, features a wall mural of a leafy forest, and is decorated with high-backed Louis XIV and Louis XV-style chairs upholstered in black or tiger-print velvet. Crimson has more modern furniture with suitably ornate form, such as Kartell's Masters chairs and a white acrylic baroque-inspired table, and architectural mouldings that add a domestic feel.
Whereas busy circulation areas have rich oak floors, each meeting space – also including Peacock, The Parlour and The Grove – has a different style of carpet (all by Milliken), giving each its own flavour. According to Means, there is the same attention to detail as there would be in a home, with no cookie-cutter repetition of furniture or carpets, so the team can feel comfortable and inspired.
"We always said our office should be like our home, because we came from the corporate world, and realised we spend so much time here that we wanted it to be as warm, inspiring and chic as our homes." The boundaries are so blurred that many
of Means' own personal possessions can be found atop shelves and mantelpieces.
Behind the stairs sits the first bank of desks, but of course, this is no standard office kit. Medellin sourced the retro-looking desks from a school supplier and had them powder-coated BMW yellow at a car body shop. Further workspace has more standard office desks, but with cabinets and task chairs (all from Poppin) in a similar zesty tone.
The fourth floor is dedicated to executive offices for the founders, plus more meeting areas. One particular conference room is home to Medellin's prize find – ornamental rococo-style archways reclaimed from an apartment belonging to the Getty family, no less, found at an architectural salvage suppliers.
"Any time we could bring in something with character or age, or put our spin on something, that was our go-to approach," explains Medellin. "Whenever I can, I make, or fix, or customise, or salvage. Then the rest we'll buy new."
Another unique discovery, an art nouveau railing sourced from Argentina, was also incorporated into scheme to tie in with original decorative ironwork on the windows. This is echoed by the stair risers, which Medellin had laser-cut with a similarly intricate pattern.
The executive offices – occupied by Means, her fellow co-founder Cassie Hughes and MD Tami Anderson – exist on islands of pink rugs, with white desks, more Louis XV-style chairs and chandeliers, with herringbone-patterned black and white curtains separating the space and providing a much-needed graphical contrast.
This is mirrored in another highly styled spot, where a pure white mantelpiece (another gem found at the same architectural salvage yard as the arches) is framed by architectural mouldings, vintage rococo-style sconces and fluffy pink dining chairs, but given an injection of cool by a black and white mural, hand-painted by Medellin himself.
"[Grow] has the same needs as a traditional business, so the challenge is how to make it interesting," says Medellin. "If you look at every piece in an artistic way and make it mean something or say something, that's how you get this impact.
"In the short time we've been here, the energy of the team has totally changed and the business has grown, and I think it all comes back to this space."