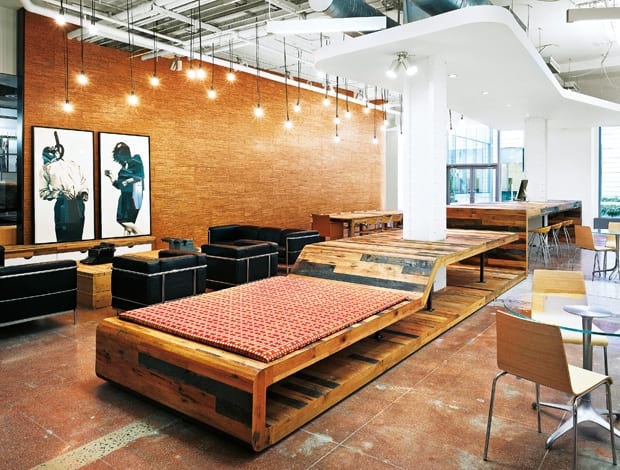 This multi-functional centrepiece was constructed from reclaimed wood. Le Corbusier chairs line a cork wall, while light bulbs dangle above|Staff at Grey Group went from cellular offices to an open-plan environment in one fell swoop|Known as the Town Hall, this space doubles as a meeting place and presentation area|Large red terrazzo floor tiles meet terracotta mosaics|Studios Architecture cut a hole above the reception to reveal the original floor|Meeting rooms cantilever over a presentation space|A towering glass curtain wall floods the office spaces with sunlight|Built in 1909, 200 Fifth Avenue has a commanding street presence|The lower floors have been terraced to bring light into the building||
New York advertising agency Grey Group gets streetwise with a cool fit-out by Studios Architecture
in a landmark 20th-century building 20th-century building by Studios Architecture
Madison Avenue will forever be associated with New York's advertising giants thanks to the stylish television show Mad Men, in which wily intemperates pitch ideas and pick up bullet-bra'd women. Although not quite on the legendary patch itself, a 45-year tenure of a high-rise on 3rd Avenue ensured global advertising and marketing agency Grey Group was nevertheless plugged into the epicentre of this industry.
Recent times have augured a migration from these traditional hunting grounds to the more earthy soil of downtown, and Grey was keen to follow suit.
The old HQ, while still a prestigious building, had failed to move with the times. Grey's 1200 staff were cubbyholed and stacked in a variety of individual offices over numerous floors detached from the city's pulse. So when the lease came up for renewal, Grey determined to climb down from its tower and mix it up at street level, revitalising its brand.
The company picked out a former toy centre at 200 Fifth Avenue in the Flatiron District. An early 20th-century erection, the building had recently benefited from a modernising overhaul by Studios Architecture's New York office. Studios' CEO Todd DeGarmo worked with developer David W Levinson to breathe life into the structure.
Originally a U-shape, the first thing DeGarmo did was close the gap with three levels of floorspace to form a continuous circuit.
"Even though the facade is historic, they weren't shunning modernity"
The white terracotta courtyard was chockablock full of machines that were previously used to power a ground-floor retail space. By ripping these out, Studios restored the courtyard to its past grandeur, completing the masterclass with a 15-storey glass curtain wall on the inner east wall to flood the office space with sunlight. It was around this time the building caught the attention of Grey Group.
"They wanted to move from a legacy type space into something that was much more focused on the future," explains Tom Krizmanic, the project architect charged with designing Grey's offices. "With this building they were able to take the lower floors and get closer to the beat on the street."
Constructed in 1909, the building featured many design peculiarities so attractive to 21st-century tenants. High ceilings, plenty of large windows and natural light exploded the irony of decamping to a 100-year-old building in search of modernity.
"Even though the facade is historic, they weren't shunning modernity," says Krizmanic.
The old campaigner's structural stoicism presented Studios with a particular set of design quandaries. Understandably, the beautiful terrazzo floor tiles were not laid with a view to channelling electrical cables to laptops. The result is a series of linear arteries/scars that burrow across the floor plate. "We ended up with this patchwork of old floor and new technology. It was saving the old things and putting our stamp on it."
This careful juxtaposition of old and new proved to be a recurring element throughout the project.
Studios and Grey determined the layout should avoid repeating motifs, which often attempt to bludgeon staff into a corporate affiliation, in favour of a more eclectic space.
"We didn't really zone it," says Krizmanic. "Y'know this is private workspace, this is where you have collaborative workspace. It made a richer experience to just mix it up."
Instead, Grey's workforce can arrange furniture to fit their needs and there are numerous areas to meet and powwow. In the previous office, staff and potential clients would rock up, disappear into their prospective meeting room and/or office, do their thing and push off come day's end.
Krizmanic decided on an open-plan dynamic to "blow this open." And blow it open they did, but not just for Grey's staff. Studios sought to immerse visiting clients in the "Grey experience" (which, contrary to wording, is not a John Major-themed amusement park) leading them on a journey through the company.
"I've spoken to 10 to 12 people who say, 'I cannot remember what it was like to have an office, and I wouldn't want one as I wouldn't see anybody'"
"A large part of their business is to pitch to clients, so we imagined what it was going to be like for potential and existing clients to walk through the space," says Krizmanic.
Entering the bright ground-floor lobby, clients are met at a curved reception desk contructed from reclaimed wood from a barn in Ohio. Underfoot is a Romanesque terracotta tiled floor, while above, Studios has punched a trapezoid-shaped hole into the ceiling to reveal more of the tiling – "a porthole into the past" as Krizmanic describes it. Strolling across the central courtyard shows off a full-height glass curtain wall before plunging the visitor into the creative hubbub.
"You are making eye contact with the people you'll be working with. Potential clients are in the thick of it, the creative flow of ideas. Grey can choreograph how it wants you to see its people," says Krizmanic. Clients then move through to a large breakout space dubbed the Town Hall before ascending a new staircase to the conference rooms.
The Town Hall is both a presentation area and communal space. Obscured by a rolling wooden partition is a large conference room for internal meetings, training or shindigs, while more private spaces cantilever above.
Staff are encouraged to pin ideas on a cork-wrapped wall, and terrazzo tiles meet a new concrete floor in a further collusion between old and new. Collaborative working and advertising go hand-in-hand so particular attention was given to what Krizmanic terms the "flop-down space".
Grounded by a lengthy and rather steadfast wooden bench, staff can perch and plug in a laptop or get together and kick around ideas. At the structure's far end is a breakfast bar-style area where visiting Grey employees can hotdesk for the odd week. Le Corbusier chairs are arranged along another cork wall and light bulbs dangle above in a playful symbol of ideas.
Elsewhere, Grey's creative director, expressing a need for "something weird", hauled his old bed into a meeting lounge, trumping shop-worn cliches such as putting greens and foosball tables.
Studios worked hard with Grey to strike the right balance of old-timey authenticity and modern additions, and at times the client and designer were policing each other. As Krizmanic puts it, "They wanted to make sure we weren't building too much and we wanted to make sure they weren't trying to save too much".
The upshot of this ideological tug of war is a beautiful and challenging workspace that threw down the gauntlet to Grey's staff. Entrenched for years in individual spaces, the transition to an ever-evolving open-plan space was made disarmingly straightforward by design that was well thought out and executed.
"I've spoken to 10 to 12 people who say, 'I cannot remember what it was like to have an office, and I wouldn't want one as I wouldn't see anybody'," adds Krizmanic. "So many of Grey's employees bring their friends over saying, 'Come see where I work'". Unquestionably, a true measure of success.