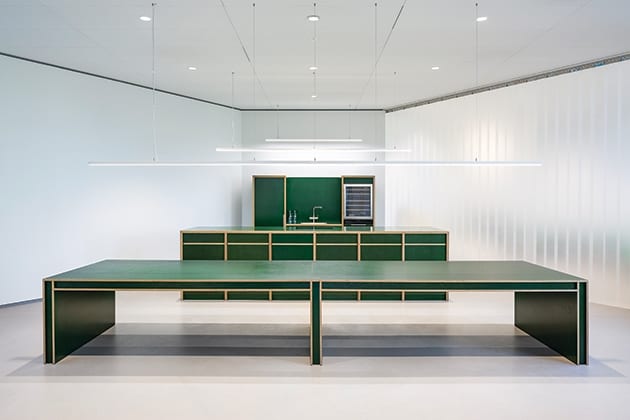 |||
Colour can have a profound psychological effect on a person's mood, emotion and productivity. So much so, that an employee's efficiency may increase in a workplace filled with a delightful and well-chosen display of hues.
For Amsterdam-based architecture studio Space Encounters, green was its colour of choice for a dashing interior project within the city's Tripolis office building, designed in the 1990s by Dutch architect Aldo van Eyck, one of the most influential protagonists of the structuralist movement. The 576sq m workspace, for property developer client Flow Real Estate, already comes with great character. Thus, with local fit-out studio Roord Binnenbouw at hand, the team had the benefit of working with a striking interior as its backdrop – featuring cross-shaped towers, a connecting patio and lower, tent-like structures – but had to work without changing the existing structure.
Stijn de Weerd, founding partner and architect at Space Encounters, explains how Flow Real Estate approached the studio with a brief that went something like: "We don't have a clue what to do with all this space, can you make us something crazy?" Although questionably 'crazy', the resulting space is a serene and pleasant place to be in – achieved through its use of colour and spatial qualities.
Entering the office, you're instantly greeted with the entrance tunnel. De Weerd describes this feature as a 'mental reset' that draws the visitor in, framing the space as a gateway filled with vibrant tones of colour and light. After passing through this, the visitor weaves through a transparent curtain before arriving in the workspace area.
This expanse is formed of meeting rooms, multiple desk spaces and a round conference table, all furnished with the Space Encounters Boring Collection — an affordable office furniture series that launched at Milan's Salone del Mobile in 2016 in collaboration with Lensvelt contract furniture.
An entrance tunnel frames the space as a gateway filled with vibrant tones of colour and light
Adjacent to this is the event space, defined by a striking van Eyck-esque beam and column structure. The kitchen is located in the final segment of the layout and fits harmoniously with the hexagonal space it inhabits. The composition, featuring a symmetrical space with green film-faced plywood units, serves as a contrast to the rest of the office. But most importantly, a lavish splash of green, used in abundance, is paired with a mix of complementary colours that lighten the atmosphere. For de Weerd and his team, green adds a 'sense of calm' to the workplace. "We are never a fan of big contrasts or shouting colours on the work floor; there's so much distraction in our lives already," he explains.
Green has a characteristically strong sense of emotional psychology – as Angela Wright explains in The Beginner's Guide to Colour Psychology, green "strikes the eye in such a way as to require no adjustment what- ever and is, therefore, restful".
Commenting on the project's use of the colour, de Weerd states: "Green is more of a backdrop – the focus of this project is on creating spaces that provide a division without losing the spatial qualities of the whole." A non-imposing and restful outcome is indeed created, where semi-transparent industrial curtains sit alongside a scattered arrangement of exercise-related equipment – table-tennis, a pull-up bar and a punchbag to relieve stress. A movable television unit and baby grand piano have been incorporated to express creativity.
Alongside the tangible features of the Flowpolis workspace, de Weerd explains how the team incorporated the usual mix of sustainable materials, such as FSC wood – "no MDF, as little gluing as possible" – plus a lot of second-hand furniture. This, combined with Emperador marble, the green film-faced plywood in the kitchen, industrial plastic sheeting, cork and plywood – plus a considerable leafy ambience throughout – creates a space that echoes 'green"'right down to its core.
Space Encounters used colour to create a calm and focused Amsterdam office that remains mindful of its environmental impact