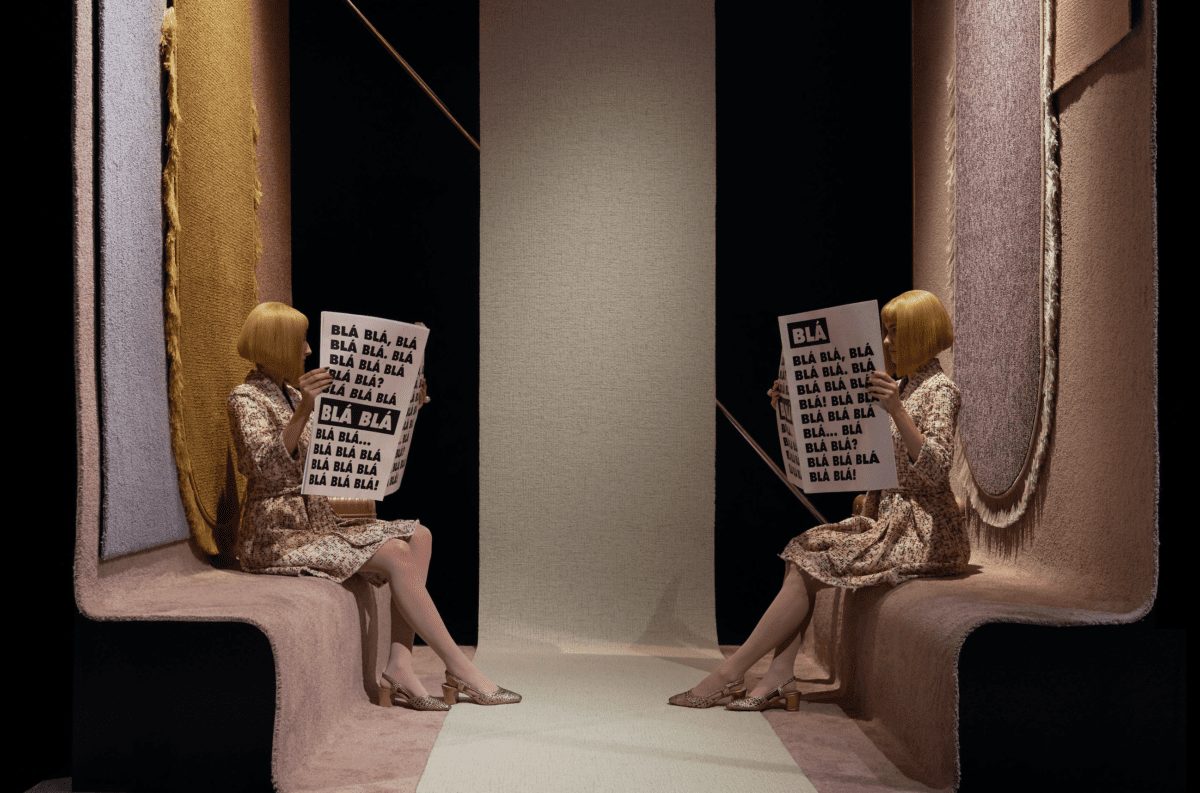 From restaurant to workplace, this vibrant, ever-changing environment transforms to meet the needs of the community
La Visione is difficult to define as one thing. The bold new space in the heart of Denkendorf, Germany is a hybrid – restaurant, staff canteen, co-working space and event space in equal measure – and is, fittingly, the vision of many. For German carpet brand Object Carpet it is an extension of the workplace, where staff can gather and meet clients.
For restaurateur Daniele Ciccarone and chef Vincenzo Pepe, it is the realisation of a dream to bring Italian cuisine together with Swabian hospitality. Brought to life by Ippolito Fleitz Group, it represents a vibrant vision for the future of a flexible interior that adapts throughout the day to a multitude of needs, maximising the potential of valuable urban space.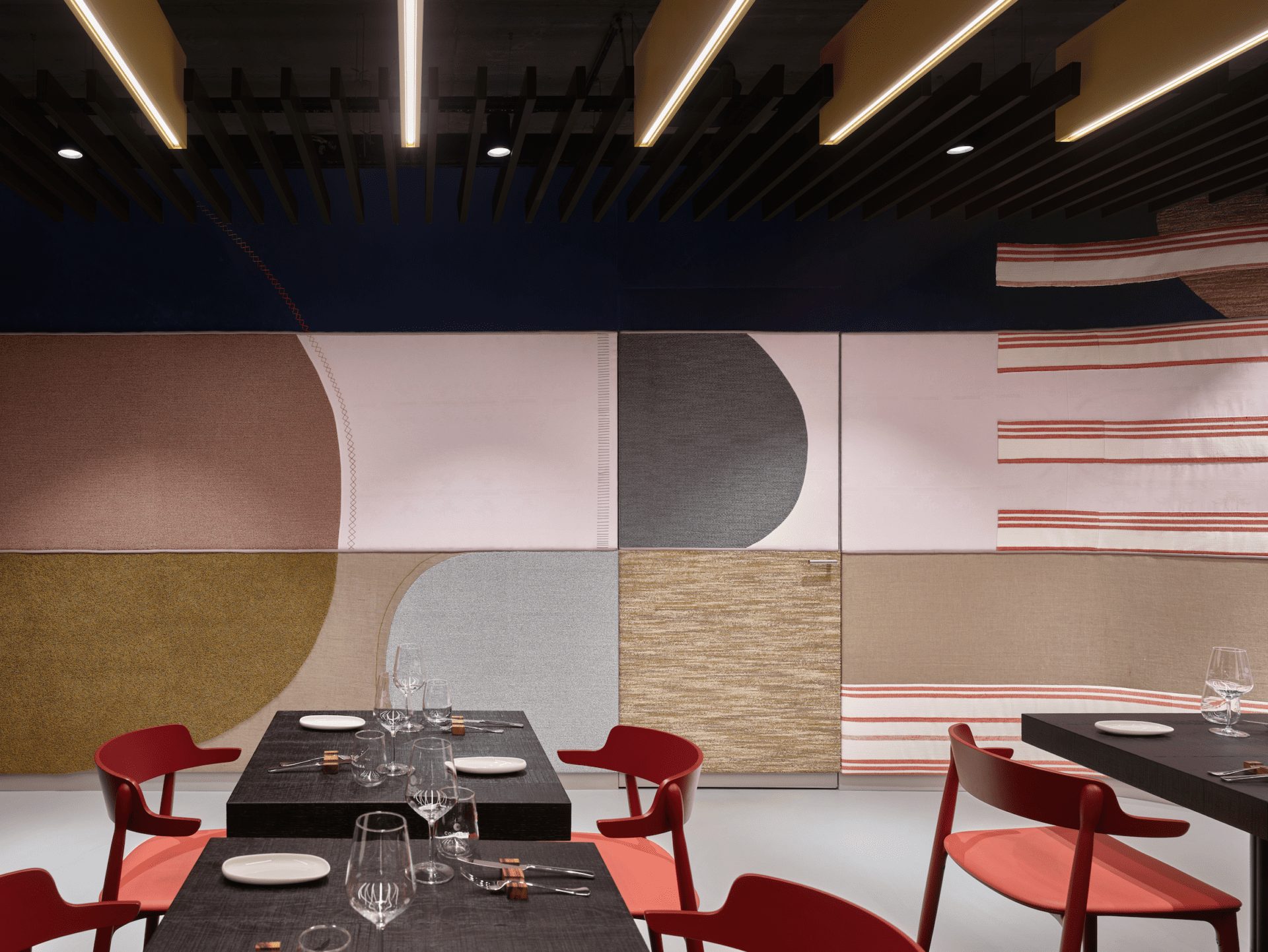 "As designers, we have to think about how people will use space in the future," says lead designer Charlotte Scheben. "We need to address how it can adapt to the needs of society and, of course, its challenges. Hybrid spaces have always existed, but due to Covid, they are evolving even more rapidly as we realise that work can happen anywhere."
La Visione is located at the new company campus for Object Carpet just outside of Stuttgart. The brand has its workspace and showroom here, and part of the building is rented out to other companies, creating a dynamic shared working environment.
And, it was from this vibrant context that the idea for La Visione arose. While Object Carpet wanted to open a restaurant, it also wanted to push conventional ideas around what a restaurant could be. So, La Visione was conceived not only as a place to eat but also a place for meetings and co-working.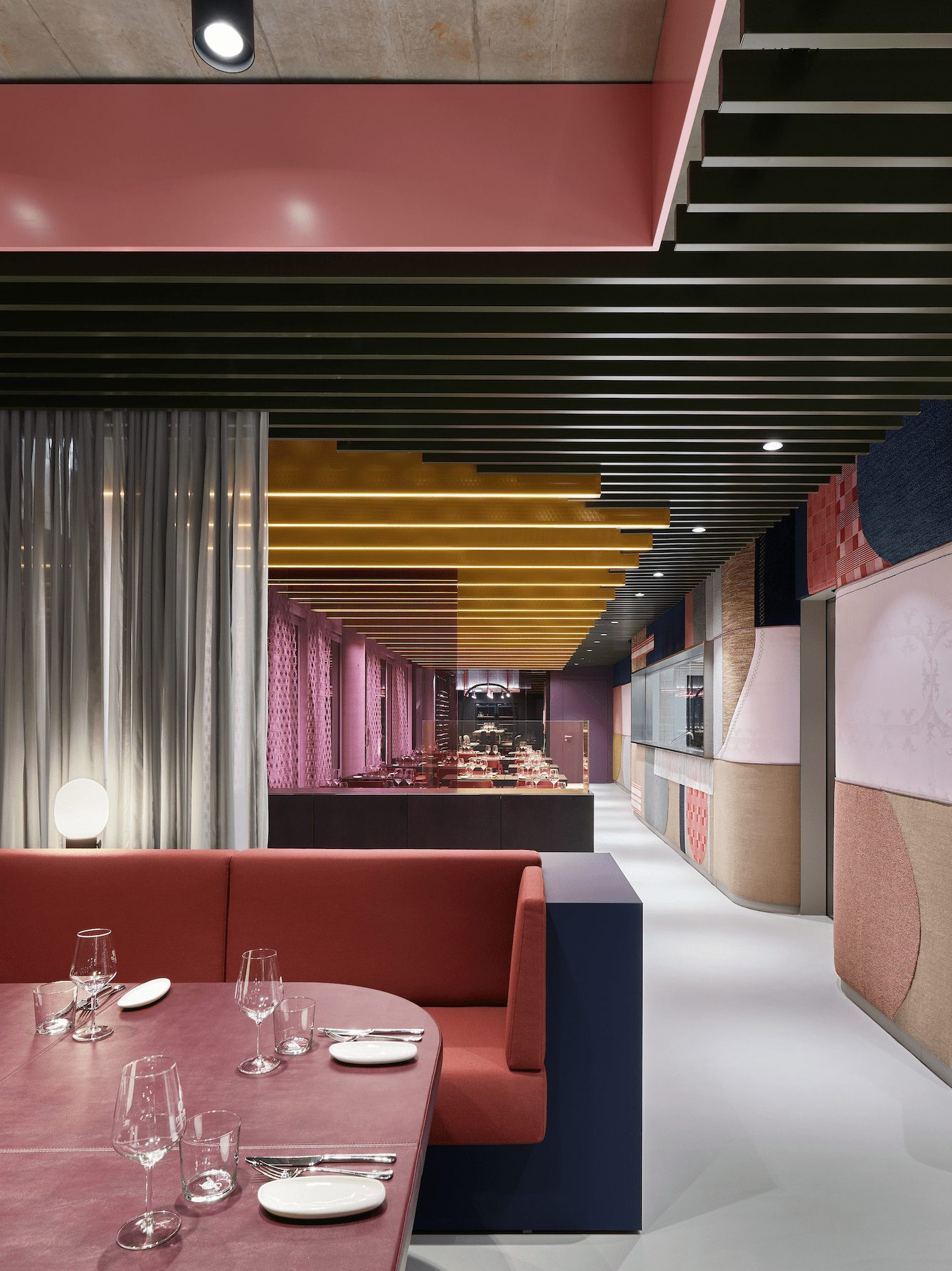 During the day, the employees of Object Carpet use the restaurant for internal and client meetings, and the bar and lounge as a flexible workspace. They can also enjoy meals together at lunch. In the evening, the restaurant is dramatically transformed from a co-working space and employee canteen to a fine dining restaurant serving playful modern Italian cuisine, which is open to the public.
"La Visione challenges the idea of a restaurant and a workplace," says Scheben. "We thought about how people want to work today, and how they want to come together and exchange ideas. As the workplace changes to become more agile and flexible, it can move to places where we feel comfortable – and eating in a restaurant is one of our most social experiences."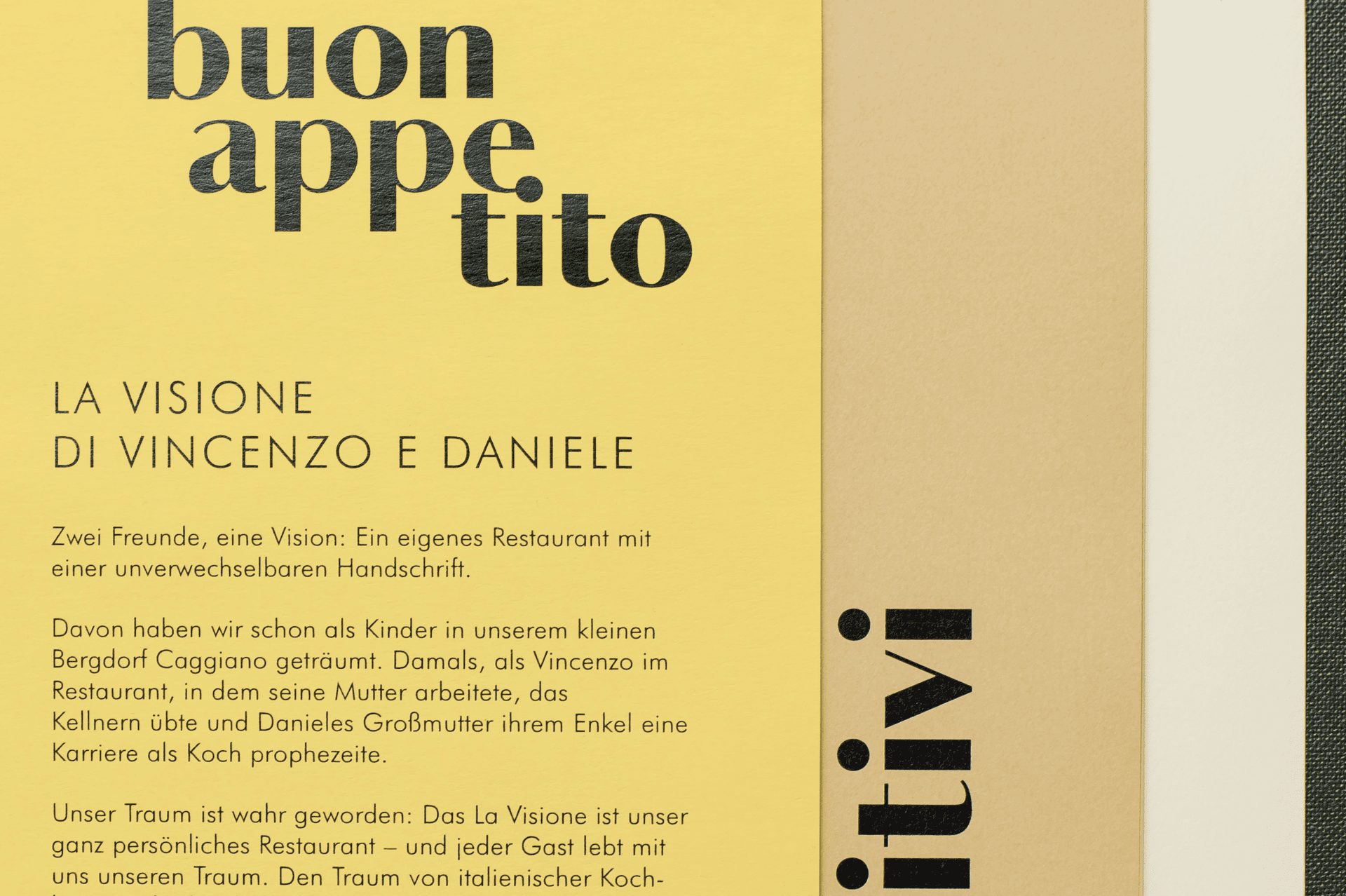 As a result of this approach, the interior is divided into a variety of different areas – lounge, open bar, formal restaurant and small wine bar.
All of these areas offer a different experience and feature diverse seating typologies, from conventional table and chairs, to lounges and bar stools, that can be used for either dining or working – think the colourful wire-frame Nolita chair by Pedrali, or the exaggerated form of the Chips chair and bar stool by Chairs & More. "We chose the furniture to be playful, with colours and forms that fit the design," says Scheben.
The various zones have been divided in a way that creates a sense of privacy for meetings and gatherings, but not separation – after all, La Visione is about bringing people together. Rather, the zones merge into each other to create a flow through the layout.
At the entrance is an informal lounge with comfortable seating, which merges into an open bar where movement between guests and service staff is fluid. This casual relationship is continued in the more formal seating area toward the rear of the restaurant, where guests can engage with the action in the kitchen through a large window. At the very back of the space is an enclosed wine bar.
Throughout, colourful translucent screens help to divide the space and provide acoustic privacy without visual separation. "The colour scheme refers to the palette used by Object Carpet," says Scheben. "We wanted to create a graphic and colourful space with a vibrant atmosphere."
Similar subtle references to Object Carpet have been cleverly integrated throughout, aligning the restaurant with the brand and celebrating its products and history without creating an overtly branded space. The bold purple and orange carpets, for example, are from the company's new collection, which was designed in collaboration with Ippolito Fleitz Group.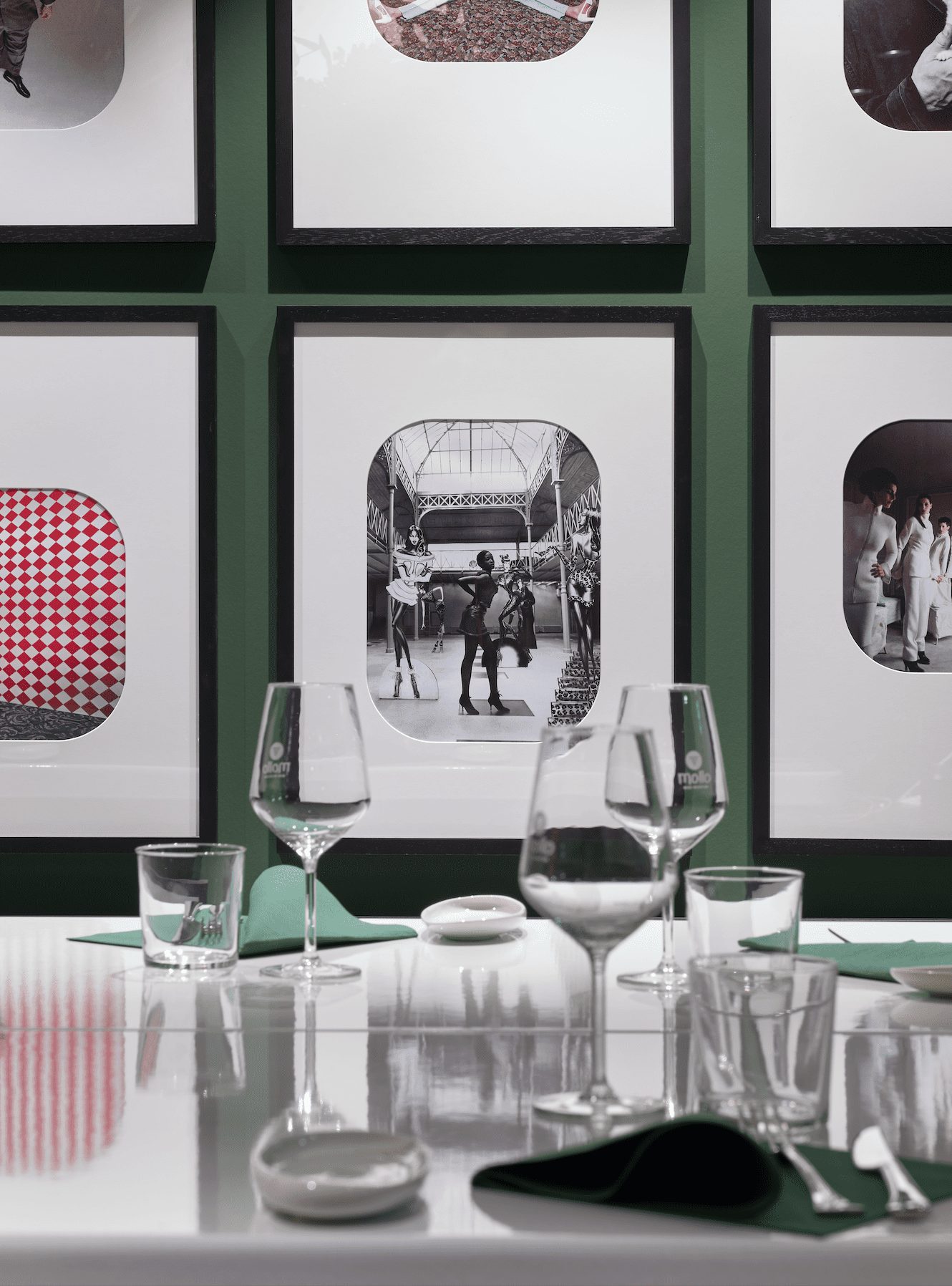 And, a wall in the bar area is clad in evocative framed images from old Object Carpet shoots, taken by famous photographers and used for a series of books. "The concept was to create a space where the colours and products of Object Carpet are a part of the interior," says Scheben. "These details open up conversations with guests or clients visiting the restaurant."
One of the most striking elements of the interior is a series of large-scale textile artworks – like highly tactile abstract collages – that variously cover the walls and are used as screening devices. "We used a variety of colours and different textiles," reveals Scheben. "Some are from Object Carpet and others reference cooking and traditional Italian restaurants – by using them together, we created a bridge between the Italian restaurant concept and Object Carpet."
As with any successful workplace, wellbeing was an important consideration. Lush greenery overflows from minimal white planters suspended from the ceiling, tapping into research that shows that plants help to increase creativity and reduce stress, while also improving air quality and reducing noise levels.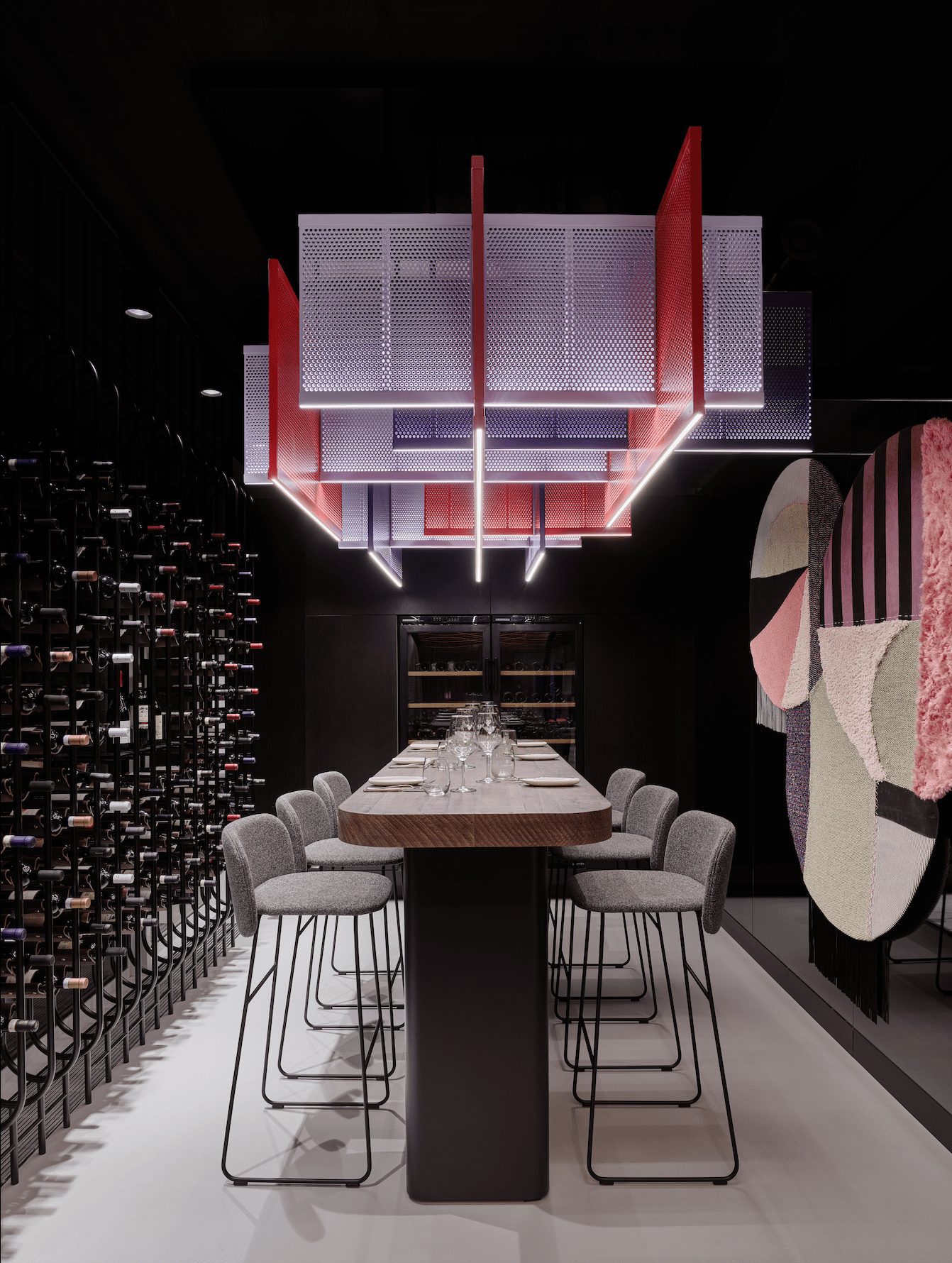 Light also plays a key role, not only in creating a healthy environment but also in the transformation from workplace to fine dining restaurant. "There are different lighting setups for the different usage of the space at various times of day," says Scheben. "Atmospheric lights are also used to highlight aspects of the design."
The concept of La Visione – a highly flexible space that can transform throughout the day to meet the needs of the community – is, perhaps, a vision or a blueprint for a world that is increasingly more accepting of agile work practices. "Hybrid spaces are not only related to changes in the workplace, but also changes in urbanisation and digitalisation," says Scheben.
"As cities become denser, spaces become more expensive – and there are many open questions about how things will develop. We believe it is also a chance to think in a new and different way, to question how we can use space more sustainably in the future."
Images by Zooey Braun and Monica Menez
As featured in OnOffice 153, Winter 2020