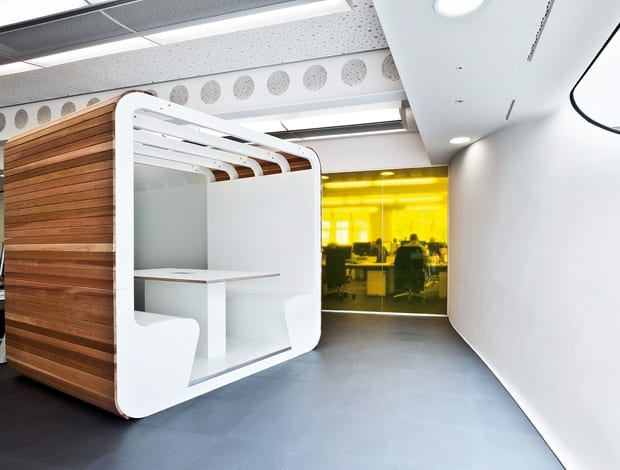 A series of MDF and cedar movable cubes provide a semi-private space for meetings or solo creative work|Dentsu's mission statement is splashed around the office. Here it's written in marker pen on a wall that has been painted as a whiteboard surface|The reception on the fifth floor|Red vinyl-covered foam tubes mark the entrance to the Attik meeting room, which sits alongside the canteen|Equipped with beanbags and a wide upholstered bench, the library has scope for serious lounging action|The specification of white furniture wisely accentuates Amanda Levete's base-building architecture|Where all the big deals are done: a 'specially made metal number' designed to resemble an aircraft wing|Bright green resin tiles travelling up the stairwell to the penthouse are a seriously eye-catching detail||
White spaces and voluptuous curves mix with splashes of colour at Japanese agency Dentsu's offices in London
There's no mistaking who's responsible for the architecture of 10 Hills Place. The fluid forms, the futuristic facade – it has Future Systems written all over it. The base building, located on a narrow street mere seconds away from the hubbub of London's Oxford Circus, was completed by Amanda Levete Architects in 2009. Levete and the late Jan Kaplický were previously in partnership as Future Systems, an influence that is clearly evident in this design.
Floors three, four and five of the building, plus the penthouse above, are occupied by Japanese advertising agency Dentsu.
Here, the interior takes the building's external features and works them seamlessly into what is an absolute peach of a workplace project.
The reception, on the fifth floor, is the design equivalent of Mad Men's Christina Hendricks: curves, curves, curves.
By orientating the seedpod-shaped windows skywards, the architects have maximised the amount of natural daylight coming in. To complement the windows, interior design firm Interactive Space, which also undertook space analysis and an assess-ment of the services, has conceived a voluptuous thermo-formed Corian reception desk.
There's also an acoustic screen especially made by Tensile Fabrics, which gently arches down the space, creating a tunnelled vista well worth pausing to enjoy.
Not only is this screen an attractive feature in its own right, it is also part of Interactive Space's desire to not alter the base build too much. The chilled beam system was retained for this reason too.
Behind the reception area is a large bespoke Vitra desk. Hierarchies and cellular environments are out, and open-plan working is in, which is why one of the lucky individuals to work at this particularly stylish bit of furniture is Jim Kelly, chairman of Dentsu UK and regional director for Dentsu Europe.
"Just when you think you have the measure of this mostly minimalist office, there are some surprises in store"
He explains the brief. "We were looking for a space that would rehouse three businesses: Dentsu headquarters for Europe, which had been in Berkeley Square, plus an advertising agency that was being renamed Dentsu London and a design consultancy business from Leeds called Attik."
These three entities are united by a mostly monochrome colour palette and what Interactive Space's design director Nigel Tresise describes as a "blank canvas for the staff's ideas". They are differentiated through novel design touches and splashes of colour.
Dentsu's mission statement is 'Making Future Magic' – a mantra that has been repeated in various forms throughout the office. In one meeting room on the fifth floor, it is written in marker pen on a wall that has been painted to make it a whiteboard surface. In another room further along, the letters look gooey and Jammy Dodger-like, while on the floor below the font used seems to take its cues from a packet of Monster Munch.
Here, on the fourth floor, two movable cubes composed of MDF and cedar wood provide a more private space for the creatives.
An open laptop, scattered magazines and mood boards are testament to the effectiveness of this as a working environment. While they get on with the business of copywriting and artworking, the account managers do their thing behind an adjacent yellow screen.
The cladding on a nearby meeting room again references the outside of the building, using the same sort of aluminium.
The third floor, home to Attik, doubles as canteen and library space – a deliberate decision to get staff from the different parts of the business to interact.
The furniture can be shifted around to accommodate whatever function is required at the time, whether it's a formal client presentation or a brainstorming session. For the latter, the Lazy Bastard chairs from Viaduct, with their slouchy, tactile upholstery and bright purple colour, are a particularly good bit of specification.
Alongside Attik's futuristic, all-white workspace, which includes some specially made Tufty Time pieces from B&B Italia, is where an installation of 'space junk' – the agency staff's objet trouvé powder-coated in, you guessed it, white – will eventually be housed.
Then, just when you think you have the measure of this mostly minimalist office – a nod to Japanese style – there are some surprises in store.
Clear plastic strips, which are more usually found in warehouses or the frozen-food sections of supermarkets, separate one area from another on this floor. And then, what appears to be just a regular curtain actually turns out to be a row of rather groovy tubes of foam covered in red vinyl, marking the entrance to what feels like a boxing ring-cum-S&M chamber, but is actually another meeting room. Or so they tell us.
This gives the interior a good balance of fun – yes, I did spot a beanbag or two in the library – and serious workplace design.
"It simply makes it easier to recruit people if you have a building that is a better environment"
The penthouse is another case in point. The bright green resin floor tiles in the reception are continued up the stairs to this upper floor and are quite an eye-opener first thing on a Monday.
While, at first, the room appears to be the regular set-up of a large conference table with some sturdily expensive chairs positioned around it, on closer inspection it is a specially made metal number, designed to resemble an aircraft wing (the real thing would have been just that bit too tricky to manoeuvre into position, say the designers).
Up some stairs and you're on the roof terrace, where you have views of Big Ben at one end and the BT Tower at the other.
Though not at capacity yet – around 60 of up to 110 people are currently in place – even when full, the client was keen to have each employee in generously proportioned surroundings. This is the very antithesis of battery working.
"It simply makes it easier to recruit people if you have a building that is a better environment," says Kelly.
And the fun design features are not just for show, but also intended to stimulate the staff creatively. The office is referred to by the staff as 'the spaceship' with the so-called 'mothership' being back in Japan.
There, the Tokyo headquarters is a megalithic Jean Nouvel-designed structure, complete with its own metro station. But while this office isn't quite on par in terms of scale, as far as design ambition goes, it's right up there.