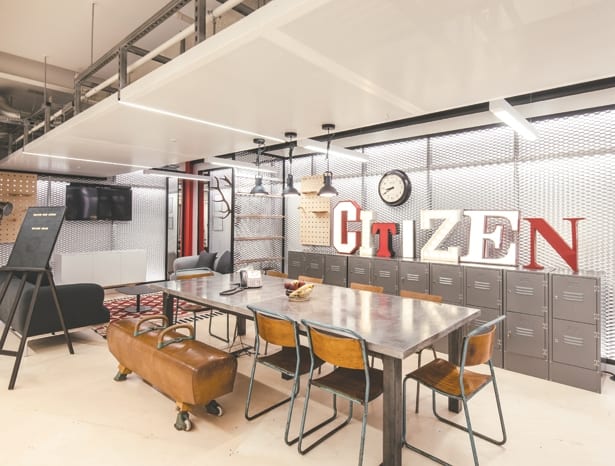 |||
At Citizen Relations' workspace in London's Alphabeta building, it was the personality of the company that provided the key to the look of the interior.
"We understood the environment we needed to create for them had to provide a variety of flexible spaces that exuded character," begins Tom Philipson, managing director of environments with designer YourStudio.
Strategically placed throughout the 558sq m space are pictures, objects and other personal items from the Citizen team that convey the PR and creative agency's values of creativity, curiosity and openmindedness in physical form. These items, which include sculptures and plants, double up as props for client workshops and brainstorming sessions.
Simple, minimal furnishings express a Scandinavian feel
A quick scan of Citizen Relations' social media presence indicates how its competitive edge comes from its workforce's enthusiasm for the brands it represents. "Just a regular Wednesday", says one tweet, "checking out our giant chocolate bunny" – part of a Dr Oetker campaign – while gifs about Popchips feature heavily in the timeline.
"We are a really personable company and love to work closely with people. The space helps us be more creative," confirms Citizen's managing director Mark Cater. The welcome area "has been designed with clients in mind", says Philipson. A set of mismatched circus letters spell out the company's name, and seating arrangements even include a pommel horse. Here you'll find a series of lockers: "Everyone [at Citizen] has one but the reception is a touchdown area that clients come and work at for the day."
Booths with a phone, pin board and light offer a focused workspace
Adjacent to this is space for informal working and staff socials, which has room for 50 desks but which, as Philipson says, "they are well on their way to filling". When the socialising gets too much and some quieter, individual work is required, there are a series of options such as booths with just a phone, a pin board and a task light for company. Desks are a mix of fixed and flexible, depending on which role a team member fulfils. "We like to get an understanding of how the business works and the individuals work and come up with a solution that fits them," says Philipson.
The Citizen innovation space is where the serious business of inventing new products and campaigns is done, and comes complete with a fully functioning video-editing suite. YourStudio has form at Alphabeta, having previously worked on creative agency We Are Social's office in this much-talked-about Finsbury Square address (see our review in OnOffice November 2015). "We won this project via a recommendation from We Are Social," says Philipson. "We were able to show Citizen the innovations we had applied there. They are very different businesses with different needs."
A 4m concrete table defines the boardroom
He explains: "Citizen wanted a slightly edgier space – they are smaller than We Are Social and so they felt that they could be really expressive in the space that they have. They were also open to experimentation with meeting rooms and layouts, as well as interesting, unusual materials."
The latter is reflected in the use of concrete for a 4m long table, which forms the centrepiece of the boardroom. Bordering the innovation space, expanded aluminium mesh has been used to create floor-to-ceiling flexible partitioning.
The brief called for a calm and tranquil workspace, and a Scandinavian influence was requested too.
Metal mesh creates flexible partitioning
As Philipson explains: "This came from the creative team at Citizen, who wanted to have the purity of Scandinavian design, which I think comes across in the bar detail and the simple, minimal furniture. The mix of timber with an industrial galvanised sheeting finish is what gives the space its unique look."
YourStudio co-founder Howard Sullivan sums things up succinctly when he says: "We're essentially trying to create the ultimate cultural hub for Citizen in a space that ignites their team's enthusiasm and invigorates clients."
This workspace in the Alphabeta building was designed around the character of the PR company and its staff