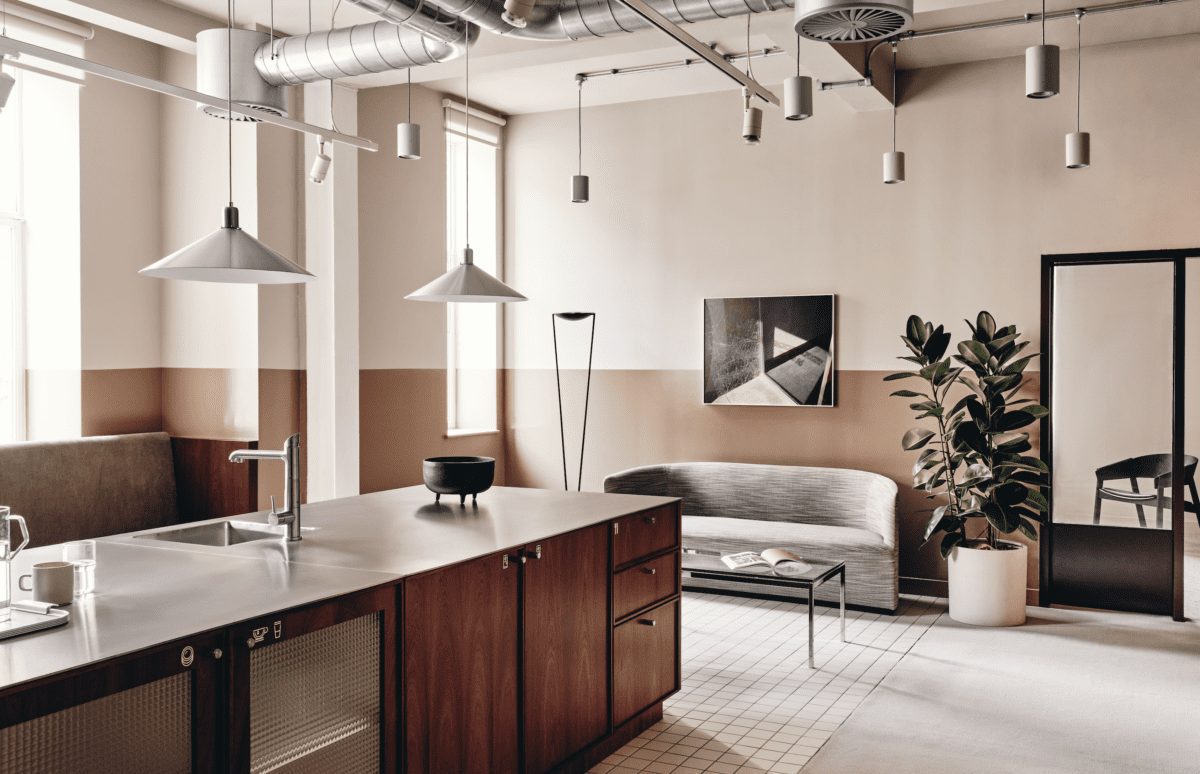 Flexible workspace provider TOG (The Office Group) has announced Brock House, London, as the latest addition to its growing platform of spaces
Even when the post-Covid future of work continues to be at the forefront of many discussions, it's clear that the hybrid hype is here to stay. With companies embracing a work-from-anywhere set-up and businesses evolving their working model from home to hybrid, the new frontiers of work are beginning to take shape.
For flexible workspace provider TOG (The Office Group), the future world of work is likely to look phygital, balancing the physical and digital to enhance work. Case in point is Brock House, the firm's latest London outpost where past and present meld harmoniously, combining a respect for history with a modern approach to work.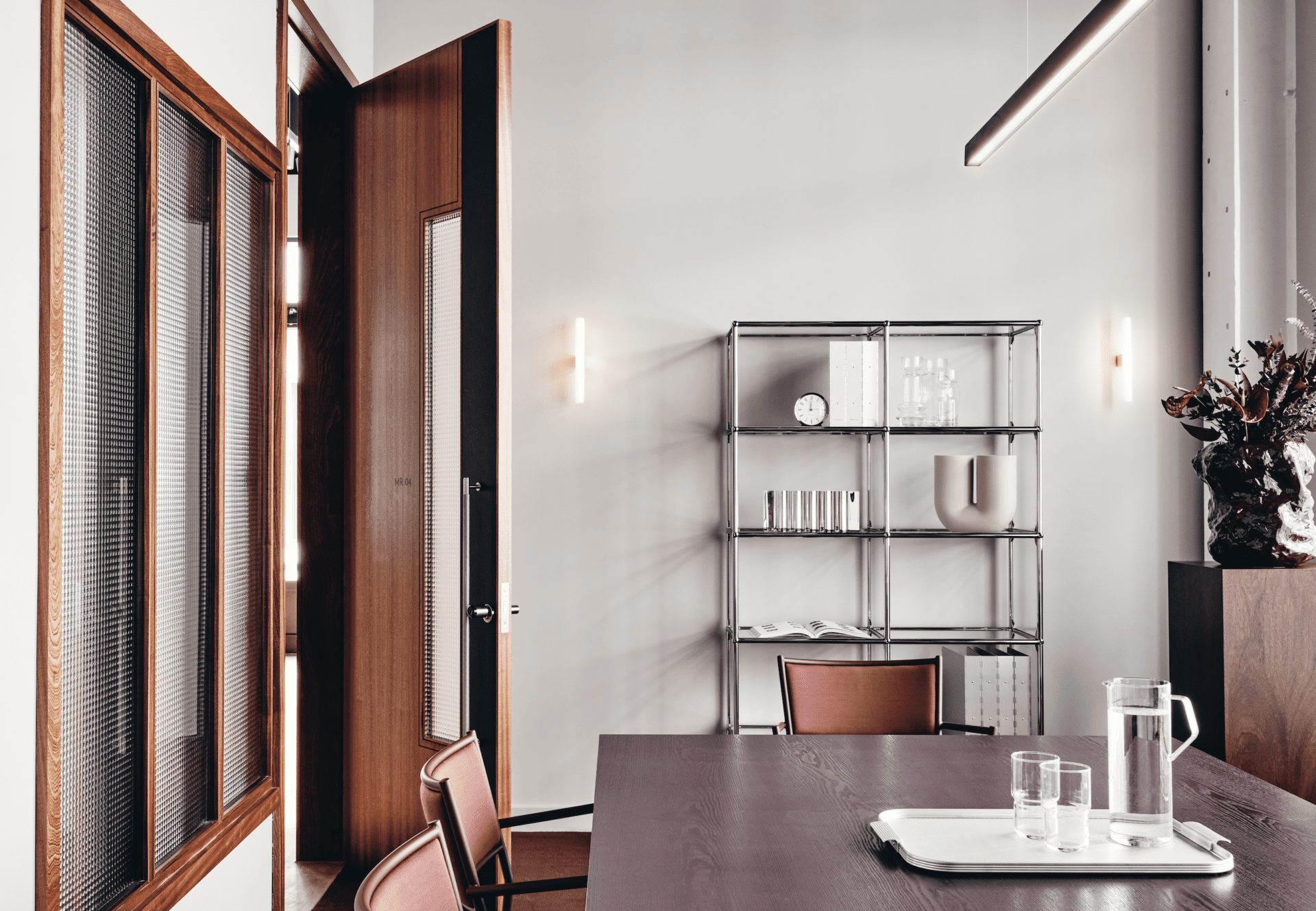 Spanning 28,818 sq ft across eight floors, Brock House is nestled on Great Portland Street and contained in a rare, island-like building in the heart of London's West End. An oasis of calm and tranquillity with wellness at its core, it was first the site of a church and later home to the Philharmonic Hall, playing host to jazz orchestras in the early 1900s.
By the 1930s, however, it was reopened as a grand cinema and then Brock House became an automotive showroom. This colourful history has inspired the sophisticated design concept which was created in collaboration with renowned, London-based architecture practice Soda Studio.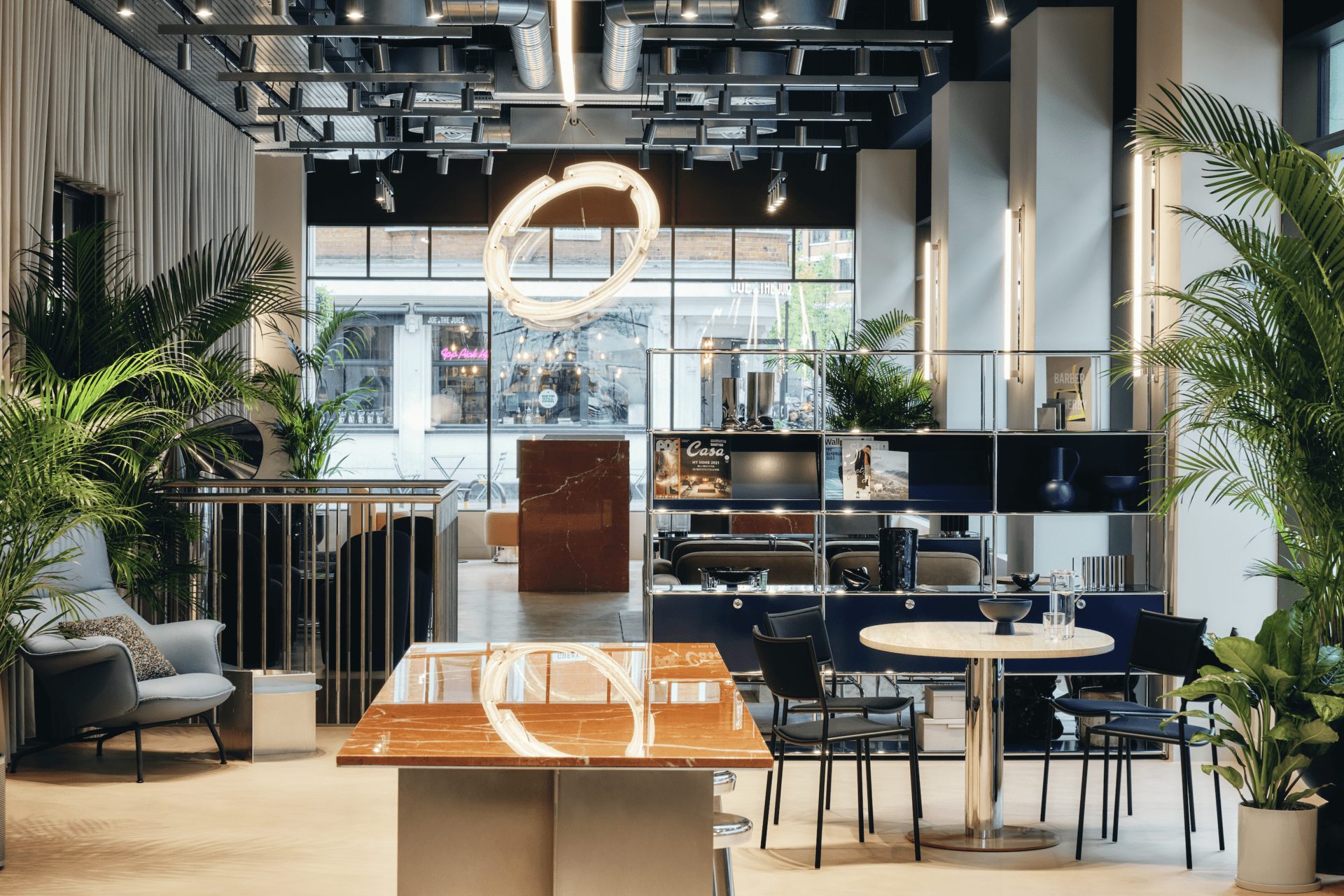 As designers, both TOG and Soda Studio are motivated by creating interiors that complement and respect its surroundings and the existing building. With each TOG location distinctive by design and embracing its cultural heritage, every building has a unique character, which is in keeping with the surrounding local area, and Brock House is no exception.
Highly influenced by its environment, with materials and fixtures inspired by the golden age of car design and moviegoing, hints of chrome run throughout the space, alluding to the Brock House of the 1930s. For instance, the perfectly placed USM Haller system – a true design classic featuring a ball-and-tube chrome frame – provides infinite design possibilities, whether storage or room divider, while also connecting the past and future of the building.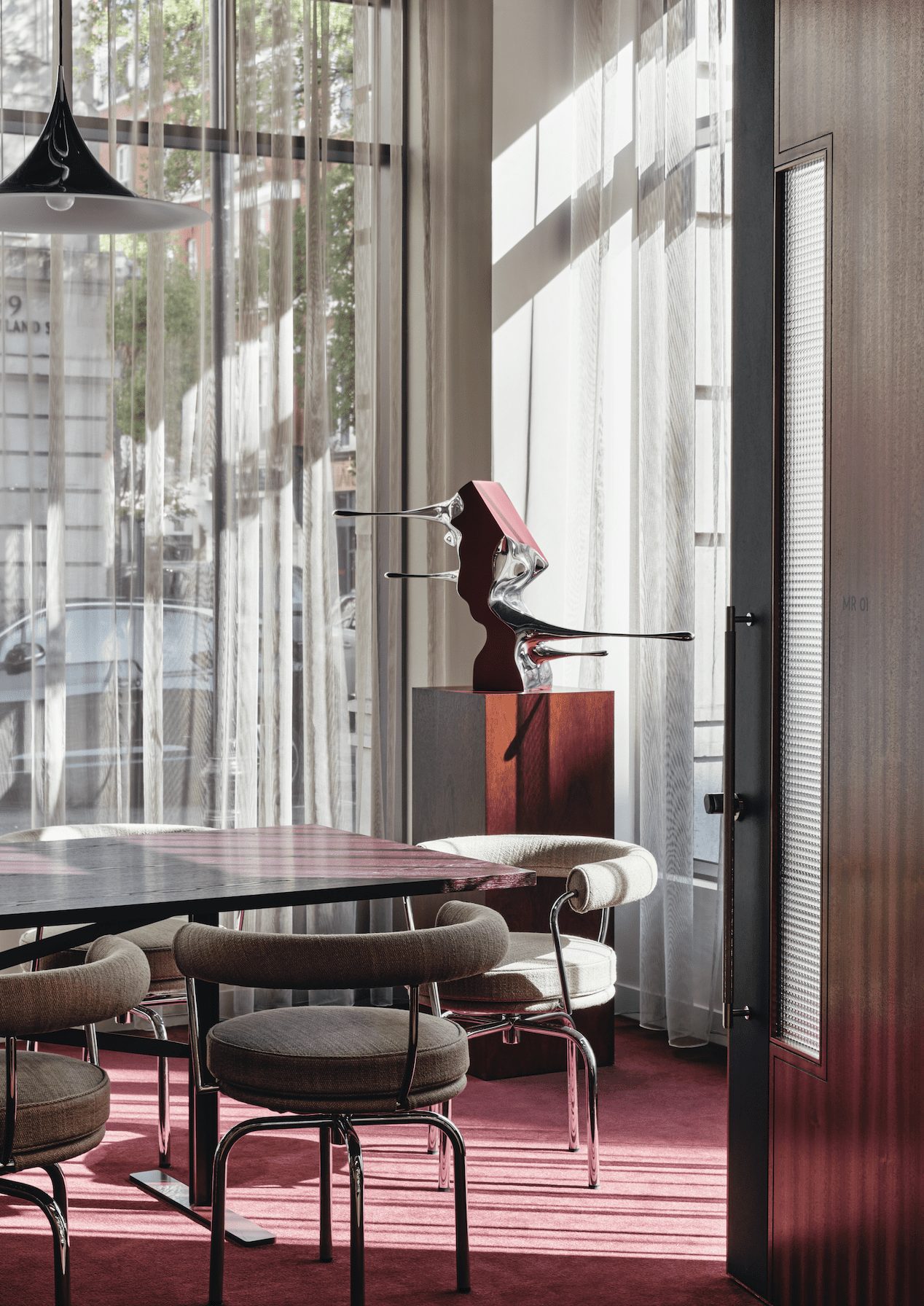 Other iconic design pieces that hail from decades past and present include Mario Bellini's Chiara lamp for Flos—featuring a shiny cloak of stainless steel and first debuted in 1969—as well as Louis Poulsen's Panthella lamp, which brings a timeless look to the contemporary workspace.
Upon entering the ground floor, which is surrounded by floor-to-ceiling windows flooding the space with natural light, members can either work in one of six private meeting rooms or from Brock House's open, communal workspaces. Sumptuous, pleated curtains hug the building's core to reveal a lighter terrazzo-lined lobby within, referencing the building's cinematic past and fostering a sense of quiet focus away from the hubbub of the West End.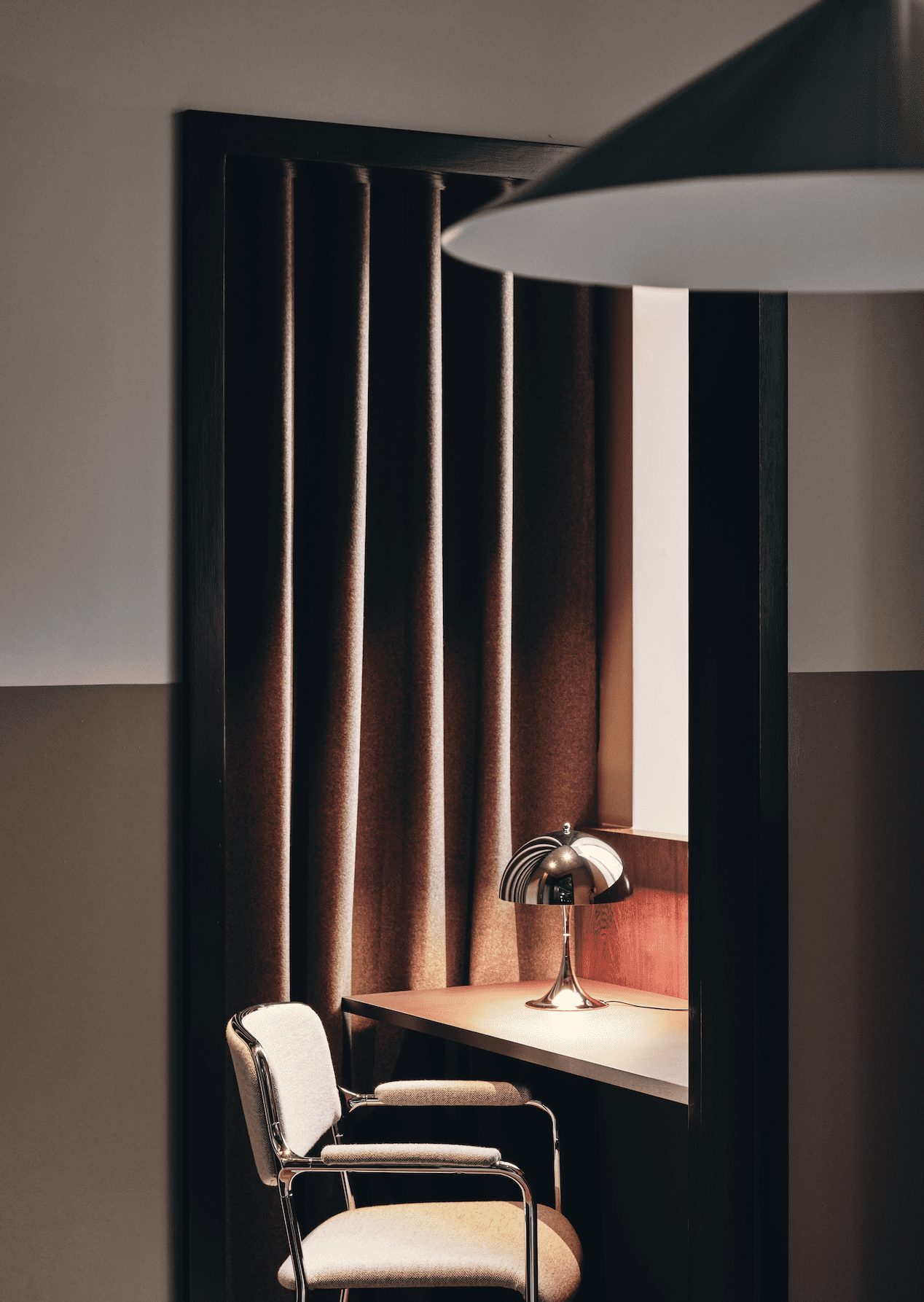 "Brock House presented the design team with an exciting opportunity to do something unexpected", comments Nasim Köerting, Head of Design at TOG. "With the building's eclectic history as an orchestra house, grand cinema and automotive showroom, we had an abundance of inspiration on our doorstep – but it was important that the combination of these influences worked seamlessly to create an unusually peaceful space in the bustling heart of the city. Brock House is an island of calm, enabling members to come together to collaborate and co-create."
These touches echo through a combination of restored elements and contemporary design. A striking reception desk clad in Rosso Alicante marble occupies the lounge like a car in a traditional showroom set-up, topped with brushed metal to hark back to its automotive past. Knurled metalwork, from the stair balustrades to the handles of the cupboards and doors, features throughout and adds a cool, industrial edge to the otherwise sophisticated space.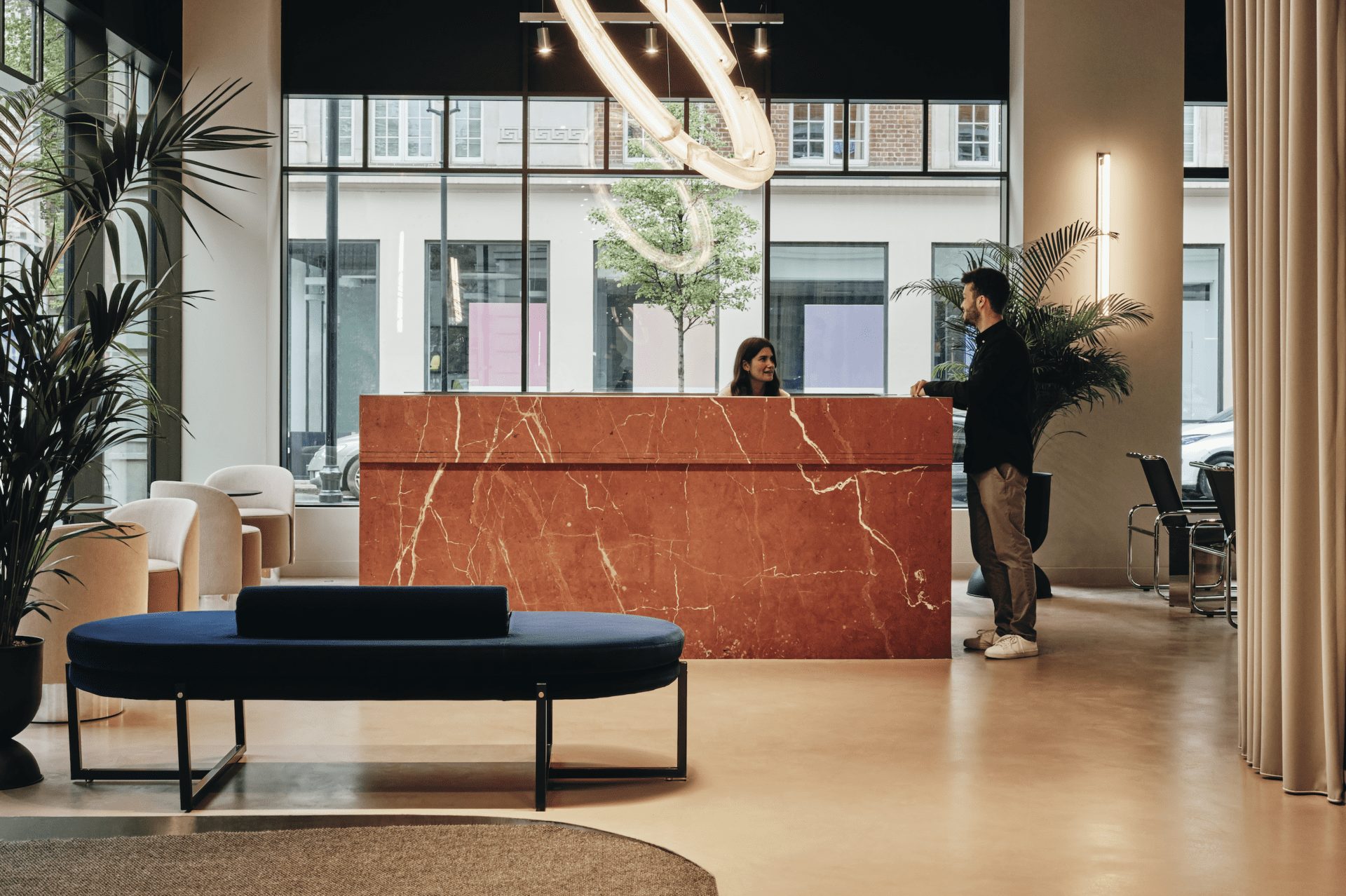 "This richly detailed building brought with it a wonderful history of different uses to inspire a series of contemporary work spaces and communal areas", adds Russell Potter, Director at Soda Studio.
"We wanted to create a space that stands its own ground in relation to its notable BBC neighbour. We therefore embraced the full history of the building and found ways to blend the different aspects of car design and a more cinematic aesthetic. The result is a delicately balanced interior that reflects the high-end surroundings of the West End."
A palette of rich, earthy tones and pops of orange imbue the spaces with a cosy atmosphere, while rich burgundy punctuates the corridors and creates a sense of rhythm between the rooms. What's more, Soda Studio also developed bespoke graphics and signage for the spacious shared areas, such as kitchens, the fully-equipped meetings rooms, and onsite members gym, resulting in an artful blend of old and new.
Elsewhere, Brock House reflects the evolving needs of the workforce: meeting rooms have been fitted with state-of-the-art video conferencing capabilities, while private, sound-proofed phone and focus booths are designed for better acoustics. TOG has also added private and semi-private spaces for calls and focused work to help members stay productive, and the property was fitted with an advanced air handling system in response to the Covid-19 pandemic.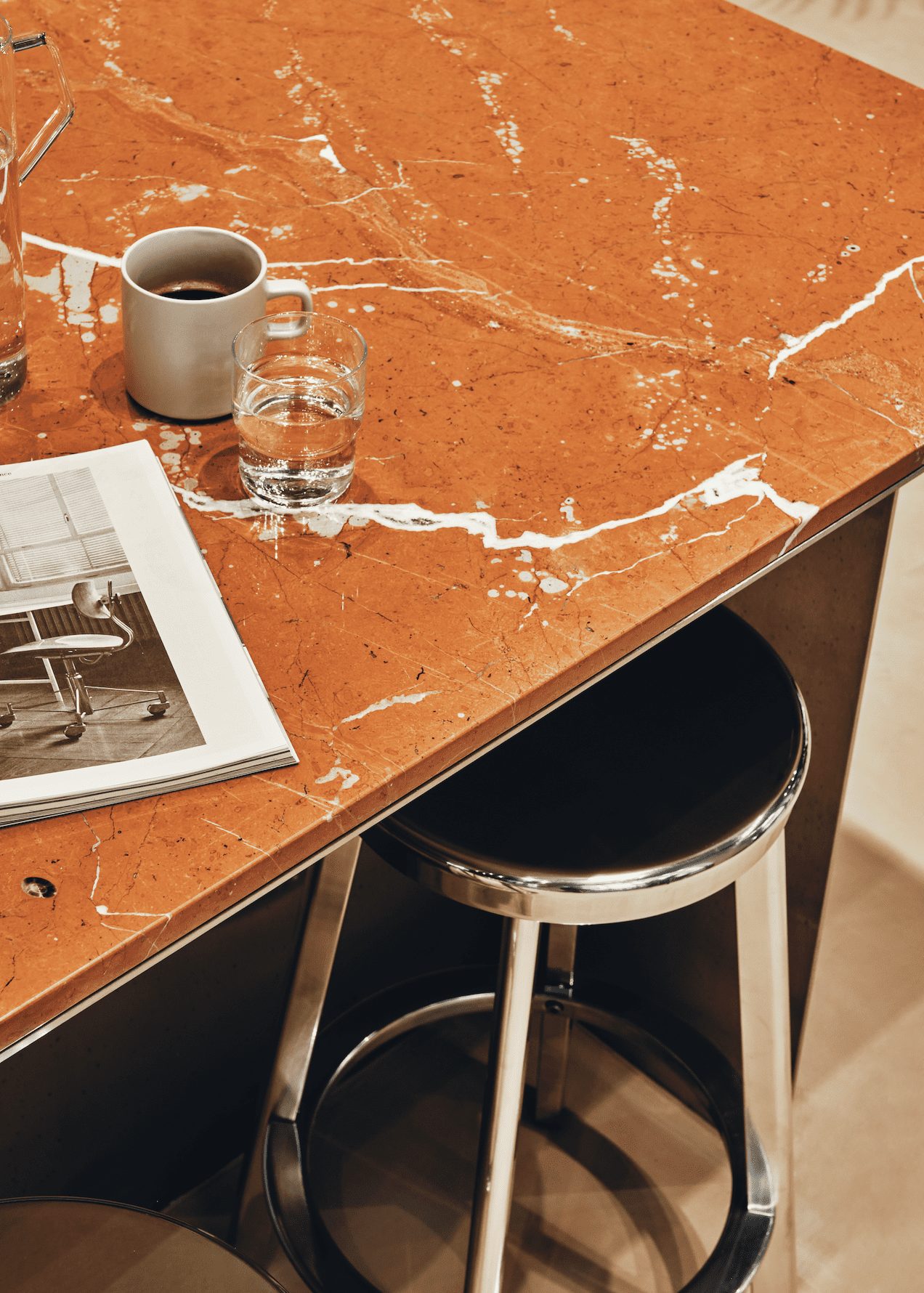 Meanwhile, a mansard roof extension spans the top level of Brock House, providing additional amenity spaces during the warmer summer months and dramatic views across the capital. This level welcomes an abundance of natural light that streams through wraparound windows that can be opened up to create a space akin to an internal terrace.
For TOG and Soda Studio, Brock House is an example of the future workplace. With a soothing colour palette and a texture-rich interior, this design duo has added depth and sophistication to TOG's latest must-see haunt. Providing a balanced visual flow between cooler and warmer tones, Brock House is an inviting, urban hideaway for next-generation creatives in need of a vibrant work-play environment infused with a sense of calm and serenity.
Images by TOG and Ben Anders