The new Black Kite headquarters is a dynamic mix of public and private spaces that takes inspiration from the East London building's industrial heritage
Most contemporary workplaces are designed to accommodate a mixture of private and more collaborative spaces – but few have such specific and demanding requirements as a visual effects studio.
To work effectively, Black Kite, an independent visual effects and design studio based in East London, needed to have production suites isolated from all external light and sound alongside an open workspace with breakouts to encourage collaboration. To find a solution, architects Bureau de Change took inspiration from the new headquarters' industrial heritage.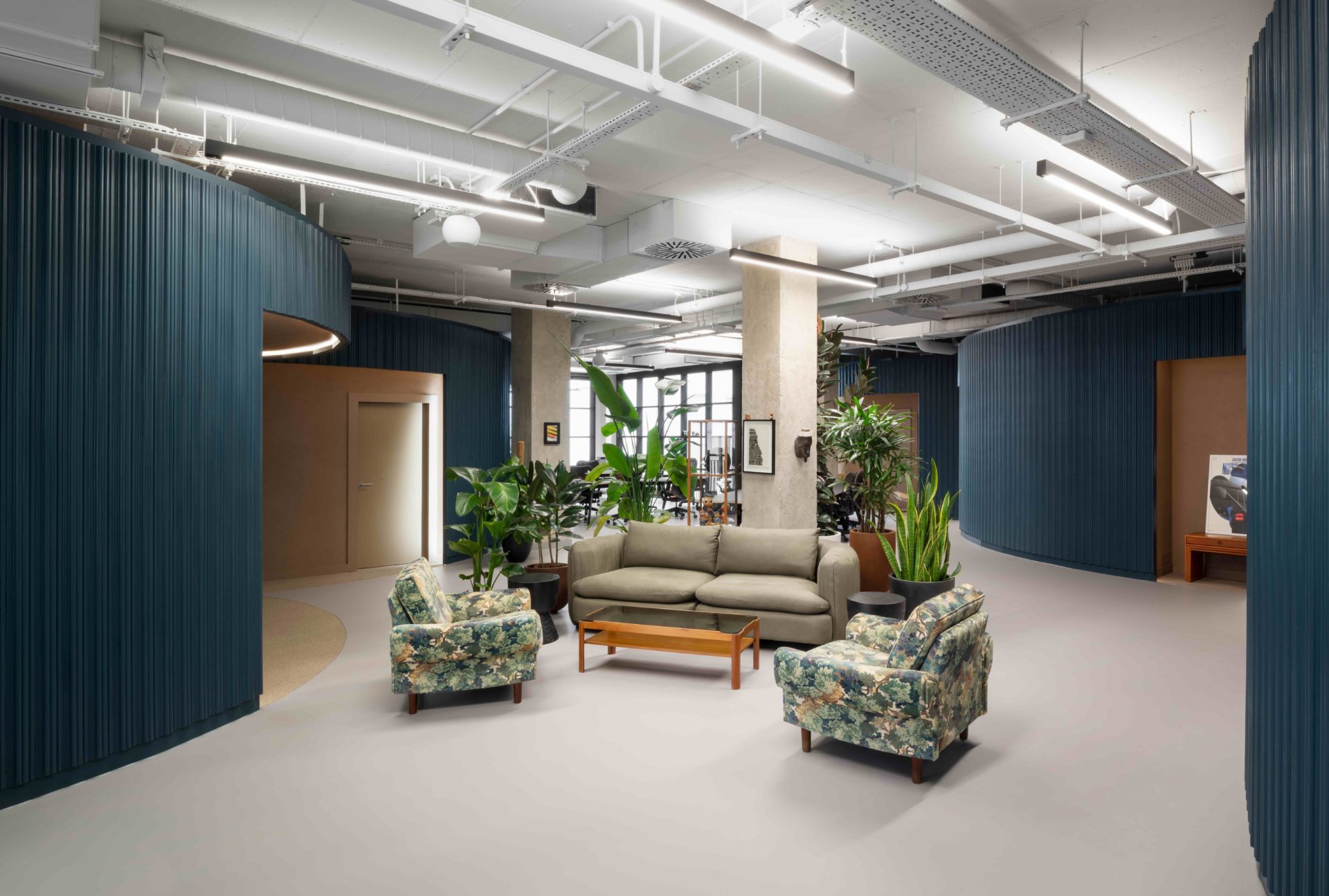 "Our process always begins with a deep dive into the site's history," explains architect Billy Mavropoulos. "We discovered that this location had an industrial past, having been used as an Engineers and Iron Foundry."
With this background in hand, the Bureau de Change team began a deep dive into historical documentation of Victorian foundries and kilns, finding inspiration in their geometric volumes. These forms have been re-invented at the Black Kite HQ as a dynamic composition of enormous cylindrical "rooms" with routed surfaces that echoe the vertical seams of traditional kilns.
"We curated a series of intersecting and carved-out cylinders that each contain a rectangular void to house the suites," explains Mavropoulos. "When merged together, their undulating volumes form a range of spaces that cater to the company's working culture."
The challenge from the outset was to fit the large number of rectangular editing suites needed into the space, while still creating a cosy atmosphere—especially since each suite had to be enclosed to control light and sound. The editing suites sit inside the cylinders, which are mapped out in a grid established by the existing columns.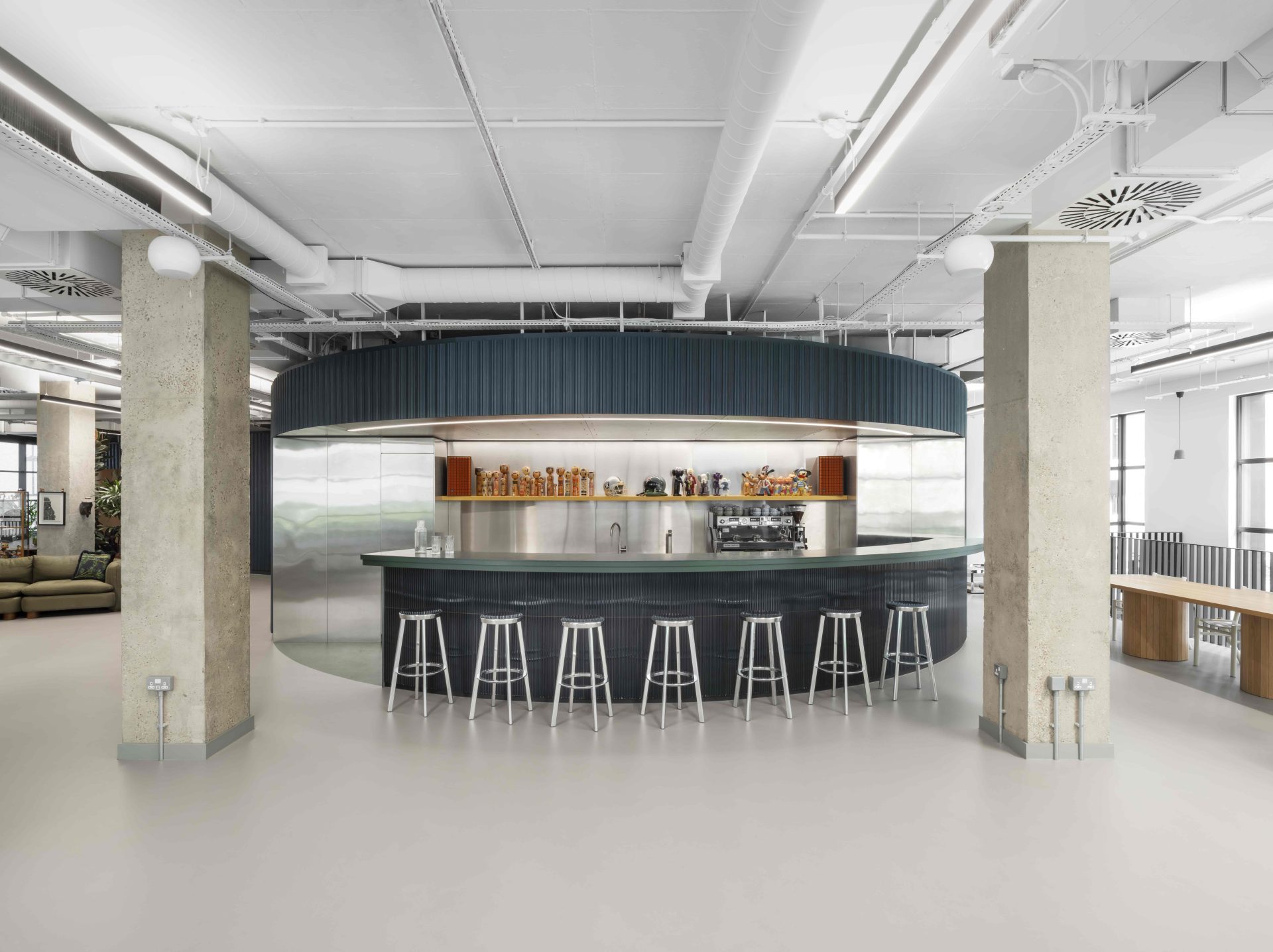 Colour was another important aspect of the project, given Black Kite's colour editing expertise – and finding the perfect colour palette was a process involving many iterations. The deep blue chosen for the cylinders on the ground floor takes cues from the iridescent tones of the oil often associated with industrial sites; and this is contrasted with a warm brown Clayworks plaster in the cut-outs.
LED lighting around these openings enhances the warm, cosy feeling. The basement level cylinders feel lighter and brighter, with green forms punctuated by muted pink plaster openings.
Inside, each suite has its own unique colour palette, which can be glimpsed through windows from the common break-out areas formed by the negative space between the undulating forms. Given the long hours spent by staff in the suites, Bureau de Change created a homely and cosy feeling – "like hanging out in someone's living room".
The social heart of the workplace is a stainless steel kitchen, with a bar clad in handmade glazed ceramic tiles and topped with a worktop crafted from Durat, a recycled plastic.
"By enclosing the suites in a playful architectural feature, we flipped the layout from what could have been a cold and introverted office to an extroverted and welcoming space," says Mavropoulos.
"Our clients are so happy with the result and we are now working on Phase II of the project with them, adding new workspaces as their company grows."
Images by Gilbert McCarragher
Enjoyed this story?  Read more: Emil Eve Architects turn their shared studio into an inspiring workspace