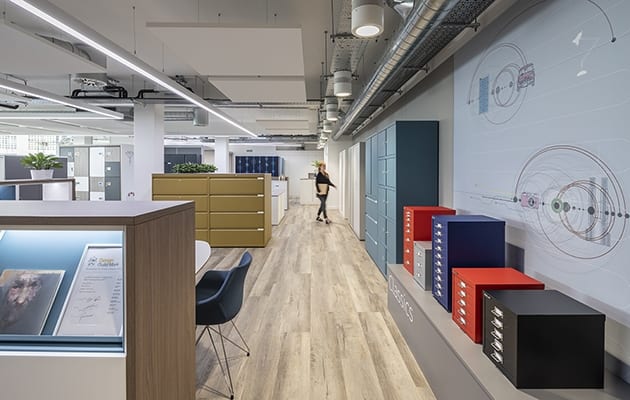 |||
Bisley, the British storage specialist, has made the moved to the heart of Clerkenwell – the home of the UK's design community. The move represents a new chapter in the evolution of Bisley, best known for its innovative storage solutions. The Dallington Street showroom enables Bisley to showcase its ability to provide the complete furniture solution for the contemporary workplace.
The stunning showroom demonstrates the full extent of Bisley's portfolio and represents a strategic shift from storage manufacturer to providers of first class workplace solutions. It is a physical manifestation of the knowledge and experience Bisley has gathered over decades of producing intelligent and stylish storage. The living and breathing showroom beautifully demonstrates solutions that create office landscapes that facilitate every kind of work – communal, concentrated, formal and informal meetings or agile working.
The design, by Bisley's Showroom and Interior Designer Jeanine Goddard, takes Bisley's unique product portfolio and crucially changes perceptions of what storage can do, defining the working environment by using storage in a different way:
"[The space] incorporates all of the latest knowledge in space planning and research into office user needs, applying the latest products Bisley has developed to support those requirements. It's a flexible space that will allow Bisley to grow and adapt to changing market requirements. The emphasis was on creating a choice of spaces with different sizes, postures and technical equipment for the users. Lighting, acoustics, textures, graphics and colours have been used to support the flow of the space and its story."
The space showcases the extent of Bisley's design and finish capabilities; colour and texture abound across the various zones. A boardroom in luxurious oaks, a sumptuous lounge area with warm tones of yellow, a hot-desking area in vibrant sea-greens, a slick black consultation area and cool, calm whites in a quiet corner.
The showroom has a dedicated events space, which during Clerkenwell Design Week will host Bisley's exhibition Matter of Fact. Created with the magazine Dirty Furniture, Matter of Fact explores the role of objects as storytellers, with contributions from Jurgen Bey, Theophile Blandet, Jo Anne Butler, Aric Chen, Talin Hazbar, Sam Jacob, Parsons & Charlesworth, Tobias Revell, Birgit Severin and El Ultimo Grito. Displayed in specially designed cabinets engineerd and manufactured at Bisley's Newport factory, the objects within have been chosen to encapsulate the present day.
This is an advertorial feature
British storage specialists Bisley have opened the doors to their brand new Clerkenwell showroom in London