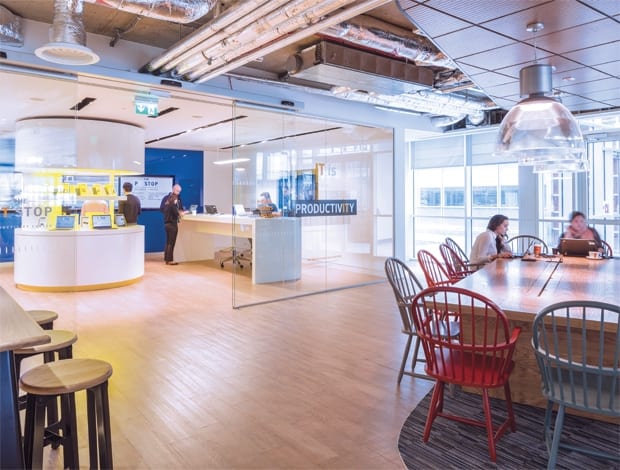 ||

Aukett Swanke's interior design project for tech firm Symantec's UK headquarters was not an all-out refit, but rather a chance to open up some of the space to make it a more friendly environment. The brief for the Reading office was for two new facilities: an IT department that would bring that section into a more public environment, and a cafe area in which all staff could work, collaborate and unwind.
The IT Pit Stop, is it has been named, is a model that Californian firm Symantec has already begun to roll out across some of its offices, but Aukett Swanke's dual brief for the Reading outpost presented an opportunity to take the concept one step further.
"We realised we could bring the IT Pit Stop right to the front of the project, leading off the reception area, and next to the new social hub," says Aukett Swanke's interiors principal Angela Sasso. Furthermore, in its new prime location, IT is not just accessible to all staff in the building, but visiting clients as well.
The concept of a walk-in IT department was novel even to Sasso, whose experience spans global workplace strategy and design across the telecom, legal and IT industries. "Typically it's an area at the back of the building, where people sit in front of machines, fixing and uploading," she says.
"Bringing this retail-based concept into the workplace is a talking point, both within Symantec and the wider industry. Why not make it accessible to clients too, so they can get a handle on Symantec's culture?"
Staff at Symantec all use their own mobile devices and can access corporate information and applications on them at work. This progressive ethos is one of the reasons why the Pit Stop is no gimmick, but an essential function for the business, since staff often need to upgrade their systems or understand how new technology will work on their phone or tablet.
The model is also self-referential. Symantec is one of the world's largest consumer tech companies, responsible for cyber security products including Norton anti-virus software. A longstanding part of Silicon Valley, with an HQ in Mountain View, more than most it is aware that IT should be accessible, not consigned to the backs of offices and company basements So, the outdated image of the IT department as a poisonous snake pit of black and neon leads needed to be overwritten, with a new vision of ordered, modern design and most importantly, a human face.
Aukett Swanke used clean, white surfaces, attractive backlit podiums and breakfast-bar-height help desks to create the informal, customer-friendly Pit Stop. Transparent sliding doors with simple, inviting signage ensure that staff feel welcome to drop in at any point, and the different models of phone, laptop and tablet on display demonstrate that compatibility is king.
Besides traditional product development, Symantec delivers services such as corporate monitoring for cyber attacks and secure information storage – the focus of the Reading office's work. If an IT issue occurs, there is no time to log on to an anonymous system, pick up a virtual ticket and stare at the screen of a defunct device for an undefined wait time, until the phone rings or a human being appears.
"Service has got to be on a walk-in basis, and available around the working-hours clock," says Sasso. There is a small repair office behind the main open space, but the main objective is that solutions, where they can be, are readily available and delivered on the spot. But it's not all screen freezes and software upgrades: to encourage people to engage with the area and to ensure there is always a buzz in the Pit Stop, gaming is actively encouraged during lunch breaks.
The second part of the brief was to create a new communal space that everyone could use. "There was no round-the-clock facility for staff to come together, for coffee and collaborative working. In short, the office was missing a third space," says Sasso.
"The client knew they needed a new type of environment, and San Francisco coffee shops were always a part of the conversation in terms of the design influence and feel. By the time we came to implement the design, we really were at the point where it was hardly recognisable as a corporate environment at all."
The space has a stripped-back warehouse aesthetic, wood effect flooring, low pendant lights and an eclectic mix of modern furniture. A solid, chunky table is a bespoke feature, giving the space a unique focal point; it's surrounded by colourful Windsor chairs, with pendant lights hanging above that are a subtle mix of decorative and industrial.
The design team sourced from UK companies including Connection, Bark Furniture and Naughtone, and much of the furniture is British manufactured. The entrance to the cafe and deli is a bold, bright yellow square arch, an effective exercise in colour blocking ("yellow is a company colour, so it was all completely on brand," says Sasso).
Looking more closely, it is not all that surprising to find a new workplace model on a business park in Berkshire. Green Park, just south of Reading, forms part of the Thames Valley 'innovation corridor', which has long been home to global giants such as Microsoft and Dell as well as Symantec.
With high-speed trains taking under half an hour from Paddington to Reading, and a shuttle bus running directly to the park, many people make the commute from London every day. With its cluster of start-ups, the Thames Valley is now vying for the title of the UK's Silicon Valley alongside Shoreditch and Salford.
There is every chance that the model of bringing IT departments out of the basement and to the very front of organisations will be rolled out further, putting Reading ahead of California. And the hope is that more companies will follow suit, making face-to-face drop-ins the norm, in the process turning information technology into a much more human affair.
Instead of banishing IT to the basement, one tech firm has created a walk-in department with a friendly face. Welcome to the Pit Stop