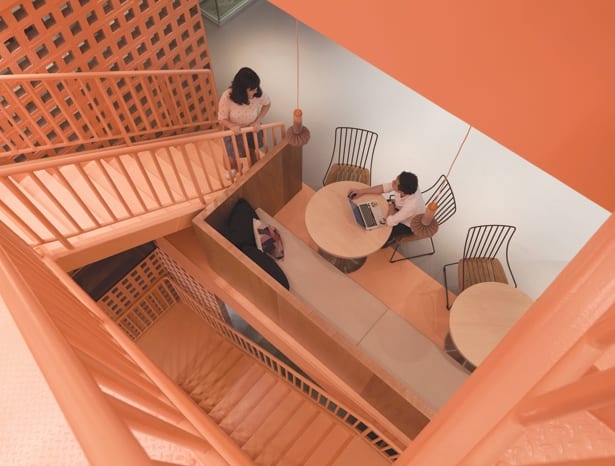 |||
Does Aaron Taylor Harvey have a dream job? For the last two years he has been environments creative director of Airbnb, based in San Francisco. This involves creating upgraded and new offices for the accommodation site's mushrooming staff around the world. But rather than rolling out a single look, he aims to tap into local culture and mix that with the business's global ethos.
Harvey has handled more than half a dozen office designs, with at least two more in the pipeline. Some of these are designed by his inhouse team, and others are given over to local architects or designers – often small, young practices, for whom Airbnb could be their biggest project to date. But despite being on the payroll of a 3,000-plus-strong company, Harvey empathises with these out-of-house architects: "I relate to them, as that's what I had before [his job at] Airbnb."
The village green in Threefold's London HQ
Communal space boosts team-building
Two years ago, Harvey was running a small design firm, Myriad Harbor, with his wife Rachael Yu, who is now Airbnb environments executive creative producer. Myriad Harbor picked up a job to create art models for an idea that Airbnb CEO Brian Chesky had called Mini Listings – a project that involved the creation of architectural models of existing Airbnb listings. "The second we went into the office to do our first interview, it had such a remarkable energy and sense of camaraderie that we wanted to stick around and be part of it," says Harvey.
Mini Listings became a portable art project that represented the business, and to make the six models, Harvey, Yu and their two staff moved into the Airbnb office and set up a workshop there. "We were doing leather work and sewing, upholstery, making fake trees. It really inspired people, particularly those who spent all day looking at spreadsheets and code."
The agile office offers a variety of work zones
That led to a commission to design an internal event, and was followed by a brief to design Airbnb's Portland office. It was Harvey's suggestion that they become part of the business. "We realised that all our other clients had faded away, Airbnb was paying all our bills, this was where the interesting stuff is and the kind of work we want to do."
Harvey himself admits that "we had been pretty strategic in how we infiltrated ourselves into that community". He now runs an eight-strong team, all with degrees in architecture or interiors (his own architecture degree is courtesy of California College of the Arts). Their task is to commission local architects to design offices, or to design the space themselves and then appoint a local architect of record. He also acknowledges that he has a "very direct" relationship with Chesky, as well as with Airbnb's head of employee experience and its head of marketing. At the same time, he has a free hand with the office designs: "I don't have to clear them with Brian."
The canteen (above) and informal meeting area (below) in the Singapore office
The design programme was driven by the brand's rush to put down roots around four years ago, when it was under threat from a well-funded copycat website. "Our response as a company was to as quickly as possible open as many international offices," Harvey explains. His team is now going through the process of slowly replacing those ad hoc offices, and upgrading them for the expanded workforce. "They were completely undesigned – they were really just putting a flag down. Some of them were cool spaces, but none of them worked very well."
For locations needing a local design firm, potential candidates are found through word of mouth and "not-that-sophisticated internet searching". They are invited to respond to a Request for Proposals. "We're not paying them to respond to us," he explains. "They have to decide if it is worth thinking deeply and coming up with a solution that's untypical – are they going to gamble a little bit of our time and hope to impress them?"
Traditional ventilation blocks in the Singapore office
Londoners Threefold Architects and FARM in Singapore both "had a strong idea of what Airbnb should be in their city", he says. The concept for London, which opened earlier this year, took typical components of historic Britain – the farm, the village green, the market square, the library, the terrace – and "distilled their key spatial and social characteristics to create a microcosm of such a community", according to Harvey. The terrace includes five spaces for informal meetings, private calls or conferencing.
Meanwhile in Singapore, FARM took a former Facebook office and incorporated the city's building typologies and materials. So the reception is the "front porch", while the central staircase (seen in our opening spread), which is enclosed with traditional ventilation blocks and acts as the central hub, is the "skyscraper".
MM18 uses "honest" natural materials in its office for Sao Paulo
And in Sao Paulo, local architecture practice MM18 brought in local craftspeople such as furniture, textile and industrial designers. In its design, the perimeter of a large gathering space is built up into bench and terrace seating inspired by the work of Brazilian landscape architect Roberto Burle Marx. Harvey says of these appointments: "We are often in this position of talent scouting. I hope it can be a springboard effect." He cites Heneghan Peng, the practice that designed Airbnb's pub-inspired Dublin office.
Examples of the second route – where the design is handled inhouse – include an additional floor for the San Francisco office, as well as interiors for Portland, Beijing and Paris, which opens next spring. This one was handled by Airbnb lead interior designer Rebecca Ruggles, who was previously at Gensler. "It's nice to have authorship," says Harvey, "and it means a lot to the local people to have us doing that work, because they are Airbnb and we are Airbnb. It's the reason our team exists, to get the strong connection between the work space and the people."
Perimeter seating has been inspired by Roberto Burle Marx
Regardless of who is responsible for the design, each office aims to capture the brand's "Belong Anywhere" ethos. And in an echo of its business model of making good use of underused homes, the workplaces strive for maximum efficiency of space. "We are incredibly fortunate to have a product that provides more than just a metaphor for how we might work, it provides a model," says Harvey.
All share certain traits with other modern workplaces aimed at a young mobile workforce: warm tones, "honest" materials, a variety of work zones, and on-trend furniture solutions such as bleacher seating, wide tiered steps for informal meetings.
Despite his workload, and despite having to juggle multiple time zones, (and the impending birth of his first child) Harvey comes over as affably unfazed. Certainly at a recent event to celebrate the opening of the London office, he appeared relaxed and good humoured. Which perhaps suggests that if it's not a dream job, then it certainly seems to suit him.
The Sao Paulo office draws on the work of local craftspeople
Airbnb's Belong Anywhere ethos extends to its clutch of office upgrades – each designed to reflect its host country