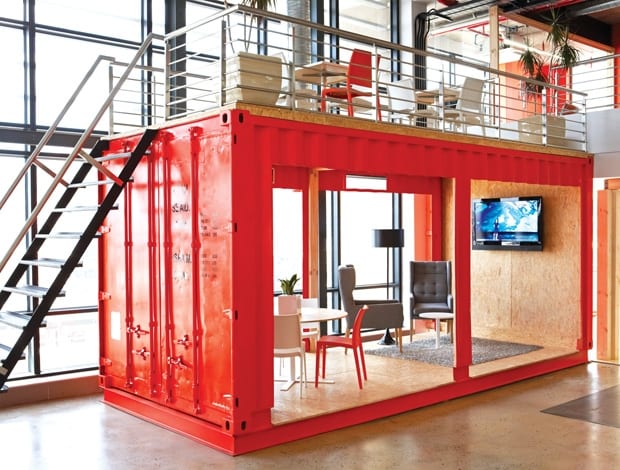 An OSB-lined shipping container has been turned into an intimate waiting area|A lo-fi, colourful industrial look makes the best use of a limited budget|Stadium seating acts as a connecting staircase; it houses a kitchen beneath|Taking advantage of the double-height ceiling, large trees line the cafe area|Planks of pine, fixed diagonally, screen off a simple seating area||
Inhouse Brand has cleverly designed a versatile space on a small budget for South African branding agency 99c.
The world's gaze may have swivelled away from South Africa following the mourning of Nelson Mandela, but the design community's focus remains fixed here. This year, Cape Town takes on the mantle of World Design Capital, and proves itself a city capable of producing world-class workspaces.
Just off Nelson Mandela Boulevard stands the Atlantic Centre, home to branding agency 99c. Locally based studio Inhouse Brand Architects was asked by the firm to simply "design our office", and was handed an empty shell consisting of two floors (the 8th and 9th) and a mezzanine, to mould into a workplace. Creative director Aidan Hart says he felt lucky to be given an "open brief, a blank canvas and an unusual double volume space to work with," but as a devotee of the democratic design principles embodied in activity-based working, his only gripe was with the multiple storeys: "The problem with space divided over several floors is that it can foster an us-and-them mentality."
His first idea was to punch a big hole through the two floors, linking the spaces with a staircase wide enough to house a generous kitchen beneath. The stairs double up as stadium seating for a screening space – the screen is housed in a wooden box suspended from the ceiling, and is used for reviewing work or watching live events, like the Cannes Lions advertising awards.
"Big corporates Here are starting to engage in creating environments that appeal to staff"
Hart talks about the psychology of architecture as being about "creating spaces that work, which for some unknown reason you can only reach by a process of intuition. You only really know once you are in it whether it works or not." However, he is critical of people paying lip-service to activity-based working principles: "You see lots of projects where they have understood the idea of putting a third space in – maybe installing a cafe area – but after the build, they find that the space isn't ever actually used by the staff, usually because it is completely soulless."
Inhouse has added intimacy to the 99c scheme with the addition of a shipping container, which has been turned into a cosy waiting room for clients and visitors. Although it's a device that's been used before in industrial-looking offices, Hart had not seen or heard of a shipping container being used in South African architecture before, and has high praise for it: "They are incredibly cheap and very practical space-makers; they're structurally sound, don't need support, have a practical footprint and can go anywhere." He quibbles that they are "a little narrow," a problem solved by removing the two longer sides. "Sitting inside it makes you feel like you already belong," says Hart. There are resonances with the location too, the container echoing the port that it overlooks – Cape Town sits on one of the world's busiest trade routes – and acting as a (admittedly subliminal) pun on "shipping creative ideas around the world".
There are further heavy industrial elements, such as the laser-cut steel front door and the huge steel plate that runs across the concrete floor before climbing up and folding over the reception desk. More of a sense of warmth and intimacy is present in the cafe/seating area, which is set on a slightly raised plinth and lined with a double row of tall trees, fully taking advantage of the soaring height of the space. Living wood is complemented by timber that has been left with a natural finish, with brightly painted sections here and there. Hart believes that trees give us a primordial feeling of safety ("since the dawn of humanity we have gathered under them because they give us a sense of belonging"), and adds that wood is a material "that all human beings associate with comfort".
"Sitting inside it makes you feel like you already belong"
Homeliness and fun join the party in the jazzily upholstered cushions that adorn the staircase-cum-seating area. The furniture is largely bespoke and made by local manufacturers, which was partly a financial decision – there was a tight budget, and South African-made furniture is considerably cheaper than imported foreign designer pieces, especially since the rand's dramatic devaluation last year. Local designer-makers are following international trends, producing their own distinct versions of current favourites like the high-backed sofa, used here to create flexible, semi-private meeting areas within the open-plan office, or – as Hart observed on one visit – semi-private napping areas. Remarking on the dozing employee to a 99c director, Hart recalls the answer: "That's fine; he was probably up late working on a pitch, and I'd rather staff felt they could nap here than stay at home all day instead."
It's a tolerant and pragmatic attitude that Hart says more and more South African clients are taking. "Big corporates here are realising that office space is essentially home to most people for most of their daylight hours, and they are starting to engage in creating environments that appeal to their staff, as opposed to the usual off-the-peg scenario of desk, meeting room and dropped fluorescent lighting."
With more than half of the world's population living in urban areas, the World Design Capital declares itself as a celebration of "the accomplishments of cities that have used design as a tool to reinvent themselves and improve social, cultural and economic life". Politically, South Africa has demonstrated what can be achieved with a leadership that gives power to the people. This year, Cape Town has an opportunity to show the world how to make design work for the workers.