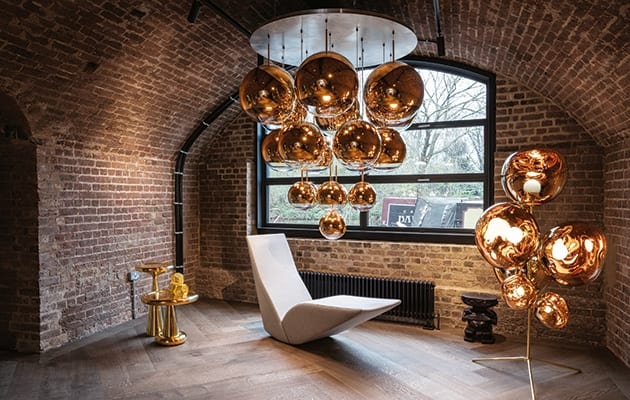 |||
Picture London in 1850: it's an era powered by coal, with charcoal littering the streets and air filled with murky dust. Back then, the Victorian city was driven by fossil fuel which, though dirty and unsustainable, helped to elevate it to the world's largest municipality, and capital of the British Empire. But with such a vast exchange of coal taking place, it needed a heavyweight storage and distribution centre to handle the loads.
That's where the Coal Drops came into play. Located close to King's Cross station, these brick buildings were designed to handle eight million tonnes of coal delivered by rail each year before it was loaded on to horse drawn carts for further distribution.
Tom Dixon's Coal Office is next to the Coal Drops Yard retail centre
Now, under restoration by Heatherwick Studio, Coal Drops Yard is being reinvented as a contemporary retail and dining destination, with shops, offices, cafes, bars and restaurants opening to the public later this year. The grand brick viaducts, cobbled streets and lavish ironwork still remain, yet the space's purpose has completely changed.
Furthermore, this will be the home of designer Tom Dixon's new headquarters, in the Coal Office, a former coal distribution centre which was refurbished by David Morley Architects before Dixon's Design Research Studio took the reins to design the interiors.
It might seem an obvious choice for Dixon and his team to relocate operations from Ladbroke Grove in west London to the capital's largest developing destination – home to an ever-expanding intersection of creatives with the likes of Central St Martins and LVMG, Google and Spiritland nearby. But when asked about his specific reasons for the move during our meet, Dixon replies with laughter: "We were chucked out."
However, he continues in all honesty: "It was time to have a proper shop with people. Where we were before was more like an estate with no passing trade, and in our new location we are bang on the high street."
Clean modern floors are offset against the Victorian brickwork
This breadth of customer clientele and mixed-use approach is what appeals to Dixon the most, suiting his plans for a new 1,625sq m complex with office space, a showroom, shop, gallery and even an on-site restaurant and cafe scheduled to open in June. "We depend on an odd mix of retail customers for the restaurant and for the shop, and we needed to be in a place that was properly on the cross works," says Dixon.
"It's quite hard to find that in London – there's Clerkenwell, which is traditionally where people seem to base themselves, but it's not as brilliant as all that in terms of the nature of the quality of life. So it took us a long time to find a new location, and there's a lot of debate about where the right place should be. But ultimately we're very happy with where we are."
During a tour led by the man himself, you could instantly tell that it was imperative to maintain the industrial past of the coal drop-off point within the walls.
At first, the tour ventures down into the kitchen, where food made from charcoal – meringue, bread, blackberry jam, biscuit, damson jelly and pepper spread – was set out on a large communal table. This is the team's staff kitchen, which serves as a day-to-day food quarters but is also "a great place where all of the meetings happen, more than anywhere else in the building," he adds.
Positioned at canal level, and in one of the building's arches – a place that used to provide one of the drop-off points that fed coal from one of the railways – the kitchen is an instant burst of history that Dixon describes as a "combination of gritty and modern contemporary London".
Dixon's lighting collection is on display in its own arch
Next, the tour leads us into a large meeting or conference-type room, where Dixon discusses his plans for the building. It's important to note, as the bustle of Milan has now passed, that Tom Dixon did not exhibit during the week – for the first time in 15 years. The brand wanted to focus more on its upcoming transition, new collections and its plans to build a global network through an 80-day challenge – that is, visiting the likes of Casablanca, Reykjavik, Sydney and various other locations to broaden connections and bring a larger community to its new King's Cross home.
Visually, the building's maze-like features also insinuate some kind of network; well connected and at first a bit dizzying, each room is joined by bricked arches, unparallel walls and odd spaces that scream with character. Architect Stefanie Sebald, the lead interior designer on the project, explains how this puzzling, historical and "awkward" structure is part of its charm: "I think the interesting thing with this building is you've got the really derelict halls, with holes in some parts and some things falling off it."
She continues: "In terms of the architecture, it was a matter of embracing the original structure rather than fighting it. This building is really awkward; it's an old, crumbly structure, but we left the walls and sealed it to the best we could. Then we contrasted that with really clean floors and all our products against this backdrop – it's very crisp and I think the mix of those two things was mandatory and helped us find a balance between what we put in and what we leave exposed. I think the awkwardness is a challenge and a blessing."
The interlocking rooms mix openness and privacy
This means there are odd areas, nooks and unexpected spaces, although these can positively act as a place that people can use to have a phone call, private meeting and explore. In terms of office space, when venturing into this domain, it at first looks deceivingly spacious. The interior is actually quite small due to the nature of the building and the narrow floorplate, although employees are certainly not limited to this space. It was the first thing to complete during the renovation, and it was vital to develop a workspace that provoked movement and a journey throughout the entire complex.
"The journey of a workspace is very important and was synonymous with the layout of the space," Sebald adds. "Because of this, people have started working differently."
Dixon's Copper and Meltlights are used in the workspace
Everyone here at the new Tom Dixon headquarters has already started to fully embrace agile working. With BREEAM standards and interiors that enforce employee happiness and working efficiency, how could you resist exploring every corner?
Here, the team has created a full representation of how they would want to work – and hopefully how other people would want to work too. "It becomes much less of a desk-bound experience, where you're sitting down for eight hours and working in the same environment," says Sebald. "It becomes much more agile and space allows you to team up with your colleagues easily – plus it's a space you want to be in."
Subscribe to OnOffice for more features like this
Tom Dixon's Design Research Studio refitted an old Victorian coal office in King's Cross to provide an industrial backdrop for the designer brand