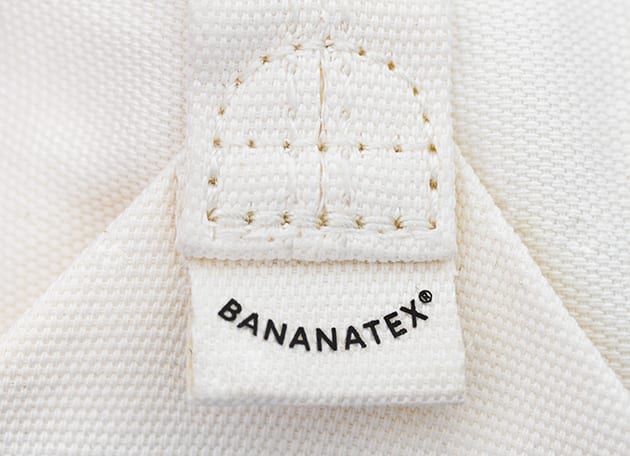 |||
See our roundup of brands making beautiful bags out of innovative materials
Swiss backpack brand Qwstion, as featured in our July 2019 Green Issue, is making their official debut at The Conran Shop from autumn 2019 onwards. Qwstion, which launched late last year, has sold 1,000 Bananatex bags worldwide since its inception, crafted using the world's first technical fabric made from banana fibre, which is organically cultivated in the Philippine highlands.
To mark the launch, we highlight four other innovative and sustainable brands, from vegan must-haves to the businesses producing goods with integrity, these bagging solutions promise to pack a sustainable punch.
Future Glory
San Francisco-dwelling brand Future Glory turns sustainable fashion into coveted arm candy. The 'socially conscious maker' of handcrafted leather bags and accessories, designed and made in San Francisco, are inspired by the simple forms and effortless drama that lasts the seasons. Founded back in 2013 by Theresa Lee who was on a mission to marry classic design with her passion for empowering women, Future Glory has supported various organisations over the years, including homebuilding charity New Story, among others. Many designs have customisable aspects – the minimalist Rockwell midi (pictured above) is available with an open top and simple handles, or with a zip closure.The brand caught our eyes for its beautiful designs and producing products with purpose – proof that any business can be a positive catalyst for change.
Matt & Natt
Canadian firm Matt & Nat offers stylish and green bag solutions for even the most discerning design aficionado. Vegan approved and made from 100% recycled nylon lining, the firm's ethos is as solid as their goods. Matt & Nat's latest iteration comes in the form of the newly launched Hoxton backpack (£105) available in three sophisticated matt canvas colourways – olive, black and chili – and features a structured flap with adjustable straps. The generous bag and slim design fits a 13" computer, making it ideal for those on the go commuting or working remotely. For something similar in their leather-style (but still vegan) finish, try the Sydney backpack (£107).
V By Townsley
Founded by a sister-in-law duo back in 2018, V by Townsley merges cruelty-free and vegan design with minimalist and timeless aesthetics. Passionate about creating luxury goods with empathy, the firm's collection combines the softness and durability of real leather without using animal derivatives of any kind, but rather, a unique and high-performing Japanese material that promises to redefine the experience of vegan leather. The brand's offerings are brought to life at a family atelier in the Abruzzo region of Italy, famed for working with some of the world's finest luxury brands and now adding a further acclaim to its prestige: sustainability, and giving a once traditional craft an environmentally friendly and contemporary twist. Pictured above, the Eden (£450) comes in three colourways and has internal zip and slip pockets to keep all your valuables secure.
Johnny Urban
Johnny Urban, the Hamburg-based backpack brand, is quickly making waves with their sustainable collection titled Johnny Urban Eco Series. In keeping with the company's green credentials, recycled polyster was used for the outer fabric, manufcatured from an impressive 100% recycled PET bottles. Versatile and modern, the Oskar bag (£29.95) (featured above) also features a water-repellent material, achieved by impregnating the fabric with a PFC-free agent that prevents pollutants from entering the environment. The velcro closure and multiple zippers, meanwhile, provide more functionality, making the bag a must-have modern companion for any urban dweller.