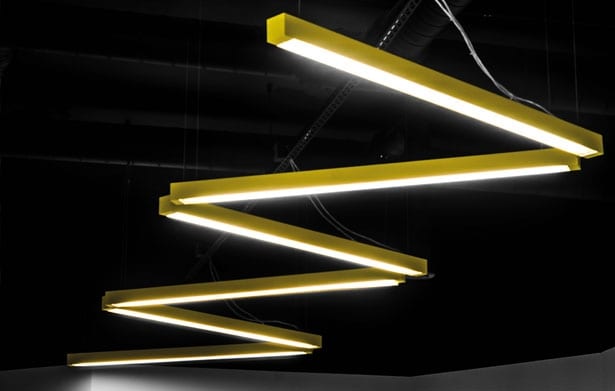 |||
In Wrocław, Poland, there stands a 100-year-old historic town house that's seen numerous renovations over the years. Today, it holds a team of more than 50 talented tech professionals, who are creating mobile apps and designs for iOS and Android platforms.
Droids on Roids by name, the company has created over 60 mobile projects with partners from across the globe: its client book includes gif search engine Giphy, and its open source libraries are utilised by big names such as Facebook and WhatsApp. Having recently relocated to the centre of Wrocław in the quest for a new office, the company needed a space that would reflect its creative and energetic method of working.
So, Polish studio Mode:lina, based in Poznan, took the task in hand. Pawel Garus, Jerzy Wozniak, Kinga Kin, Małgorzata Szymanska and Anna Kazecka worked on the design, with the aim of reflecting the mobile sphere of the programmer's graft in the structure of the new office. "The most important for our investor was to have an office which would constantly be full of life, full of creative ideas and welcoming to the guests," says architect Garus, co-founder and partner at Mode:lina. "It turned out that Droids On Roids forms an incredibly nice community which is continuously developing in a dynamic way."
Droids on Roids' employees spend a substantial amount of time working together, alongside various rituals around celebrating the delivery of projects, watching films and filling evenings with games, as Garus explains. This meant that the new working environment had to reflect the company's sense of fun, community and team-building. "They needed an office with a functional scheme that would take into account their diverse methods of working," he says.
"But we also had to keep in mind a limited budget and the requirements of the space which became home to Droids on Roids' new office," adds Wozniak, his fellow co-founder and partner in the practice. The combination of the historic location and revamps of the structure also provided a number of surprises.
"It transpired that the space was created a number of years before by joining several spaces into one, and today the office is located across three different townhouses," says Wozniak."This is why, from a technical point of view, it was very important to create a functional space for employees, but without having to interfere too much in the existing layout. And this is exactly what we did."
Construction aside, Mode:lina has a uniquely personal way of collaborating with its clients from the offset. When asked what type of brief they were given for this project, Garus explains the process. "[The client] commissions a design and they leave surprised with homework," he laughs. "They are given a task of describing their day, how they spend their free time and what their interests are. The better we get to know them, the more suited to their needs the design will be."
These specific needs resulted in a design that is sourced specifically from what the Droids on Roids programmers do on a daily basis, and what they're famous for. Filled with elements inspired by smartphones and symbols we know all too well, the walls of the new office are decorated with status bars, zigzags, black stripes, icons and visual codes; navigating this office is like navigating a home screen, which makes the space actively fun for those inhabiting the area as well as those simply visiting.
"We always look for interesting inspirations in what our client tells us about themselves. These sometimes could be very simple elements, at times most unnoticeable, and it is our task to notice and turn them into something functional and aesthetic," says Garus. "We search for an idea that would become the main theme of the project." In this case: all things mobile.
Subscribe to OnOffice for the full feature
Taking its brief from a hard-working, hard-playing Polish app developer, Mode:lina has created a fun, dynamic workspace in a Wroclaw townhouse