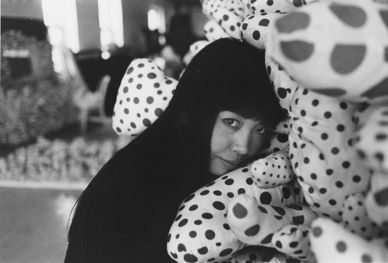 Tate Modern presents a special exhibition of two immersive mirror room installations by Japanese contemporary artist Yayoi Kusama
Escape the office or your busy schedule with a lunchtime visit to your favourite local art gallery. Our new series 'Lunchtime Art' is about finding inspiration, being curious and taking time away from work to connect, collaborate and create.
This week, we explore the dazzling world of Japanese artist and 'princess of polka dots' Yayoi Kusama. Her year-long exhibition Infinity Mirror Rooms at Tate Modern, which runs until 12 June 2022, continues to captivate art lovers and offers a brilliant escape from everyday life.
Combining performance, sculpture and mirror installation, Yayoi Kusama's work demonstrates her life-long obsession with infinite repetition. Stepping into Kusama's world of infinite space is a beautiful, immersive and awe-inspiring experience, one that transports visitors to another realm.
Born in 1929 in Matsumoto, Japan, Kusama came to international attention in 1960s New York for a wide-ranging creative practice that has encompassed installation, painting, sculpture, fashion design and writing.
Since then, she has been the subject of monographic exhibitions around the world, including a major travelling retrospective initiated by Tate Modern in 2012, and forthcoming presentations at the New York Botanical Garden and the Gropius Bau in Berlin, both in 2021. Kusama has lived in Tokyo since 1970, where she continues to work prolifically and to international acclaim.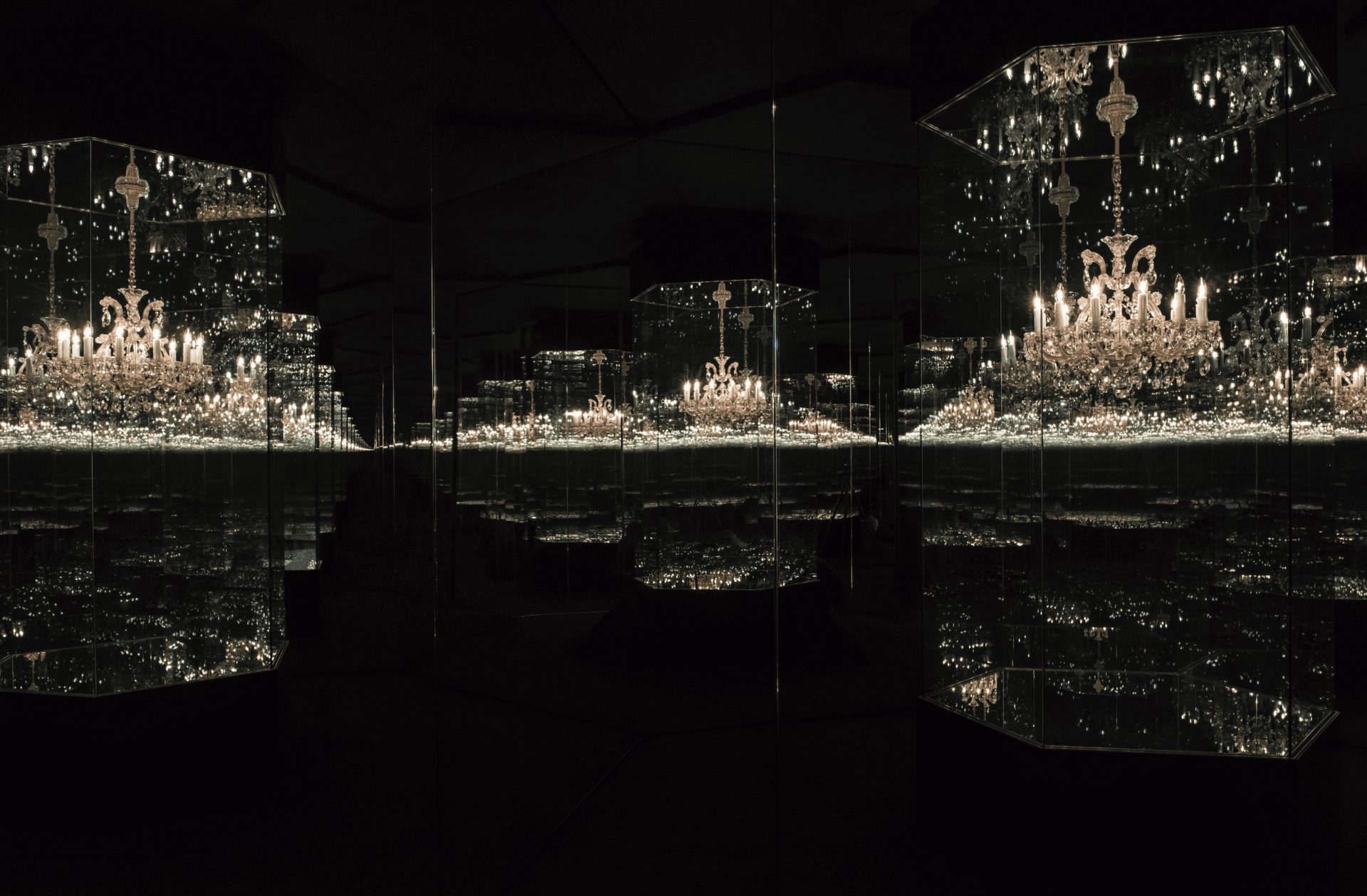 The exhibition features Kusama's sculptural work The Universe as Seen from the Stairway to Heaven 2021 and her brand new 'peep in' sculpture, which has been created especially for the display.
Deploying both mirrors and the colourful 'dot' motif, it recalls the iconic early work Kusama's Peep Show or Endless Love Show 1966. The work demonstrates Kusama's life-long obsession with concept of infinite repetition, exploiting the formal properties of mirrors to create the illusion of limitless space.
Kusama says of her dots obsession: "Our earth is only one polka dot among a million stars in the cosmos. When we obliterate nature and our bodies with polka dots, we become part of the unity of our environment."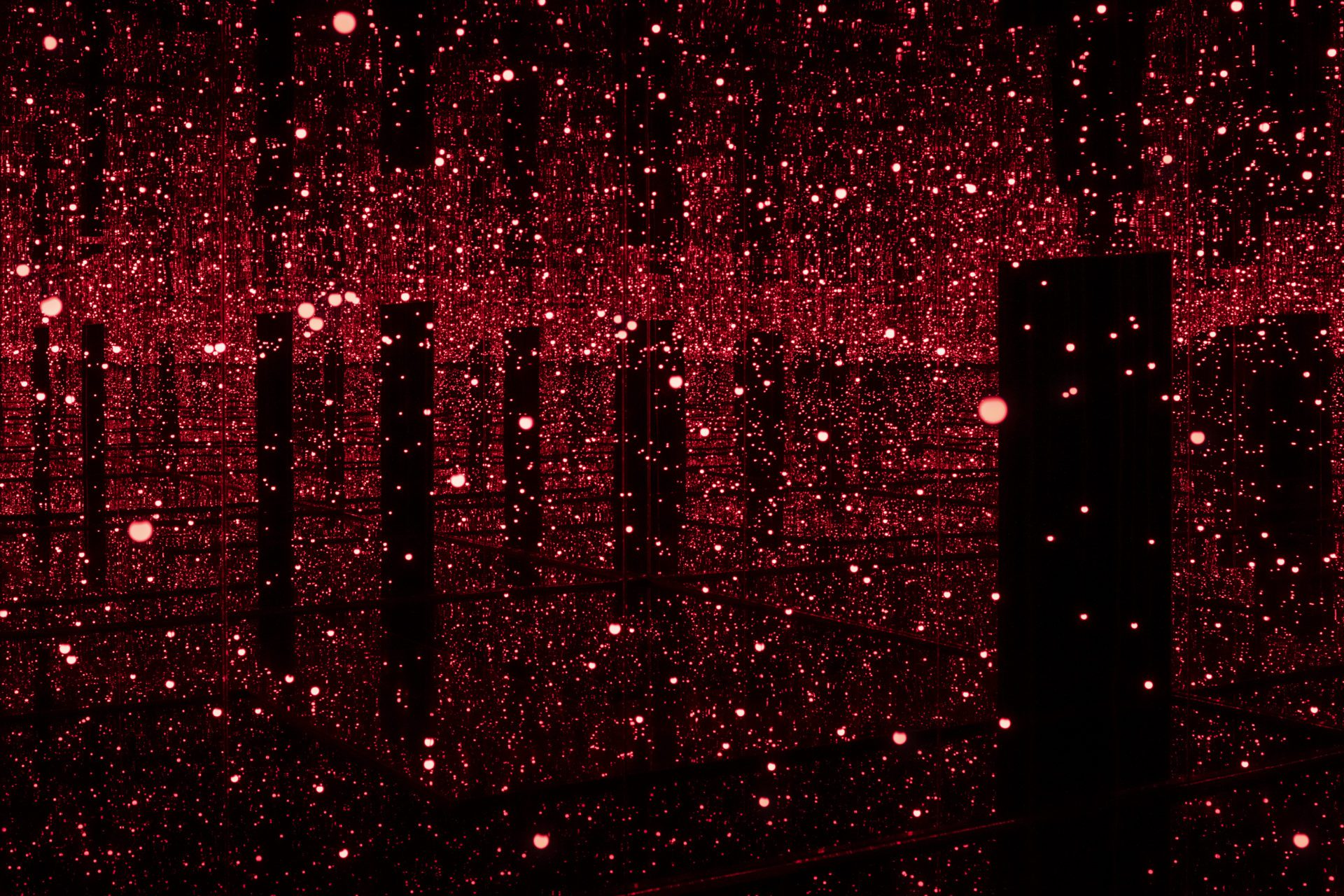 Fans of Kusama's work will also be able to experience Infinity Mirrored Room – Filled with the Brilliance of Life, one of Kusama's largest installations to date and originally created for her 2012 retrospective at Tate Modern.
In this immersive work, mirrored walls and a shallow pool of water endlessly multiply a constellation of tiny, suspended lights to create a feeling of infinite space. This is shown alongside Chandelier of Grief, another whole-room installation in which the viewer disappears into a seemingly boundless universe of rotating chandeliers.
While the experience is equal parts disorientating and awe-inspiring, both Infinity Mirrored Room – Filled with the Brilliance of Life and Chandelier of Grief evoke delight in its purest form. Stepping inside both rooms is like stepping into Kusama's cosmic universe where everyday emotions are transformed into live art.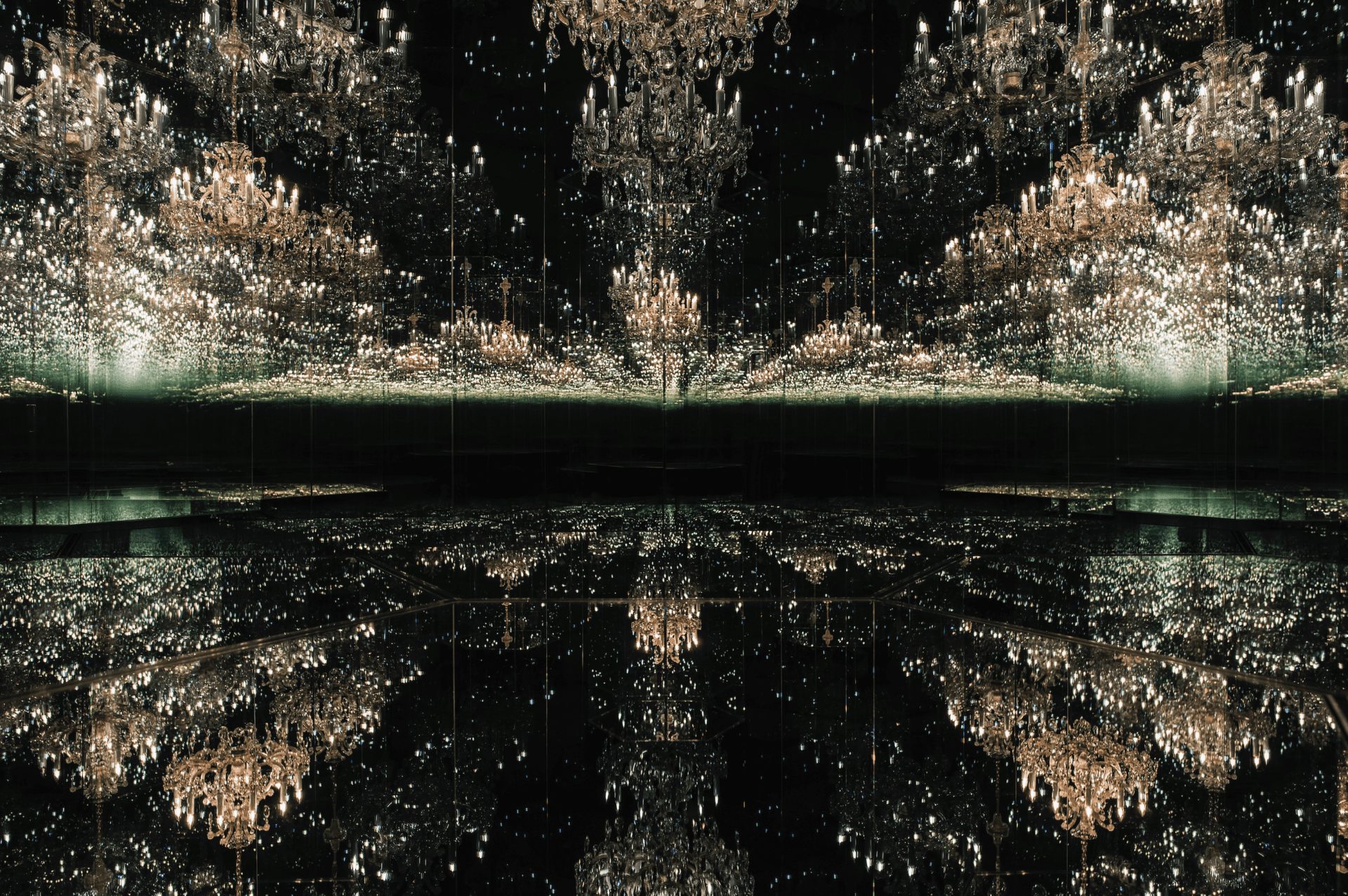 Display of film and photography – some on show for the very first time – punctuate the exhibition space and provide historical context for the global phenomenon that Kusama's mirror rooms have become today.
For instance, photographs by Eikoh Hosoe (born 1933) and the partnership Harry Shunk (1924-2006) and Janos Kender (1937-2009) explore how Kusama subverted the notion of the artist's studio: Hosoe's images show the studio as an almost reverent space that is central to Kusama's unique artistic brand, while Shunk-Kender show Kusama traversing the studio's physical boundaries.
Eager to experiment with stamping dots and circles, these forms are a direct reflection of Kusama's visual identity. By creating environments of dots, whether hundreds of flashing coloured LED lights in mirrored rooms or larger sculptural work, the circles are used as a symbol of infinity.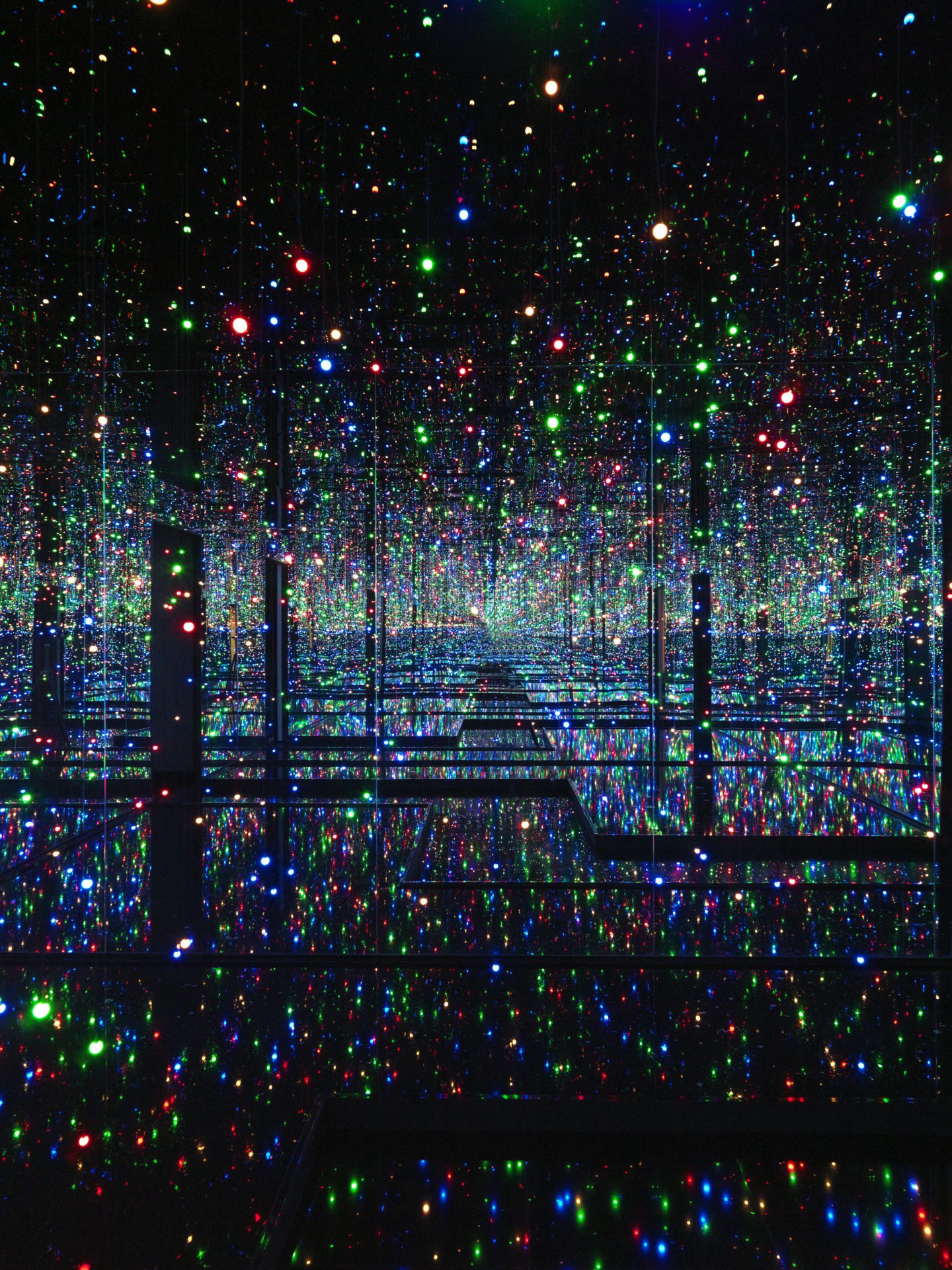 Furthermore, the exhibition also presents recently rediscovered film footage by the British academic John Jones (1926-2010) of Kusama in her New York studio in the mid-1960s – a unique, moving image testimony that records the artist's earliest sculptural works and confirms her simultaneously as a torch bearer for surrealism and an unparalleled artistic force in her own right.
As one of Japan's most celebrated artists, Yayoi Kusama's diverse exploration of painting, printmaking, photography, collage, film and video, performance and installation, as well as product design, has highlighted her originality in the last six decades and captured the depths of her vivid imagination.
"It would be futile and meaningless to focus on the shrinking time-frame before me, or to think of my limitations," shares Kusama. "I shall never stop striving to make works that will shine on after my death."
Images from top: Eikoh Hosoe, Portrait of Yayoi Kusama in her studio, New York, circa 1964; Infinity Mirrored Room – Filled with the Brilliance of Life, 2011, Tate; Yayoi Kusama, Chandelier of Grief 2016/2018, Tate, presented by a private collector, New York 2019, Yayoi Kusama, courtesy Ota Fine Arts and Victoria Miro; Infinity Mirrored Room – Filled with the Brilliance of Life 2011/2017 , Tate, presented by the artist, Ota Fine Arts and Victoria Miro 2015, accessioned 2019, Yayoi Kusama, Joe Humphrys
Enjoyed this article? Read more: Art and its benefits in the workplace