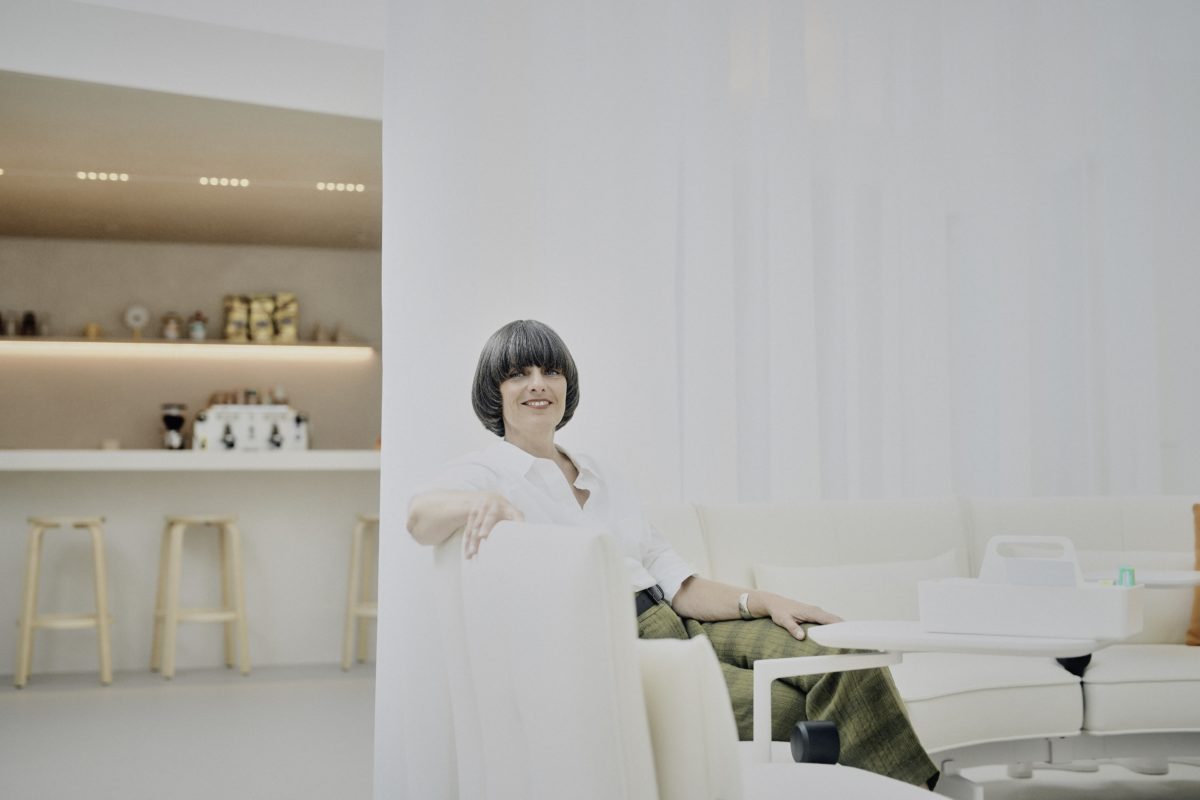 Pirjo Kiefer, Vitra's head of interior design services, has tracked the changes in office design over the years. What does she predict for the workplace beyond the pandemic?
OnOffice: The Citizen Office project was developed between 1991 and 1993, initiated by Vitra, Andrea Branzi, Michele De Lucchi and Ettore Sottsass. Sevil Peach designed a new and revitalised office for Vitra's Weil am Rhein campus in 2010 and since then the Citizen Office has continued to evolve. Can you share a brief overview of its history?
Pirjo Kiefer: Back in 2000 we realised our first office with Sevil Peach in the Grimshaw building in Weil am Rhein, which used to be a cubicle world like something out of Jacques Tati's movie Playtime, with all the employees sitting in their own little box.
Called the 'Network Office', it was an office landscape with a mix of clustered desks and informal meeting areas. The layout was designed without partitions to support communication in and between teams – as a reflection of Vitra's pioneering spirit and in response to the need to speed up processes as the working world became faster due to globalisation and digitalisation.
Within this office set-up, you could find a product called Monowall, which was based on Branzi's idea of organising all the technical equipment vertically in close proximity to the workstation. The interior architectural structure from that time is still in place today. The concept was so strong and compelling that, with some adjustments over the years, it remains just as relevant and vital to this day.
In 2006 we developed the Net 'n' Nest Office, reflecting the growing need for concentration and focus work. Key products were Alcove – the sofa in the office – and Joyn – the kitchen table in the office. Thanks to the incorporation of mobile equipment, employees had more freedom to choose the right environment to match their individual tasks, but also their moods.
In 2010 we renamed it 'Citizen Office' as it increasingly became the visionary space originally conceived by Branzi, De Lucchi and Sottsass. The diversity of space types increased, reflecting the diversity of tasks as well as employee expectations. Employees could behave like autonomous citizens. And the office became more 'cosy' than De Lucchi had imagined it in 1993, due to a mix of desks with alternative settings like lounges and other soft seating meeting areas.
The VUCA [volatility, uncertainty, complexity and ambiguity] world brought new workstyles, such as agile methods and the need for cross-functional collaboration, which meant a greater demand for flexibility and visualisation in office spaces. Products like the Dancing Wall, Stool-Tool, and desks and tables on castors supported the new need for visibility of work, frequently changing team sizes and freedom of choice.
To this day, the open landscape of the Citizen Office, the flexible space structure and the timeless design of the built-out elements allow us to react to evolving demands based on ever-changing, often unexpected workplace developments. Such as the current hybrid working world ensuing from the global home office experiment and its widespread acceptance.
It turns out that changing workstyles and adapting company culture are more the drivers for changes in the workplace than the technical equipment itself, as was the case back in 2000.
OO: Today, the Citizen Office acts as a living laboratory where Vitra can test new ideas and ways of working. It is an organic landscape, which is flexible and ever-changing. Given your vast experience and personal interest in the radical changes taking place in the world of work, how do you think the office should look post pandemic?
PK: Before the pandemic, most knowledge workers were still bound to the desk. The culture of presence and visual control was still in the DNA of many companies. Strange to say, but the lockdown experience kind of unleashed the workforce.
Suddenly the future was reality. We realised the possibilities of a digitalised working environment. All together and at once, we discovered the huge potential of working remotely as well as its challenges. At Vitra, reflecting internally and in discussions with our clients, we soon realised that this new hybrid world requires a certain framework and a different office set-up.
The challenge of distributed work is quite obvious – we have fewer face-to-face interactions and serendipitous encounters with colleagues where we unconsciously learn from each other. Spontaneously tossing out ideas is difficult and, even more challenging, trust-building and the sense of belonging gets lost.
For the office it means offering space for the social layer of our work life to foster those important serendipitous encounters between employees, and to provide more space for collaboration and experimentation. Our answer is the Club Office. It's based on the realisation that you no longer come to the office to do focused work on your own.
Like a member of a club, you come to the office to feel part of a big whole, to meet colleagues, to acquire new knowledge and to have new experiences. In addition to building the Club Office, we adjusted the Citizen Office. Due to hybrid work, it is often hard to predict how many employees will come to the office at the same time.
Space needs to become more fluid. We decided to make it 100% non-territorial and to cluster the space in bigger neighbourhoods, which ensures that when you want to work in the office, you can always find a spot close to the people you are working with. We found that space alone is not the answer.
A framework defining the level of hybridity of different work types, linked with the definition of the home office and office equipment, not only helps leadership but also enables employees to structure their working week between absence and presence, collaboration and concentration. Plus, it helps to calculate sharing ratios and space requirements.
OO: While some sectors are clinging to pre-pandemic ways of working, our offices will most likely look different post pandemic. How will we work in the future and how can designers enhance the physical workplace?
PK: We expect that the office will become much more of a social platform. The office needs to create a sense of belonging, a home. People should want to be part of this specific company, sensing its unique culture and institutional values.
Moreover, it has to offer a variety of spaces for meetings and collaboration. There will be less reliance on traditional dedicated workstations, as concentrated work and administrative tasks will mostly be performed at home. The integration of technical infrastructure in the office will be key to facilitating hybrid meetings and workshops.
Honestly, I believe those days of hierarchical, uniform and inflexible offices are definitely over. Small and medium-size companies in particular are now more open than ever to rethinking their offices. The lockdown situation made it quite
clear that innovation does not happen in isolation, either at home or in individual offices.
Complicated tasks need to be solved in cross-functional teams. People aren't coming back to the office today for concentrated solo activities – they come because they want to feel part of a larger whole, they want to meet their colleagues, and they want to learn and experience new things. This situation is paradise for us designers, as it means the end of stereotypical offices!
OO: As organisations plan their back-to-work strategies, social distancing and increased hygiene measures will probably be here to stay. What role does design play in helping people feel safe and healthy as they return to work?
PK: It seems that social distancing has become totally ingrained in our habits and most companies will likely maintain increased hygienic standards.
We believe that an open space concept with a variety of options for employees and the freedom to choose where to work provide a sense of security and promote wellbeing. In the Citizen Office, employees can freely select the space they need for the task at hand, even creating their own workspace set-up.
They decide if they want to sit among other colleagues or in a more separate, quiet spot. The topography of space and choice of materials and colours can greatly enhance the feeling of security and wellbeing.
OO: Jay Osgerby said: "Soft Work is the death of the desk." As digitalisation continues to change the way people work, with many of us now making use of tablets, smartphones and laptops, do you think the death of the desk (or office) is upon us?
PK: Digitalisation alone is not the death of the desk. It is more a cultural shift. Since our global home office experience, we finally got rid of the culture of presence and control. Work happens not just at a desk or in an office anymore – it can be done anywhere.
Images by Tom Ziora, Dejan Jovanovic, Julien Lanoo and Marc Eggimann 
Enjoyed this article? Discover our Vitra Special in OnOffice 158, Spring, 2022. Read a digital version of the issue for free here