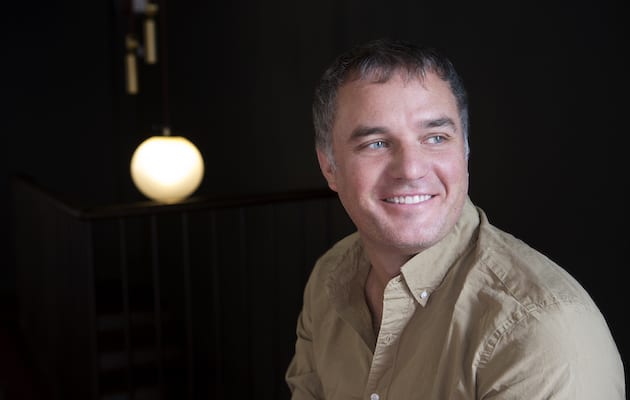 |||
Lamp manufacturer Roll & Hill collaborates with a range of independent designers and hand assembles its products in New York, creating unique, sculptural pieces that are as artistic as they are functional. Here, founder Jason Miller discusses the firm's work, featured in the OnOffice London issue (148).
How did Geode, Pole, Arbor, Coax, Nova and Apollo contribute to the atmosphere of the Landscape of Light exhibition?
Because the space was quite intimate, I think the pieces work very well. Nothing is massive and grand. The pieces have beautiful details that are best seen close up.
Apollo by McKenie & Keim, Photo credit: Nicole Franzen
In your bio, your designs are compared to "a mirror whose photographic surface recalls a painted landscape." How does your painting experience influence your work, particularly Geode, and your new collection as a whole?
I think my painting background helps me to think about colour, texture and context. I think these are the things that keep design from becoming bland. If you reduce everything to the most minimal version, sometimes you end up with nothing.
Coax by John Hogan, Photo credit: Roll & Hill
What is your definition of 'American industrial craftsmanship'? Considering American craftsmanship is rooted in the British Arts and Crafts movement in response to the Industrial Revolution, how can American industrial craftsmanship honour both industrial style and the maker spirit?
To be totally honest I don't like the word 'industrial' to define our aesthetic. I think I edited that out of our last company bio. What we are trying to do is to industrialize the maker spirit, not merge that with an industrial aesthetic. We have developed a production system that allows our designers to design for the customer and not for the manufacturing process. We can make products that are not terribly production friendly at scale.
Pole by Philippe Malouin, Photo credit: Nicole Franzen
What are your aims around becoming an accessible maker of American design?
We have no goal of being accessible. Our goal is to make the best products possible. Sometimes they are relatively inexpensive, sometimes they are not.
Arbor by Karl Zahn, Photo credit: Roll & Hill
How has Roll & Hill influenced the conception of high-quality contemporary design in the US?
When I started the company, there was a notion in much of America the 'good design' came from other places (mostly Europe). Design from Europe was admired, but not consumed much. I think what we have proven (along with a handful of other brands) is that good design can come from America and cater to American tastes.
Geode by Jason Miller, Photo credit: Nicole Franzen
OnOffice interviews Jason Miller, the Brooklyn-based designer and founder of Roll & Hill