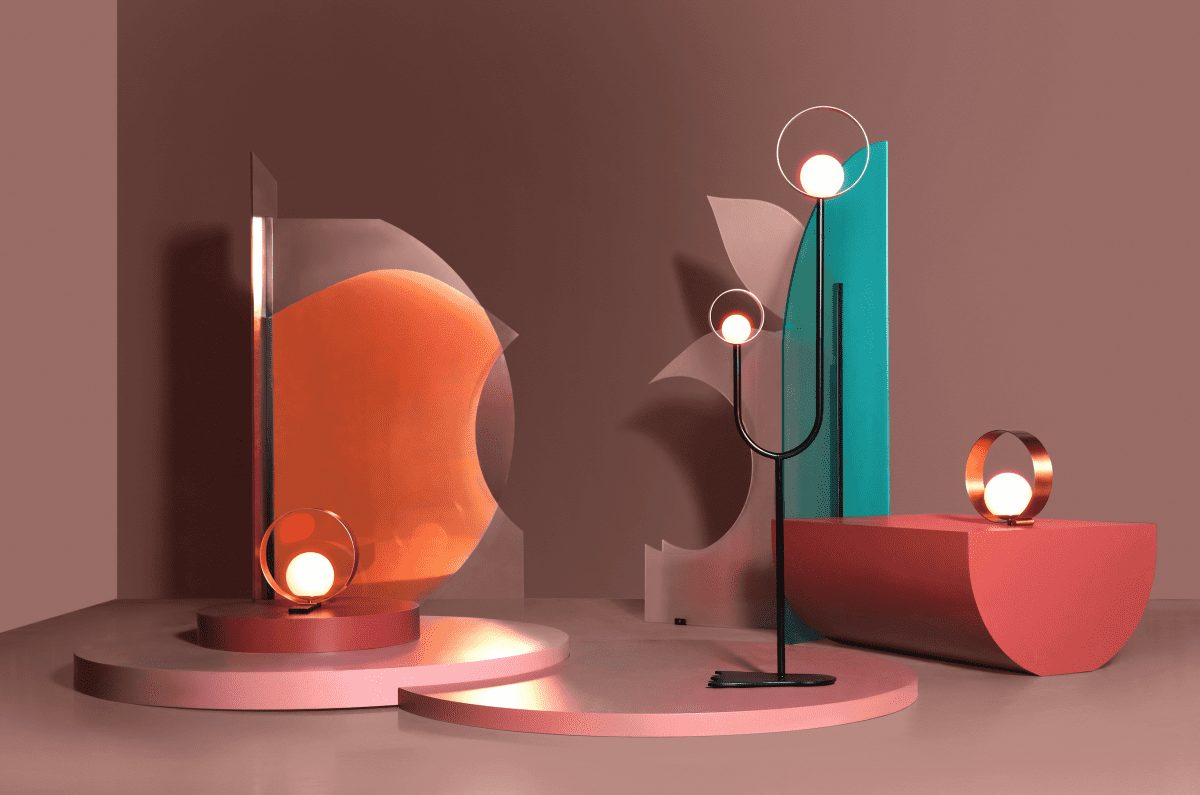 The sixth edition of Dubai Design Week featured a hybrid showcase of events including physical exhibitions, outdoor installations and pop-ups at its main hub in Dubai Design District (d3)
The annual event returned from 9-14 November 2020 and featured a hybrid showcase of events, from outdoor installations and pop-ups to a virtual talks programme, this year's edition celebrated the best in design both regionally and internationally. Read on to discover the top 7 highlights from Dubai Design Week 2020.
1. Pardis by Studio Meshary AlNassar for Cosentino
Multi-disciplinary Kuwait-based Studio Meshary AlNassar has joined forces with global surface brand Cosentino to present 'Pardis' – a contemporary take on the ancient Persian paradise garden. Constructed out of an ultra-compact engineered surface called Dekton, Pardis is as much an urban sanctuary as it is a physical manifestation of our human yearning for a sense of lost community. Its minimalist design includes a seating element whilst evoking a sense of calm through a landscaped desert garden. By night, the installation comes alive with lighting, stoking a mood of bliss and wonder.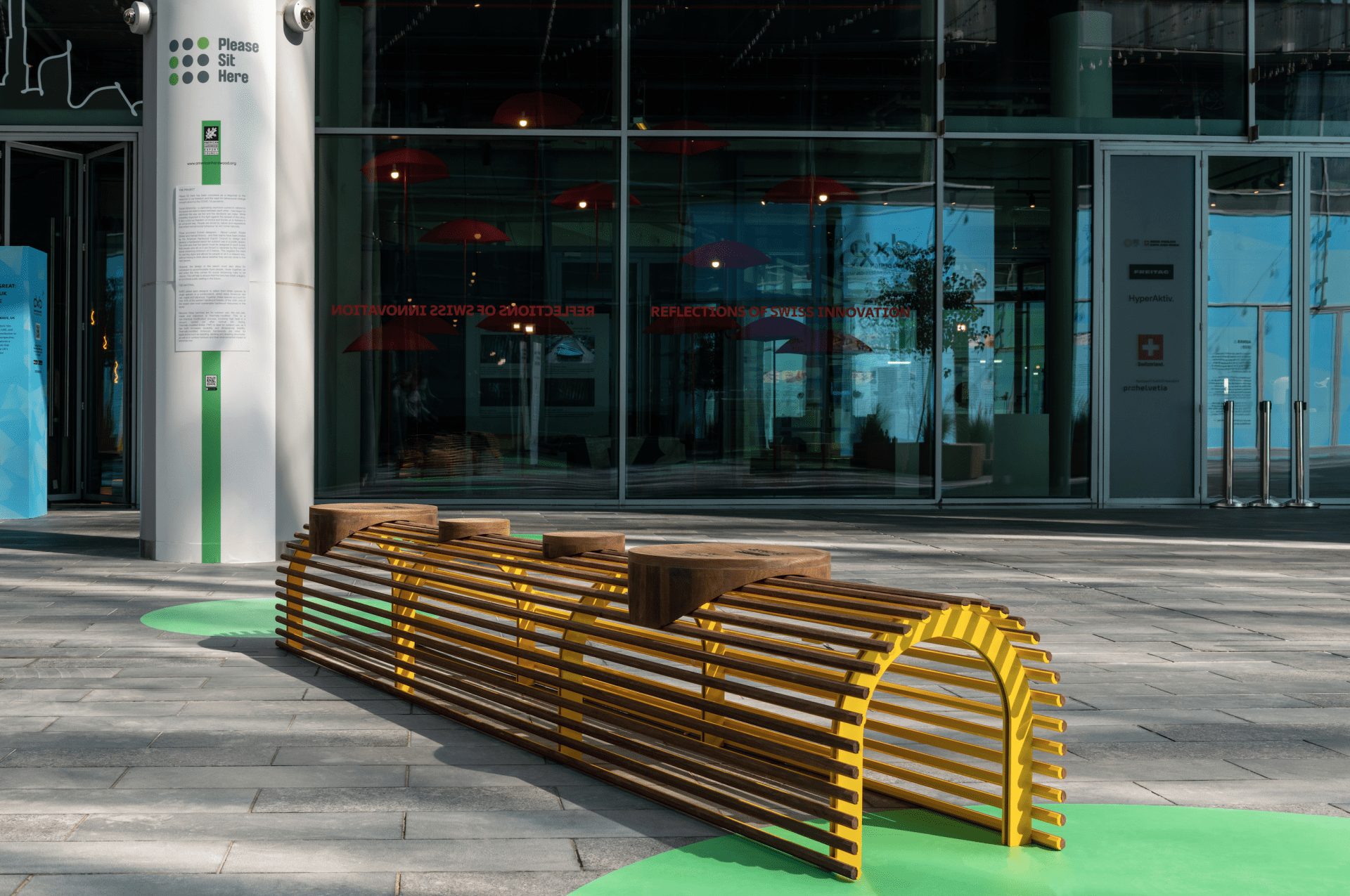 2. Please Sit Here by American Hardwood Export Council (AHEC)
The American Hardwood Export Council (AHEC) has collaborated with three local designers; Khalid Shafar, Aljoud Lootah, Hamad Khoory to develop: 'Please Sit Here' – a seating project comprising outdoor benches that allow users to sit two metres apart.
The benches can also be converted to accommodate more people, closer together, as and when the time comes for distancing regulations to be relaxed, ensuring the project retains a legacy as functional public seating in the future.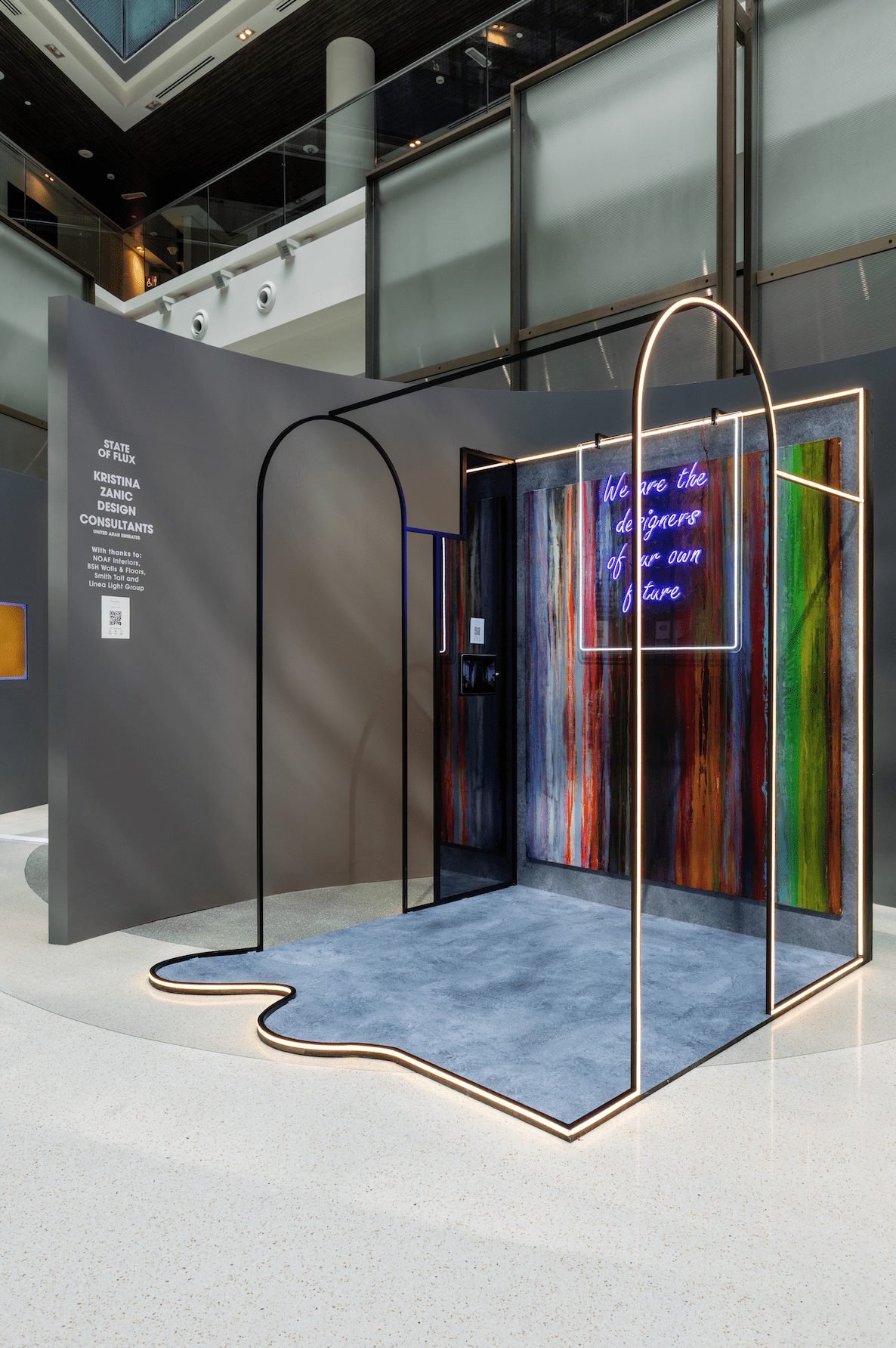 3. Flux by Kristina Zanic Design Consultants
Melting is usually the first step of a transformation to more valuable grounds. Using an electrocardiography of 2020's timeline as base pulse, the installation by Kristina Zanic Design Consultants encouraged guests to take a strong stand in the present and use this transformative environment to plant the seed of opportunity for tomorrow.
Gathering some of the industry's creative leaders virtually to share their concerns and insights on how the pandemic has impacted design thinking, the installation becomes a representation of the transformation underway within the Middle East's creative community.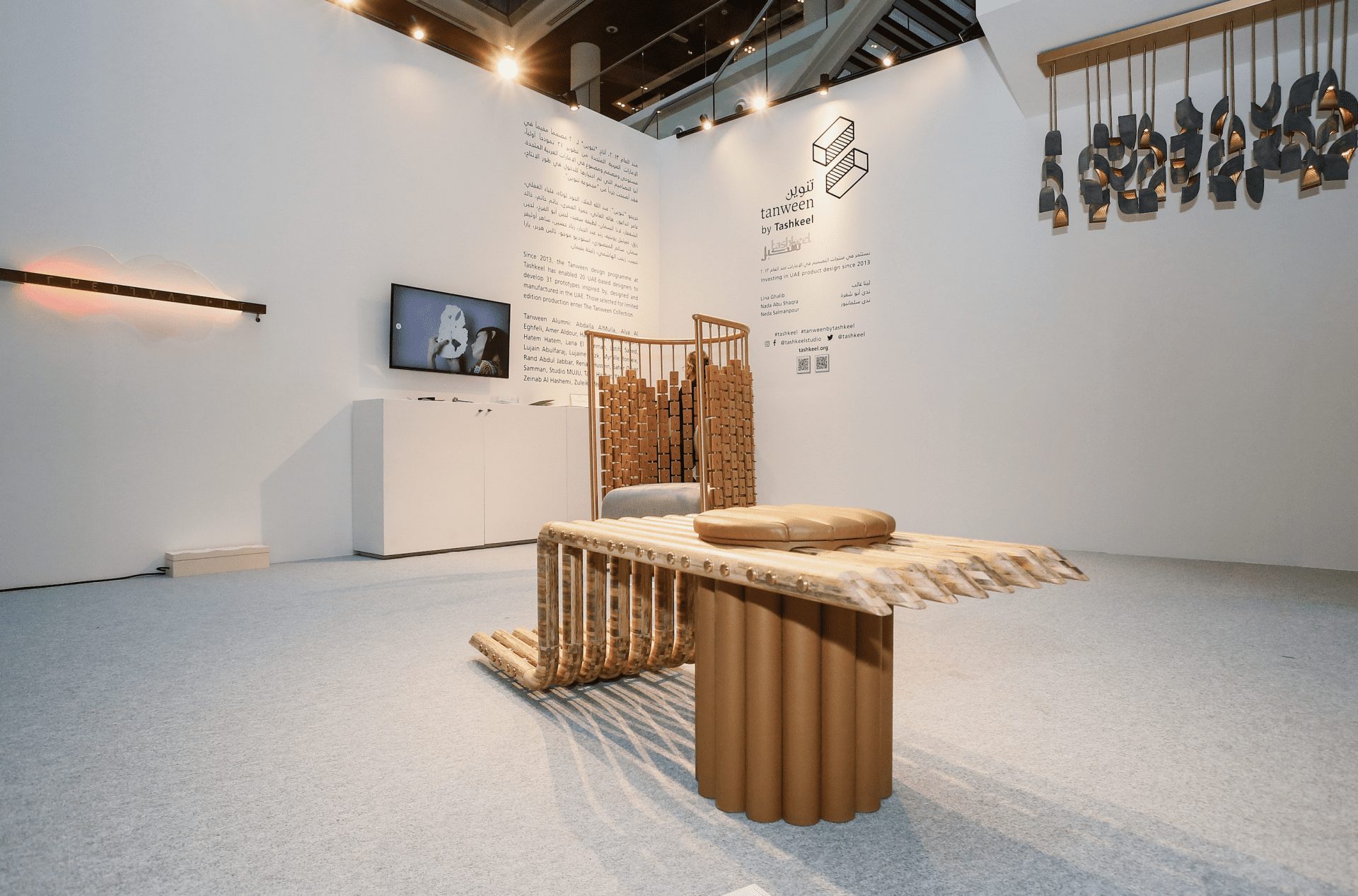 4. Tanween 2020 by Tashkeel
The culmination of the seventh Tanween Design Programme – an 11-month training initiative for emerging designers – Tashkeel debuts limited-edition pieces inspired by, designed and manufactured in the UAE by Nada Abu Shakra, Lina Ghalib and Neda Salmanpur. Inspired by regional craftsmanship and in a bid to produce more sustainably, Lina Ghalib's bench-seat features a new and innovative application of Arish – palm leaves, traditionally used to create habitable structures – providing new design possibilities for this local material.
Nada Abu Shakra's high back chair is influenced by UAE's vernacular architecture integrating locally sourced terracotta with modern manufacturing techniques. Neda Salmanpur's ceiling light draws on muqarnas – the archetypal form of ornamented vaulting in Islamic architecture – and calligraphy to create a non-traditional shape using 3D printing.
5. Mn Laila by Hamzat Wasl
Dubai and Cairo-based design studio Hamzat Wasl presents the second edition of 'Mn Laila', an initiative started by artist Hind Bin Demaithan in 2012 in homage to her late mother Laila. The first edition saw the proceeds from the sales of contemporary prayer mat pieces go towards donating wheelchairs for those in need through a campaign led by Social Bandage. For the second edition, a new collection of prayer mats were designed in Dubai and handmade in Egypt, Laila's birthplace.
The exhibition celebrated Laila, her story and her eye for design, while showcasing the making process and research behind the textile pieces, from the initial patterns which represent fragmented memories of the Falaheen (farmers) to the intricate embroidery techniques which illustrate Laila's upbringing. The prayer mats are available to purchase both online and onsite with the proceeds devoted to families who have been affected by the ongoing pandemic.
6. UAE Designer Exhibition – Reem Al Bustani
The first-ever UAE Designer Exhibition presented the works of 20 UAE-based designers from 12 different nationalities including Emirati, Egyptian, Iranian, Lebanese, Jordanian, Sudanese, Syrian and Palestinian, offering them a platform to enhance and help kickstart their projects whilst expanding and strengthening their audience base and professional network.
Among them, Reem Al Bustani, interior designer at the Sharjah Heritage Institute, introduced her debut furniture and lighting collection, which aims at creating a bridge between heritage and modernity. The new series was inspired by the Arabic arches, which are found in the historic district of Al-Bastakiya in Dubai, an area that offers the perfect blend of heritage and contemporary architecture.
7. Fashcultivate by 1971 Design Space
The 'Fashcultivate' exhibition celebrated the date palm material (Phoenix Dactylifera) for being one of the most cherished gifts of nature and its importance throughout the history of human civilisation. Date palm leaves have become part of the cultural and historical identity of the Gulf Region and are playing a prominent role in the region's economy.
Curated by Khulood Thani and Fatma Al Mahmoud, the exhibition by 1971 Design Space invited seven gulf-based designers – Asma AlMazrouie, Faissal El-Malak, Hala Kiaksow, Hessa AlSuwaidi, Khalid Mezaina, Maryam Omaira and Shahd AlShehail – to work on commissioned pieces within textile design and beyond. In parallel to the seven commissions, the curators also collaborated with Irthi Contemporary Crafts Council on a research project, which led to the development of new materials being made out of the date palms.
Images courtesy of Dubai Design Week. Featured image by Reem Al Bustani