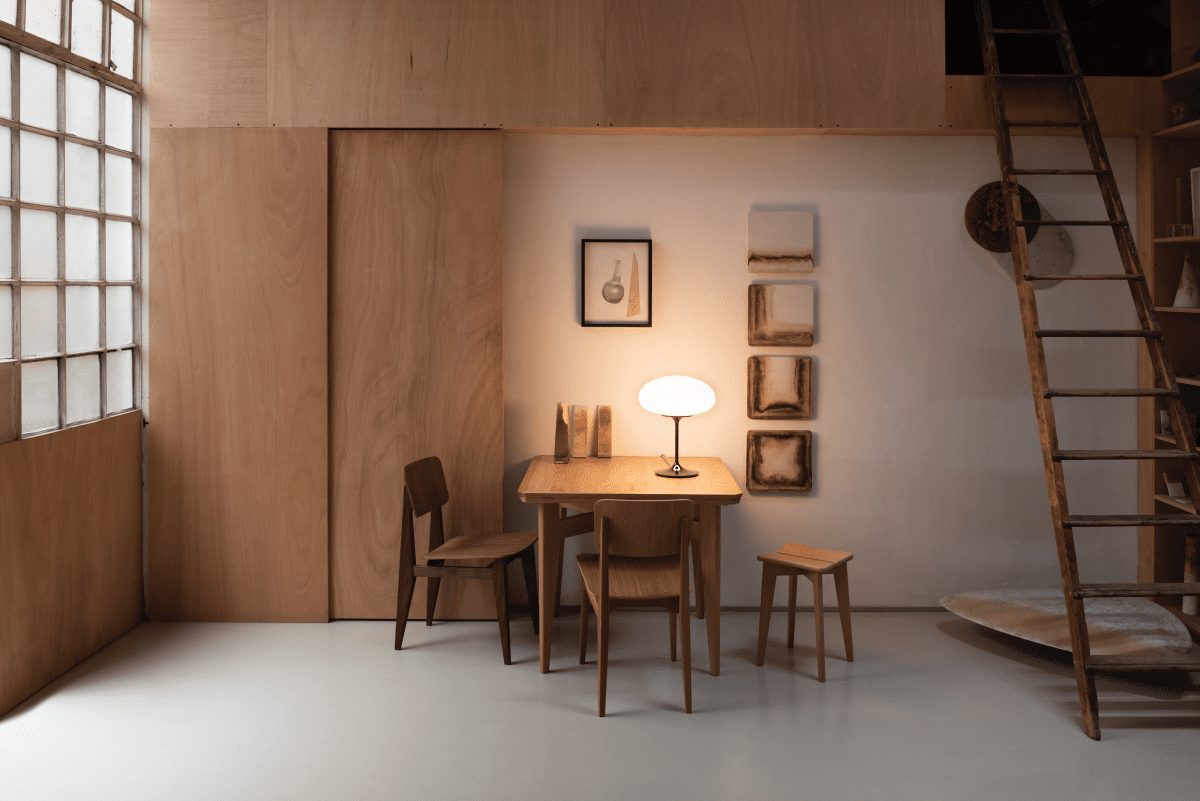 Danish design house Gubi has revived the Stemlite, a lost design icon from the 'Space Age' era
Almost half a century after the Stemlite Collection was conceived, Gubi is giving the iconic lighting range a new lease of life with an updated iteration.
Originally dreamed up by American designer Bill Curry in 1962, the Stemlite presented an innovative new typology at the time, superseding the traditional base-plus-shade form with a single self-contained unit of interchangeable modules.
The debut design – which became widely emulated over the years – was named 'most influential lamp of the year' by Industrial Design Magazine in 1965, used on the set of the original Star Trek TV series, and ultimately, remained in production until 1977.
Inspired by the strong, yet slender stems that support flower heads in nature, the diverse offering consists of two table lamps, two floor lamps and a pendant, conceived as mouth-blown, frosted glass globes in organic, mushroom-like shapes. Comprising a die-cast metal base – evocative of a tulip stem and available in black chrome, red black, and pebble grey – the lighting collection features a simple cylinder-shaped rotary switch that gently rolls between the fingers from 'on' to 'off'.
The result is an elegant light, combining modern technology with classic aesthetics, which is strongly rooted in the iconic works of Bill Curry. Creating a gentle glow wherever it is placed, the Stemlite complements both modern and traditional interiors, but looks particularly beautiful in smaller, intimate spaces – a bijou restaurant, home office or hotel room.
With a background in aerospace, Curry captured the hopeful zeitgeist of 1960s and 70s America, from the space race and the Jet Age to new pop trends, when he set up his own Los Angeles studio, Design Line, in 1962. He imagined playful 'new norms' made possible by emerging technologies and conceived innovative, bold, and colourful lighting collections fit for a new era.
"In the 1960s, mankind landed on the Moon — in 2024, Elon Musk is planning to have mankind land on Mars. In many ways, contemporary culture is heavily influenced by the 1960s, so it is the perfect time to finally see the Stemlite Collection come to life again," said Curry family member Julie Silliman.
Reviving interiors with its timeless looks and the exuberance of the 1960s, Curry's buoyant, nature-inspired design continues to spark joy. "It is a celebration of life that reminds us that the future is bright", said Gubi. "Reflecting our shared desires to reignite sociable relationships with friends and family, to reimagine our home and work lives unconventionally, and to reconnect with both nature and culture. The optimism of the 1960s captured in the Stemlite has new relevance."
For more information visit gubi.com
All images courtesy of Gubi