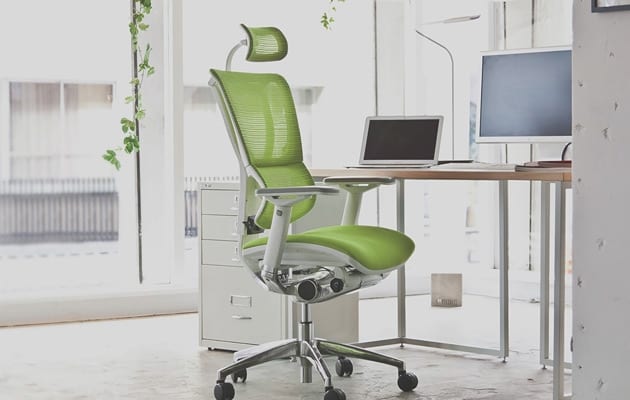 |||
Mirus Green roomset (Comfort Seating UK)
When fitting-out workspaces, the office chair is an often overlooked investment. With the average office worker spending the equivalent of five years sat at their desk without getting up, it's no surprise that poor furniture choices contribute to absenteeism and reduced productivity.
According to HSE Gov, 8.9 million working days were lost due to work-related musculoskeletal disorders in 2016-2017. 507,000 workers suffered a work-related musculoskeletal disorder and 83% of those were back and neck related. It's clearly in the best interests of everyone concerned that these work-related conditions are avoided. One solution is to ensure that office workers have a task chair that can be tailored to their proportions, and that they're trained to sit correctly – minimising potential musculoskeletal problems.
Pantented Single Lever (Comfort Seating UK)
Comfort UK's innovative range of advanced ergonomic task chairs, which boasts the renowned Ergohuman Chair, are all designed and manufactured in-house to be compatible with individuals' needs through smart design, engineering and technology such as our advanced patented single lever mechanism. The revolutionary lever provides 3 intuitive simple adjustments from one location, making it invaluable in today's agile work environments. (Image of Lever) Ergonomics is essentially the science of compatibility – you want a chair that fits your unique proportions, desk and task. Our task chairs feature adjustable lumbar support with certain models even having individual pre-tensioned lumbar sections, giving the user the ability to tailor the chair to their unique proportions and optimising their support and comfort.
Lumbar support Ergohuman (Comfort Seating UK)
Other features include backrest recline with tension control and synchro mechanisms, with certain models having automatic recline tension to match the user's weight, breathable mesh that reduces slipping and supports the body and naturally reduces slouching, adjustable headrests and adjustable seat slide with a waterfall front to maximise support and reduce pressure points. All features just mentioned have either 3D or 4D adjustable armrests as standard. With the above this allows the user to tailor the chair to their own proportions and preferences easily allowing for a more comfortable and healthier position allowing for increased productivity and reduce the risk of musculoskeletal problems.
Advantages of advanced ergonomic office chairs:
– Effortless set-up
– Reduced stress on the body
– Less absenteeism
– Increased productivity
– Improved morale and wellbeing
– Added style
For more information, please contact us at [email protected] or visit our London Showroom in The Gallery, Clerkenwell and visit our website www.comfort.global Tel: 0845 652 0693
This is an advertorial feature.