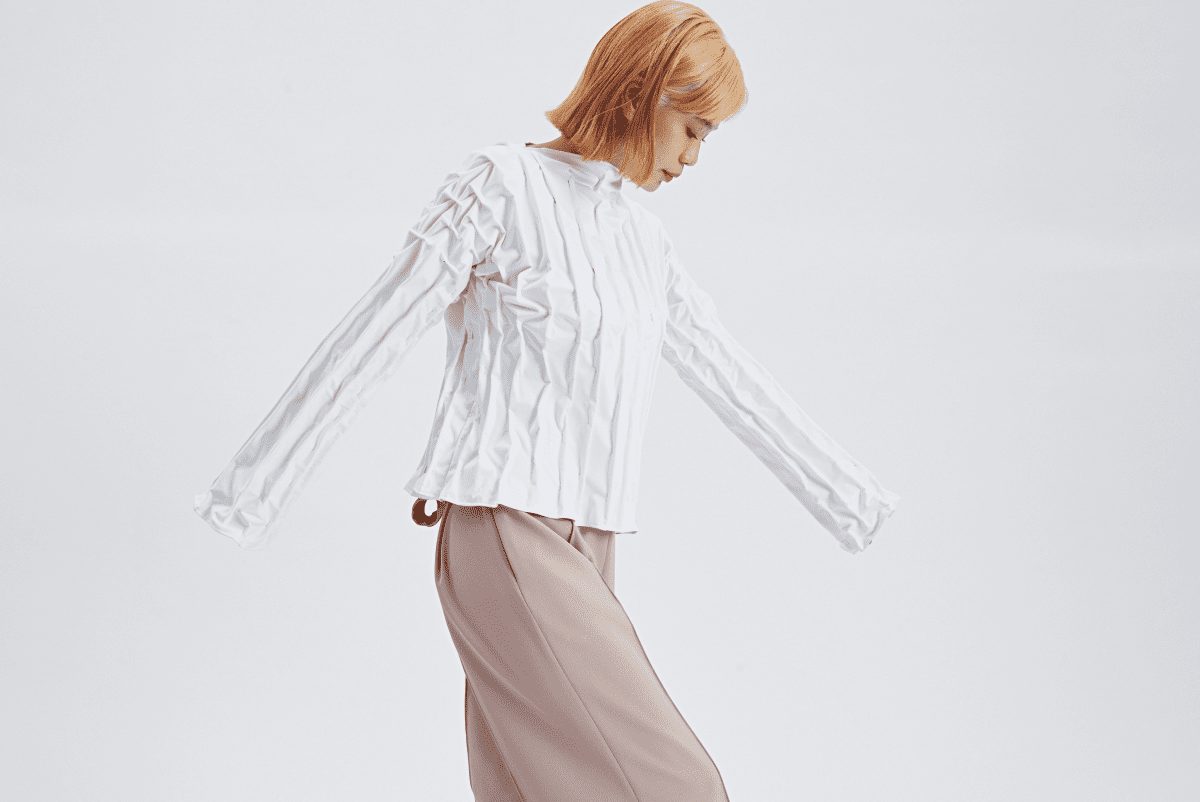 DesignSingapore Council unveils a curated showcase of designs by emerging designers, presented online and at the National Design Centre from 10 Dec 2020 – 7 Jan 2021
Imagining future trends in the wake of the pandemic, through seven designs that look at the improvement of health and wellbeing through rituals and practices, sustainable processes, new materials and safety through design, Visions of the Future presents a hand-selected collection of designs that stand out for their visionary approach to current issues. 
The exhibition – and its wider work – aims to recognise and support designs and designers for their role in impacting society, economy and quality of life through innovation and growth. Participating designers were selected through an open call held by Dsg in late 2019, and were mentored throughout the process by Wendy Chua and Gustavo Maggio, founders of the Singaporean multi-disciplinary design practice Forest & Whale.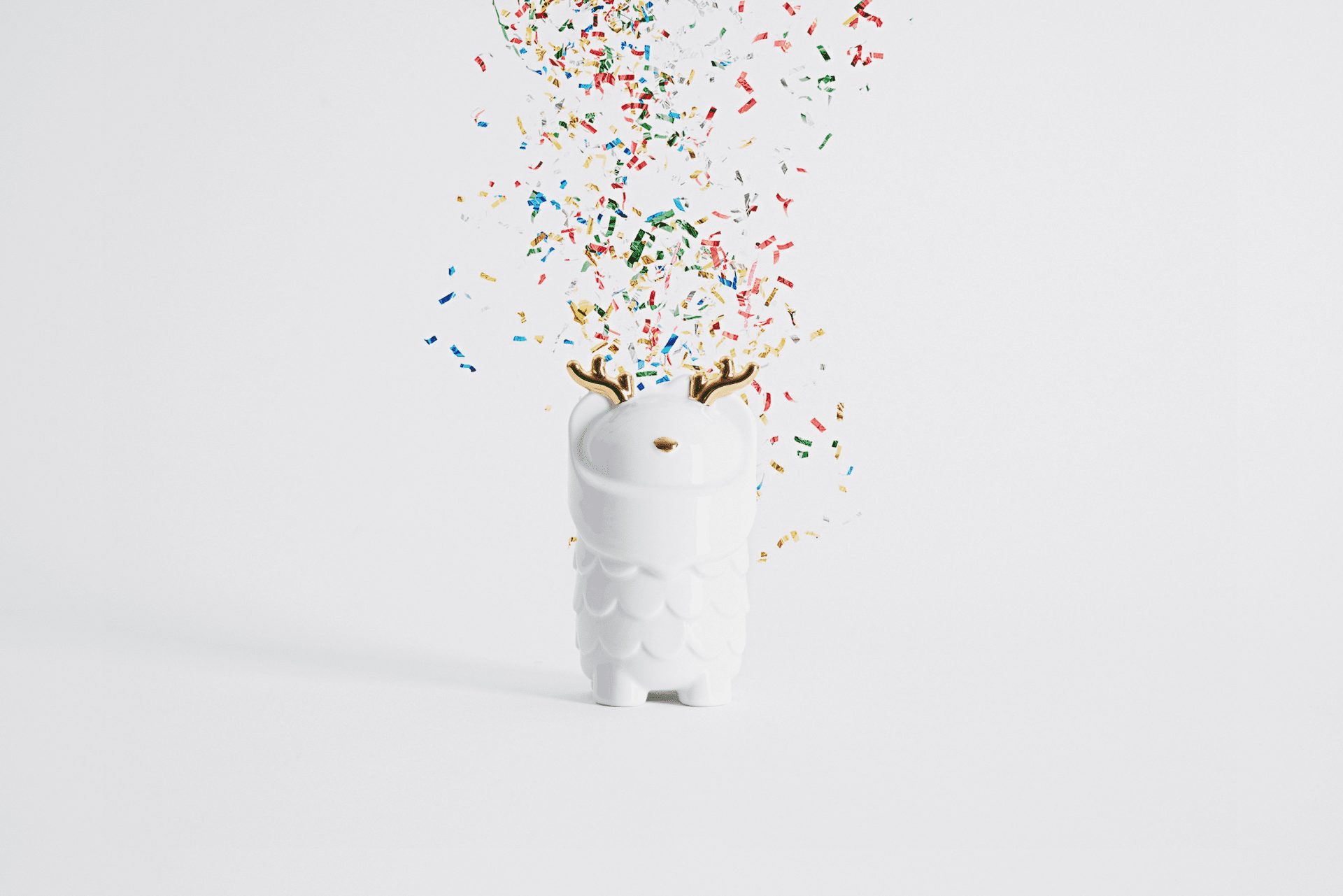 As cities begin a slow return to some semblance of normality and the initial alarm to the public health crisis subsides, many begin to grapple with what it means to live in a pandemic state of mind. The effects of quarantine fatigue and isolation linger; we see the repercussions in the cognitive decline of seniors with dementia and the rise in mental health cases of anxiety and depression. How might design help us to thrive despite the challenges of the moment and reimagine hope in such dire times?
"It is a joy to see our young designers' in-depth design research and creative responses to the pressing concerns of today", says Mark Wee, Executive Director, DesignSingapore Council.
"From transforming the act of soapmaking into a meditative ritual, to empowering the elderly to hold onto their fading memories, these young designers provide a fresh perspective to everyday issues – and those brought anew in the current climate – that anyone can appreciate. We are most excited to present this intimate show to the world, both at the National Design Centre and on a digital platform for all to enjoy."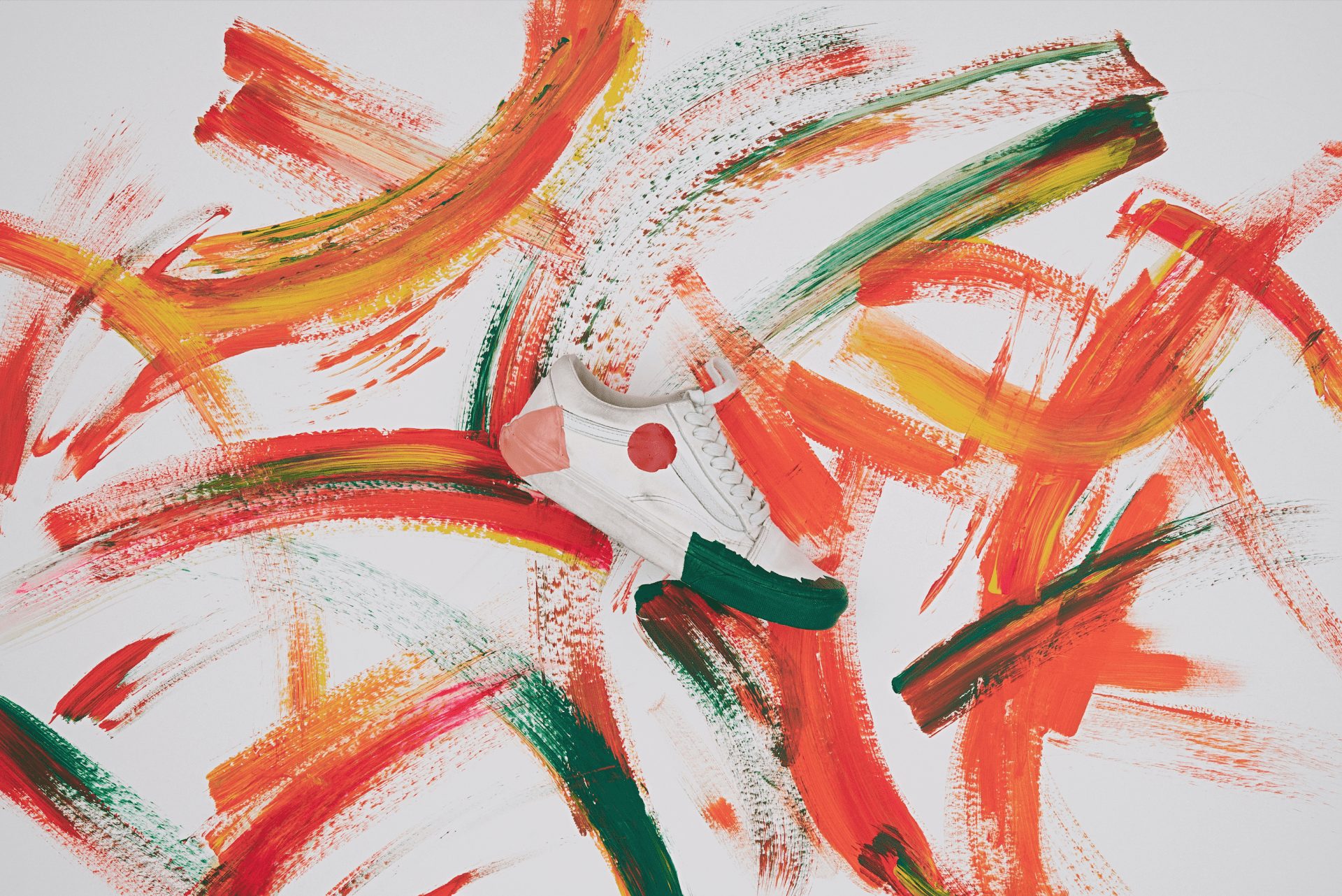 Read on to discover 5 OnOffice, work-focused highlights, which illuminate the opportunities in the crisis by imagining new rituals of living and working in the new normal. Through innovations in craft, technology and materials, the designers illustrate a hopeful future—better by design—despite the pandemic.
1. Pneumatics' Touch by Sheryl Teng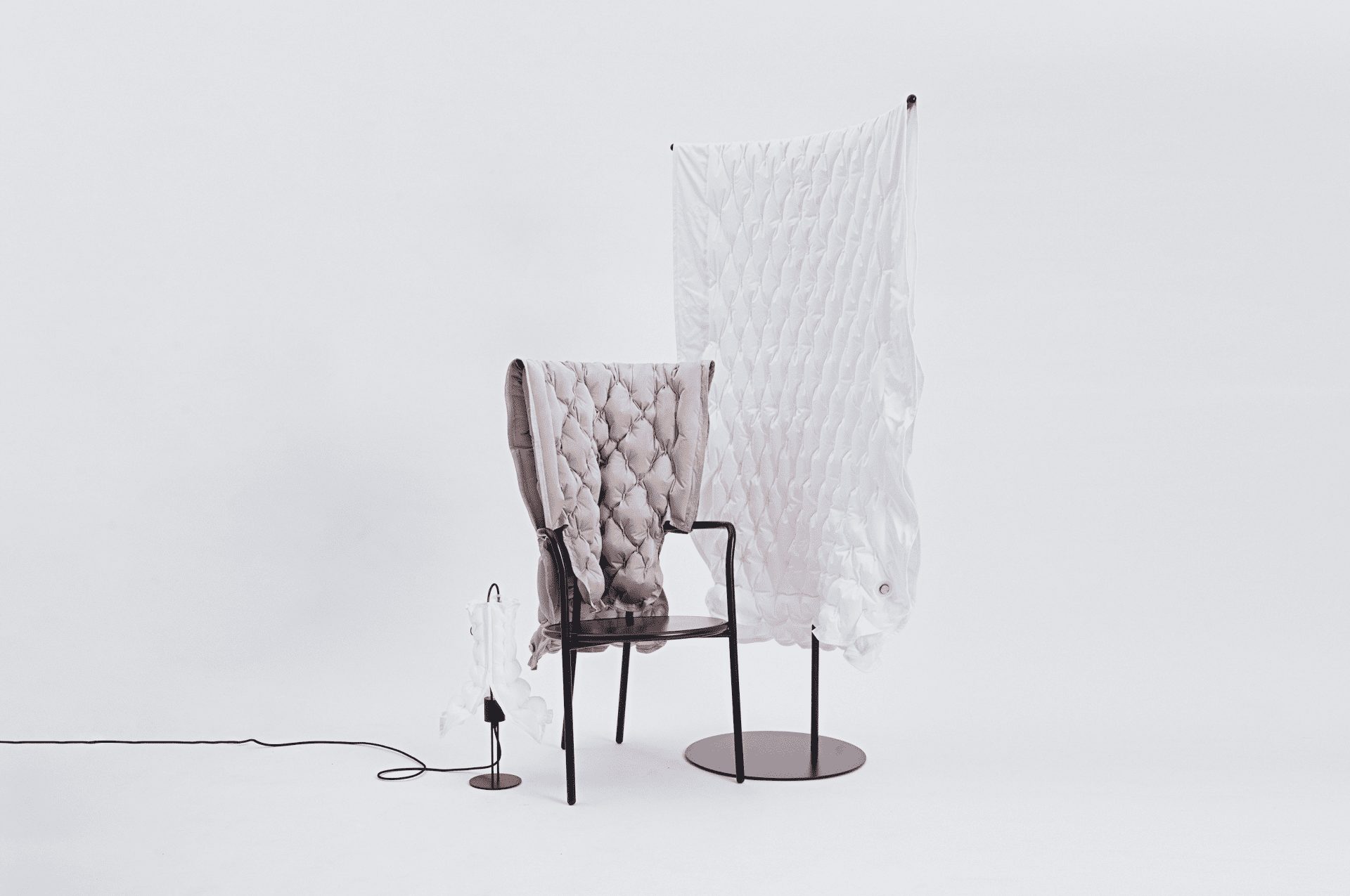 Taking an experimental approach to pneumatics (a branch of engineering that makes use of pressurised air), Sheryl Teng seeks to investigate how air can "come to life" in the form of a pneumatic textile, which responds to the needs of the user and the environment – creating the Looft collection.
Teng used a battery-operated handheld heat sealer and pleated fabric to produce an inflatable, stretchy resilient material made up of multiple compact air pockets which can be used for a variety of purposes.
The resulting series of clothing, objects and protective cases that Teng created serves to reimagine the system and application of pneumatic objects, utilising its thermal insulating properties. The innovative series comprises thermal wear, a laptop case, a space partition – ideal for post-Covid offices – as well as a wingback chair and lamp.
2. Canvas by Ng Luowei & Mervyn Chen
Canvas offers a visionary approach to the 'make do and mend' culture which fell out of fashion as goods became cheaper. Designers Ng Luowei and Mervyn Chen have repurposed quick-drying liquid rubber paint to become a material that can be used to restore and repair worn-out shoes in creative patterns, perfect for those looking to refresh their workwear wardrobe in seconds.
Shoe repair is democratised, and unique works emerge in every attempt to breathe new life into old favourites, thereby reducing the number of shoes that are unnecessarily thrown away each year. The work recalls old repairing cultures in the frugality of the impending economic recession due to the pandemic.
3. Phenomenal Wood by Jasmine Quek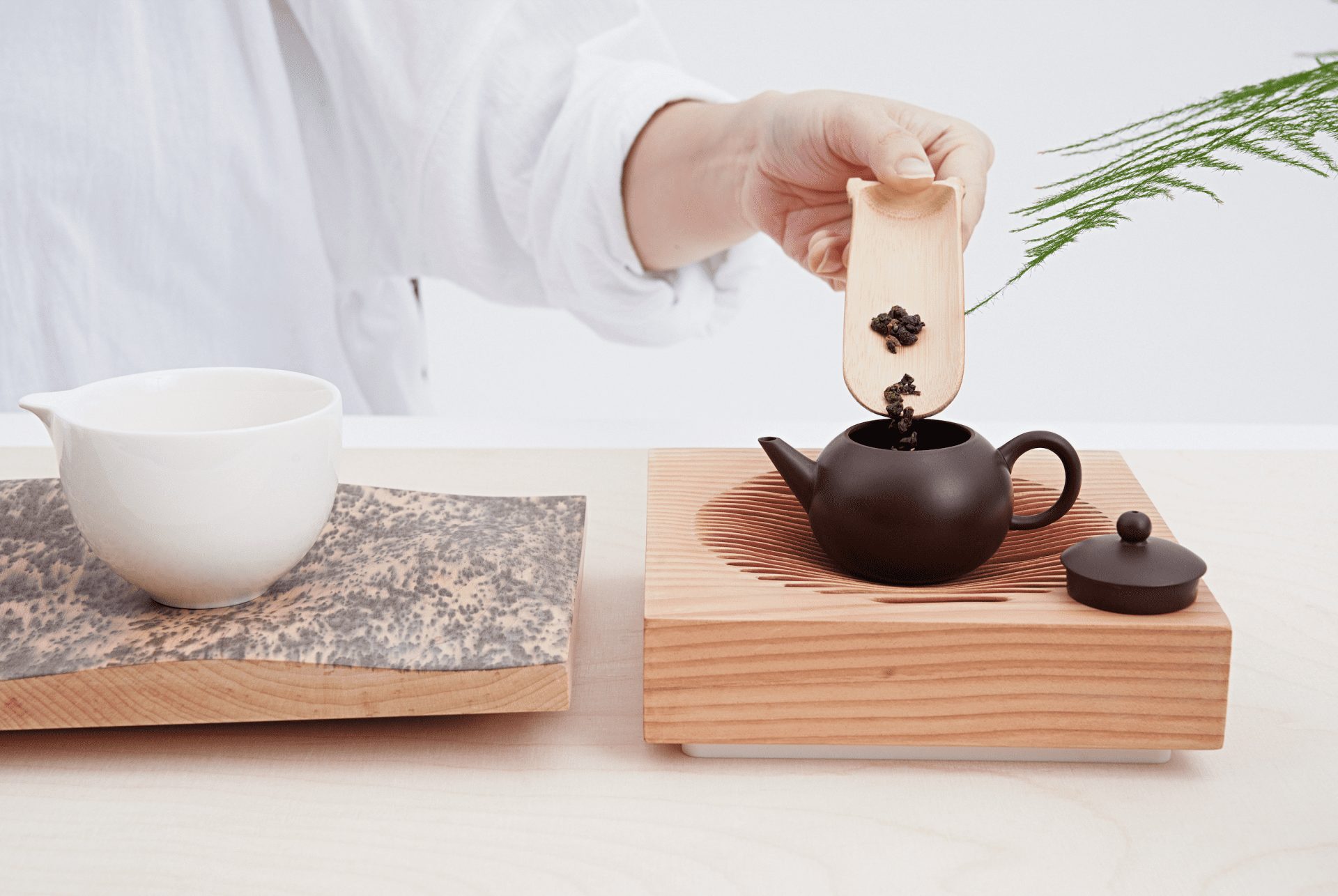 Conceived by Jasmine Quek, The Chun collection is part of her wider Phenomenal Wood project – a modern reinterpretation of traditional teaware that is utilised in the Chinese GongFu tea ceremony. The contemporary tea set, exploring new interpretation of familiar materials, brings a ritual of mindfulness into our homes and workspaces in times of quarantine fatigue.
Grained Tea Boat was created from a block of hemlock wood that was sandblasted to naturally remove its softer, more water-absorbent earlywood. This formed gaps between the harder latewood, which remains undisturbed to create naturally sculpted slats that allows the tea to seep through during the ritual of rinsing the tea leaves and warming the tea pot.
Meanwhile, Inked Tray adorns a stain akin to traditional Chinese painting. By simply rubbing steel wool across the surface of vinegar-coated wood, a chemical reaction that permanently alters wood's colour along the grains as the vinegar dries off, forming a natural pattern that the guest can appreciate during the tea ritual.
4. Echo by Kevin Chiam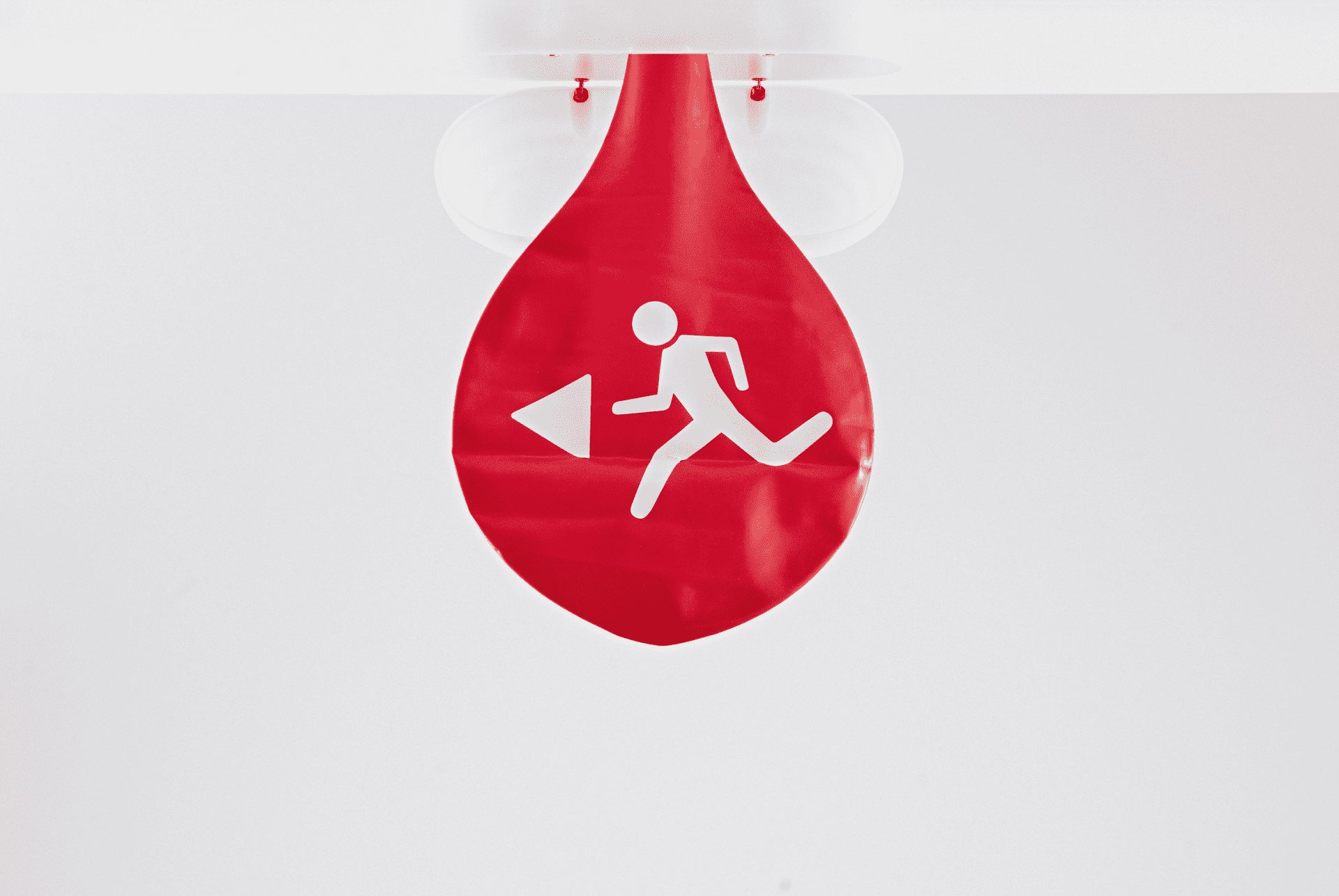 As the majority of deaths in building fires are a result of hesitation rather than panic, with people often dismissing emergency messages as false alarms, designer Kevin Chiam aimed to find a solution.
The result of his research is Echo, a range of modules that are triggered after a building's incident manager has confirmed a fire outbreak. When deployed, an inflatable balloon within each module rapidly expands as air is pushed through a connected air pump system. The tension and discomfort associated with the imminent balloon pop innately to motivate people to move – a critical, first step to safety.
5. Mass Production of Happiness by Yingxuan Teo
Mass Production of Happiness by Yingxuan Teo is a project which envisions a near future where plastic packaging is eliminated from the cosmetics industry, with single use plastic being replaced by entirely sustainable 'make your own' systems. Yingxuan Teo has designed a soap-making device which can be incorporated into an everyday routine.
The device uses natural ingredients, such as the Aloe Vera plant, to avoid the harsh chemicals that are often used in everyday soap products and as an antidote to burgeoning plastic waste due to the pandemic. The design is a call for more sustainable practices in our daily sanitising procedures due to the public health crisis.
For more information visit designsingapore.org
All images courtesy of DesignSingapore and Visions of the Future. Top image: Pneumatics' Touch by Sheryl Teng