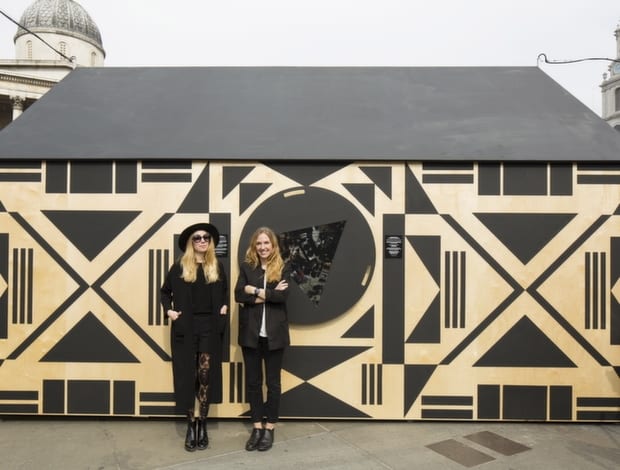 Patternity's home uses patterns to reflect the world we live in|A mirrored geometric pattern|Yael Mer and Shay Alkalay of Raw Edges|The sitting room expanded…|…based on the idea that you can only be in one place at a time|Jasper Morrison enjoying his home for pigeon enthusiasts|The interior is furnished with Morrison's designs and 'pigeon art'|Ilse Crawford's home allows viewers to explore the concept of home||
Design studios Raw Edges and Patternity have spoken to onoffice about their installations in Trafalgar Square, created for Airbnb's A Place Called Home.
For London Design Festival 2014, the studios and two other acclaimed designers, Jasper Morrison and Studioilse, set up home in Trafalgar Square as part of a project for Airbnb. The installations respond to the question, "What does 'home' mean to you?"
Housed in similar-sized wooden constructions, each home reveals a totally idiosyncratic take on the concept.
As a studio, Patternity uses pattern as a tool to tell stories about the world. This inspired the designers to consider 'home' on a macro scale. Its visually arresting installation is covered in black geometrics and the interior contains three vast kaleidoscopes that symbolically reflect the world around us with repeated patterns.
"We try to explore these very fundamental shapes that make up the world around us – everything we do is a celebration or an exploration of these triangles, squares, lines and circles," says Anna Murray, co-founder of Patternity.
"We also wanted to make something that was quite playful, that would be really fun for people to play with and take photos with, then upload to social media afterwards and share. It's sad the houses are only here for a few days, so we wanted to create a kind of modern day tapestry of what was here."
The studio has also launched a collaboration with the Imperial War Museum for LDF that uses pattern in a very different way. To mark the centenary of World War I, they've taken the iconic pattern used to camouflage the merchant navy ships and brought it up to date for the modern customer, and printed it on clothing and homeware.
"Design is such a powerful tool to tell stories and I think we're living in a world that lives so much on the surface that it's important to dig down a bit deeper," Murray says.
Yael Mer and Shay Alkalay of Raw Edges, whose work often plays on concepts of movement and changeability, designed a home that no doubt resonates with those grappling with London's over-priced and overcrowded property market. The small house incorporates bedroom, living room, kitchen and bathroom that can be condensed or expanded as required through a system of sliding walls.
The bed and a lounge hammock concertina into nothing, while the central light fits through an opening in the wall as a permanent feature in all four rooms, as does the shelf, which contains products for the bathroom, kitchen and bedroom. Decorative elements such as wallpaper and curtains change the atmosphere from room to room.
"The idea comes from the fact you can only be in one place at any given time, so when you're in, say, the living room, you can shrink the shower to give yourself more space, and so on," says Mer. "In really small apartments, if you could just move the walls slightly it'd make a real difference.
"This is a response [to London's housing density], but I just spoke with a Japanese journalist who told me this needs to be in Tokyo, this would be a proper flat there. Maybe we should take this concept to Tokyo."
Jasper Morrison created a "pigeon fancier's house", on the basis that no-one else would choose to live in the middle of Trafalgar Square. The simple, ordered interior is designed to suit, "a person dedicated to uncomplicated pleasures," and includes Morrison's minimalist furniture design, pigeon portraits, bird-watching paraphernalia and a dovecot mounting on the facade.
Studioilse 
founder Ilse Crawford's space challenges visitors to confront the question of what home means to them. Studioilse brings the mundane yet comforting aspects of home life to the fore, such as the background noises of a kettle boiling, doors slamming, cutlery rattling; the smell of home, a bespoke fragrance being developed with fragrance expert Azzi Glasser. Two of the walls will show film projections of household objects and rituals that span cultures and social spectrums. Visitors can share their own ideas via a live Twitter feed.
The project is supported by holiday rental website Airbnb; in relation to the project, the organisation states it believes in blurring the boundaries between the idea of public shareability and our sense of private space.