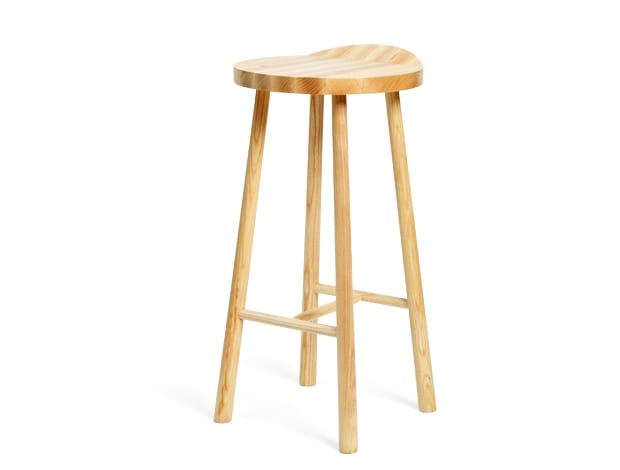 ||
If the Shakers came from Norway, they'd have created something like Alex Hellum's understated SCP classic
We're doing things a little differently this month. Usually, as I'm sure you'll know, this column is devoted to a single product. However, I write this a day or so after the opening of the Design Museum's exhibition The Arrangement of Furniture in a Museum, which celebrates the 30th anniversary of the British retailer and manufacturer SCP. It's a birthday that I felt deserved to be marked because, frankly, in my view it's almost impossible to overestimate the importance of the company's founder Sheridan Coakley to British design and several generations of domestic designers.
While he wasn't necessarily the first person to sell and produce contemporary furniture in this country – Zeev Aram opened his first showroom on the Kings Road in 1964, for instance – he has been a pioneer in so many other respects. When he opened his showroom on Curtain Road in 1985 (one would hesitate to describe it as a shop in the conventional sense back then) with a collection of furniture by Philippe Starck (and a logo by Peter Saville) which he'd seen at Café Costes in Paris, Shoreditch was an urban desert.
It remained that way until well into the 1990s. Moving to an area where passing trade was non-existent could be seen as distinctly counterintuitive but then, I think it's fair to say that Coakley is an atypical retailer – you sense he's happier in the company of the designers he has commissioned rather the customers he's selling to. Certainly when I used to visit the store as a punter back in the day, it could be quite an intimidating experience.
His real genius, of course, was spotting the potential of a handful of designers who have gone on to achieve worldwide acclaim – most notably Jasper Morrison, Konstantin Grcic and Matthew Hilton. Here again he was very much treading his own path, producing quietly functional pieces at a time when being flash and brash was de rigueur. After all, post-modernism was still very much in fashion – Memphis had only launched four years earlier in 1981 – while Duran Duran and other flotsam and jetsam from the New Romantic movement routinely found themselves at the top of the charts.
Coakley's other skill has been to slowly evolve and improve his offer while never allowing himself to become inexorably linked with a single aesthetic. It's difficult to believe that the man who stocks traditional ceramics from Mashiko and produces highly patterned pouffes by Donna Wilson (arguably the company's key designer of more recent times) was also responsible for commissioning Terence Woodgate's Public Seating System or for that matter the Tam Tam and Tom Tom tables by Grcic. He's become a better, warmer retailer too. Walk in now and there's a small coffee shop on the ground floor, for instance. It's a place where you want to browse and spend time.
Over the years I've brought many products from the store, including the Agnes shelving by Kay + Stemmer and a phone Jasper Morrison designed for Punkt. Arguably, though, my favourite is by one of the company's lower-profile designers. The Ulrik bar stool by Alex Hellum is a wonderfully elegant piece of work.
It was launched in 2009 as an additional to the designer's original stool. Made from ash and finished in a clear lacquer, in some respects it's uncompromising – I like to think that had the Shakers been founded in Larvik, Norway, where Hellum was born, they might have created something like this.
The fact that the seat is flat doesn't make it the most comfortable, for instance – the angled flap acts as a neat handle but doesn't give the back any support either. However, my suspicion has always been that this is a stool designed for a quick bowl of cereal on the breakfast bar at home or a quick meeting, rather than heavy industrial use – it's a little lightweight and too narrow (at 35 x 35 x 70cm). Available on the company's website for £174.25, it's quietly beautiful and, as such, has always struck me as a quintessential SCP product.
A final thought: I don't know how honours are divvied up but Sheridan Coakley OBE has a ring to it doesn't it? I can think of few more influential figures in British design. Perhaps onoffice should look to start the campaign?