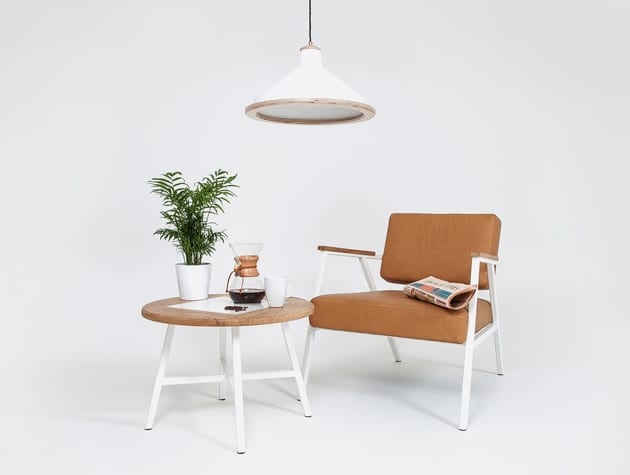 |||
Liqui Contracts creative director Cameron Fry has simple aims – to use sustainable materials and traditional techniques, and to create commercial furniture and lighting with integrity.
For such an artisan service, Liqui Contracts' designs are globally accessible. The company's handmade pendant lights now furnish McDonald's restaurants across Europe. Their easy chairs and benches can be found in offices and restaurants from London to Abu Dhabi, while staff at the luxury Hong Kong department store Lane Crawford loved their original range so much that they bought it all.
"I want our products to be the antiques that people are reupholstering years into the future, the pieces that have a timeless design and are built to last," says Fry. "The thing with commercial furniture is that you could have a thousand people sit on a chair in a week if it's in a coffee shop or a busy reception area. It has to last and stay looking great."
The finish may be contract-grade but the aesthetic is domestic. Liqui Contracts produce design-led pieces that would fit into any home, as well as any office, restaurant or shop.
Now aged thirty-one, Fry set up his first company, Liqui Design, as a student and began producing quirky paper bag lamps and cardboard tables. The onus has always been on sustainability. Liqui Contracts has emerged from that original company as a result of the growing demand for their products in commercial interiors. "We use sustainably sourced wood from as close to home as possible. We do endless research to find British suppliers and manufacturers and quality materials that will last," adds Fry.
Liqui Contracts' upholstery fabrics are made from the wool from Welsh and Scottish sheep, woven in mills in the Highlands. English-grown hemp and flax are often included as part of the weave, giving it a tactile quality as well as the all-important durability. These ancient materials also illustrate the company's obsession with rediscovering historic techniques to combine with the modern technology in their workshop.
Fry says: "I've witnessed all these old crafts dying out. The heavy-duty seamstresses, the wood turners, the frame makers – there aren't many of them anymore so they are the people we hunt out and use. I want to do everything I can to keep these trades going because they are still very much needed". He adds: "I research all the time, phoning people and trawling websites. I've travelled to factories around the UK and we've ended up pulling out these old machines that have been decommissioned and starting them up again because they do exactly the job we need".
For Fry, it is something of a personal mission. He grew up in a street that was built by his great-grandfather and his grandfather was a skilled carpenter. A love of traditional trades and crafts has been woven into his DNA.
"Everyone told us when we started that we'd end up moving production to Eastern Europe but we haven't and I'm really proud of that," Fry says. "Taking our manufacturing abroad just isn't an option for us, we are a manufacturing country and we have so many skills right here. To have them so nearby means we can work really closely with our makers and quickly fulfil large orders". Liqui Contracts is based in the heart of Brighton at The Factory, which houses the design studio and main workshop. It means Fry has a very hands-on approach, honing each design and casting a meticulous eye over every precise detail. Prototypes can be turned around in no time at all, from the initial sketches to a tangible product.
The design process is led by the team's knowledge of materials and manufacturing techniques, and everything that comes off the production line gets the once-over. "We are all designer/makers in the company," adds Fry. "Our studio has windows that overlook the workshop and we have a balcony where we can come out and talk to the guys making the products below, or even go down and help solve technical issues ourselves. It sounds simple but it's quite a rare situation".
As a commercial furniture maker, Fry's studio is a little out of the ordinary. The windows he mentions are dramatic floor-to-ceiling parallelograms made from reclaimed glass, while the door to the balcony is through a secret bookcase, like something from a childhood spy novel. It is all handcrafted, of course, and dreamt up by Fry's ever-creative mind.
The past ten years have seen huge growth for the Liqui Group, and Liqui Contracts is the latest division to draw upon the wealth of experience that has been amassed over the years. With the designers' combined creative vision and practical know-how, the workshop is set for a busy future.
For further information and to see the full range visit: liquicontracts.com
This is an advertorial feature.