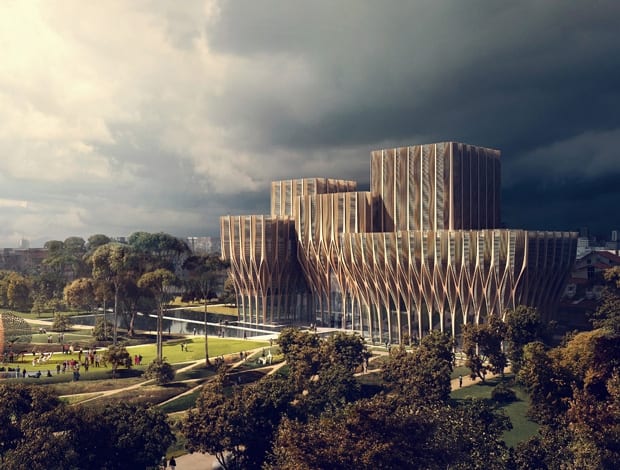 Sleuk Rith Institute's south facade overlooking the public park|The institute's central courtyard|The library facade reflected in one of the catchment ponds|Dramatic proportions in the institute's library|A colonnade to provide respite from the harsh sun|Sleuk Rith Institute: a magnificent site at night||
Zaha Hadid has designed a genocide memorial institute in Phnom Penh, Cambodia, to commemorate the millions murdered by the Khmer Rouge.
Her plans for the Sleuk Rith Institute seek to differentiate it from other memorial architecture, creating a structure that promotes reconciliation and reflection. It combines a museum, research centre, graduate school, document archives and library.
Organised as five wooden structures ranging from three to eight stories in height, the separate volumes interweave and link together at their upper levels, symbolically and literally connecting the various departments. The design is inspired by the interlocking geometric forms of the ancient temples at Angkor Wat in the north west of the country.
A colonnade wraps around the building, its slender arches mirrored on the upper levels, their points fitting between each other. It is approached on causeways that sit above catchment pools, similar to those at Angkor Wat, which echo the forms of the façade and reflect light into the building.
The Sleuk Rith Institute sits within a 68,000sq m park that's filled with sports fields, meadows, vegetable gardens and fruit orchards, as well as contemporary Cambodian sculptures that remember the women who helped to rebuild the country. Pedestrian paths through the park link together neighbouring streets that had previously been divided.
The building includes a raft of ecological features including measures to reduce energy and water consumption, external shading to reduce solar gain, and solar panels on the horizontal roof that is hidden from view.
It is based on the site of the Boeung Trabek High School, which was used by the Khmer Rouge as a 're-education camp'. The new structure aims to "build on the past to education for the future".
"Our hope is that the Sleuk Rith Institute and its Memorial Park can have a truly transformative effect, bringing new life and a bright future to a site that holds traces of the great tragedies of the past," Hadid said. "An inviting place where reflection, interaction and connectivity are not only its spatial expression, but also embedded within its covenant to the people of Cambodia."
The Sleuk Rith Institute complex has been granted approval and construction is due to begin next year.