An ambitious expansion of a historic building has created a lively mixed-use project in the Polish city
A 19th-century building on an island in the centre of Wrocław has undergone a large-scale renovation and extension from Dutch architecture practice MVRDV, becoming a new creative work and leisure hub in the Polish city.
The 4500 sq m project, named Concordia Design Wrocław, is a mixed-use building containing co-working spaces, an event venue, a food hall, a café and a rooftop terrace.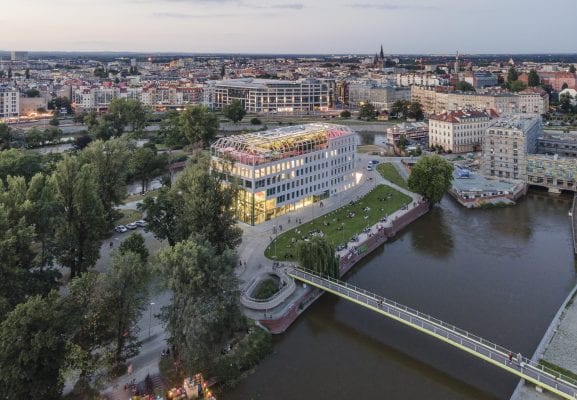 It brings new activity to Słodowa Island, a historic and green islet on the Oder River within Wrocław Old Town. In recent years the island has become a destination for the city's youth and creative culture.
The façade of the existing 19th-century building – which had been the only structure on the island to survive the Second World War – has been retained and then extended, using a similar symmetrical, white appearance.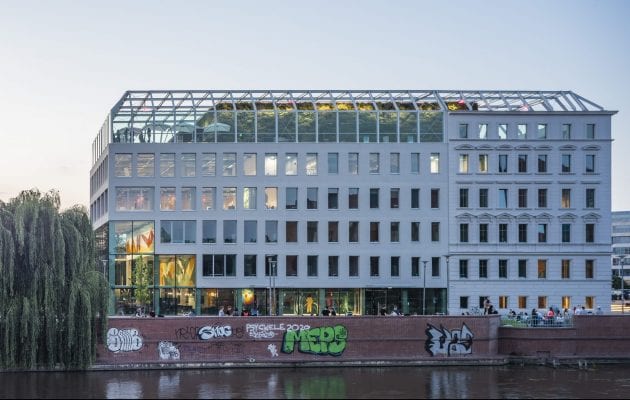 The extension departs from the 19th-century aesthetic, however, with a sleek minimalism and two expansive glazed openings for the roof terrace and food hall.
Each end of the building has its own identity and engages visitors. The 'formal' end, where the original building façade remains, hosts a café, while the 'informal' end – where MVRDV had free creative rein – hosts the food hall. Both of these spaces occupy triple-height, stepped voids.
Overlooking the island's park, the food hall is designed to be transparent, modern, and inviting. A large mural by Polish artist Alicja Biała brings colour and animation to the space, clearly visible from outside.
The majority of the rest of the building hosts co-working office spaces, benefitting from generous glazing and conference spaces. The open-air roof terrace, protected by glass walls on all sides, provides views across the city.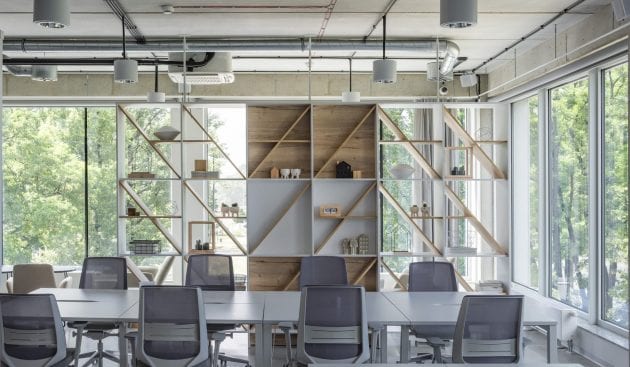 "Concordia Design Wrocław's combination of a historic structure, a vibrant mixture of creative and exciting businesses, and new attractions working in harmony with the island's public space will cement Słodowa Island's reputation as the place to be in Wrocław," says MVRDV founding partner Nathalie de Vries.
"Together with MVRDV, we wanted to create a democratic space that would integrate different groups of residents", says Ewa Voelkel-Krokowicz, CEO of client company Concordia Design.
"Both creative communities and young businesses will find their place here – and on the other hand, everyone who wants to spend their free time in a well-designed space, looking for interesting events."
All photographs by Juliusz Sokołowski