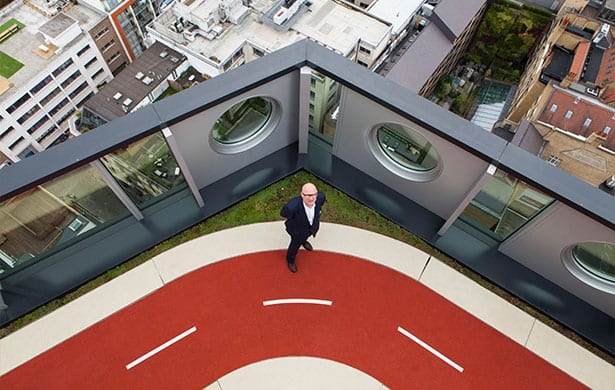 |||
Allford Hall Monaghan Morris's White Collar Factory is a masterplan of wellness, slap bang next to one of the busiest, noisiest roundabouts in the capital. Sounds improbable, doesn't it? But the architects, engineers and developers on this Old Street scheme have come together to make it not just an eye‑catching solution, but a cost-effective one too. Not to mention, with its 150m running track, one that is becoming a real workplace design talking point.
Unsurprisingly, this wasn't a super-quick turnaround but is what Simon Allford, one of AHMM's founders, says is "the product of 20 years of collaboration with Derwent London. You don't get something like this without the commitment of time." Having worked with Derwent on game-changing projects such as the Johnson Building in London's Hatton Garden, Morelands in Clerkenwell (which AHMM itself calls home) and the Stirling Prize-nominated Angel Building, the White Collar Factory – a short journey down City Road from the latter – was the next stage in the architect/developer relationship. It's less about phallic-shaped status symbols or spending huge amounts on the fit out, and more about celebrating the simple, functional materials which perform well and save money. It's functionality to the fore, but without being drab.
Portrait by Kat Green
Concrete takes centre stage, performing several functions. As well as forming the structure, it also provides thermal mass so heating and cooling can be controlled via a bespoke system, as well as providing a memorable surface finish. Board-shuttered concrete is the order of the day at pavement level. Above this, glazing is interspersed with metal panels featuring distinctive portholes.
The building was fully let before it opened its doors – and that's a true testament to the amount of research that's gone in to the scheme by Allford, plus Simon Silver and Paul Williams of Derwent, as well as close collaboration with engineers Arup and AKT II. Though the name White Collar Factory might be off-putting to some – conjuring up images of some kind of office-based dystopia – for its stakeholders it has more positive connotations. The research that went into this project looked at why 19th century warehouses and factory buildings had stood the test of time and then set out to replicate a similar sort of longevity.
Those in the built environment, as we know, love and invest in architectural models, but the team behind the White Collar Factory has taken that to a whole new level. They created a £1m prototype consisting of a 325sq m slice of an entire floor jacked up on stilts that was set up on site in 2013 and then tested over the next year. This live experiment in the world of workplace paid dividends as it enabled design theories to be proved beyond reasonable doubt, as well as enticing that enviable full tenant roster.
A cafe/bar on the 16th floor means staff can sit out in the sun
The project was between 15- 20% cheaper to build than an equivalent standard building and operational energy costs are expected to be 10-33% lower. As is usual in speculative developments such as this, floorplates, measuring 53m x 41m, with a 3.45m ceiling height, were developed to be as flexible as possible. One of the more enlightened tenants is The Office Group, which occupies the first three floors, and AHMM's Project Jack, the hackable meeting room concept that graced the OnOffice December 2016 cover, has been reconfigured for this co-working client.
There are five elements that make this building work: high ceilings, deep plans, the aforementioned concrete structure, simple passive facades and smart services. And there are some gentle nods to the industrial in the expansive reception: the large-scale factory lighting, the desks on industrial jacks.
On our site visit, it's when we go up the stairs that Allford really gets into his stride about the office concept, citing 20th century French designer Jean Prouvé as an inspiration, with his design ethos that revolved around logic, balance and purity. "It was about how to make smart, low-energy facades – how to take cladding and develop an aesthetic." These stairwells, with their much higher quality finish, are in stark contrast to most of those one finds in modern office buildings, which are deeply unwelcoming places. "The idea of the building itself is extending your wellness agenda," explains Allford. Natural ventilation is another area that epitomises what he describes as "responding to the users not the tenants". The simple act of opening a window in an office pretty much became obsolete in the modern era of office buildings. Allford is very much on a mission to reverse this trend.
The running track encircles the cafe/bar and rooftop plant
As well as encouraging people to walk up and down the stairs to get fit, this dedication to wellbeing begins before you even arrive at the White Collar Factory, with a two-level cycle hub to tempt people to get on their bikes, and also a shuttle lift for cyclists. No surprise then that this particular project has achieved both BREEAM Outstanding and LEED Platinum sustainability accreditations.
While the rooftop athletics track wasn't quite up and running on our visit, we could definitely see the demand for exercise-conscious office dwellers to break out their Lycra of a lunchtime or after work – especially as the alternative is schlepping around the pedestrian-heavy streets nearby or human hamster-wheeling around a gym treadmill – neither of which is really an appealing proposition compared with being out in the fresh air and getting some great views of London into the bargain. The roof extends above, to shelter the track from the elements, while the portholes provide a pleasing frame to the range of urban vistas available.
Payback for pounding the running track or cycling to work can be found in the rooftop bar, while further refreshment will eventually be found in the restaurant space that forms part of the overall complex. This new tower is part of a wider development of six buildings, with two existing refurbished properties plus three new infill buildings; the scheme will include nine residential apartments as well as retail space.
Light, open seating areas create a casual reception area
These smaller infill buildings give a campus-like vibe as well as providing some incubator workspace. This is much needed – now that every big corporate has homed in on the area, using the phrase Silicon Roundabout to describe the Old Street traffic hub seems a bit less appropriate than it did a few years ago. A new public square, Old Street Yard, will stitch together these different elements as well as providing some peace among the Shoreditch bustle.
"What began as a research project into the design of an idealised 21st century office building evolved over time into a suite of six buildings. Each, through their generosity, elegantly and economically accommodates the programmes of today, those we anticipate in the future and those we cannot yet imagine," says Allford. "You normally get to an office space and say 'oh it'll be alright in the end'. Here, it has been right from the beginning."
The White Collar Factory tower at Old Street boasts a rooftop athletics track, but, as AHMM's Simon Allford is quick to point out, this is just one of its many wellness benefits