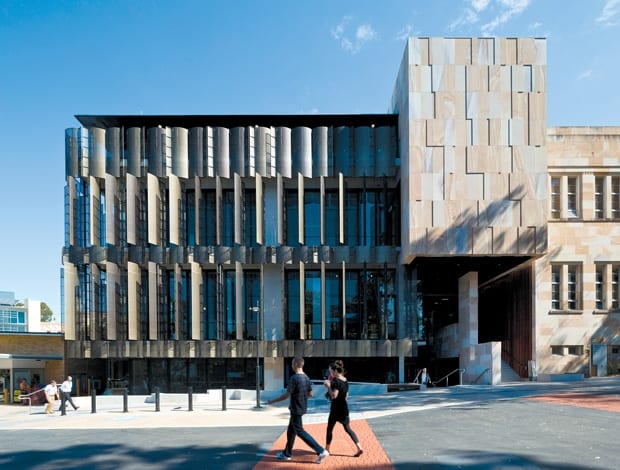 Automatic louvres and geopolymer concrete make for a low-carbon build|Academics are adjusting to a more open-plan way of working|An ETE roof lets in light but prevents solar gain||
The University of Queensland's climate-change research institute is based in an ultra-sustainable home, naturally
"It is very rare that you get a brief from a client that says 'we want a next-generation sustainable building' and then lets you define what that is," says Hassell director Mark Roehrs. But then again, Brisbane's Global Change Institute (GCI), a body that investigates problems presented by climate change and what can be done about them, isn't your common-or-garden client. The GCI, part of the University of Queensland, needed an environmentally friendly showcase for its new, public-facing headquarters. To this end, Hassell deployed both passive and automated measures to achieve what it claims is a net-zero-energy and net-zero-carbon building. In layman's terms, this means the building produces more energy than it consumes.
Finished in September this year, the structure occupies a former brownfield site and completes a piecemeal development that began in the 1940s. The perforated aluminium louvres of Hassell's addition mark a dramatic shift from the local sandstone that characterises the older buildings. Fully automated, the louvres track and shield the occupants from direct sun. Roehrs says there are two modes to this building: open and closed. For the majority of the year the building will combat Brisbane's humid climate in the naturally ventilated 'open' mode, which involves cross-ventilation airflow that is expunged via a thermal/wind chimney in the building's roof. When temperatures reach hot and cold extremes, the building shifts into 'closed' mode, in which air is passed from the earth into the basement via what Hassell calls an air labyrinth. From here it is delivered to a wheel made from porous desiccant material that extracts moisture and either heats or cools depending on the weather. The air is then discharged through the floorplate.
Allied to these measures is an ETFE roof, which filters the sun's rays in a way that prevents solar gain but does not block the light. The result, when coupled with the dappled effect of the louvres, is a tremendously bright and mildly theatrical interior. Of course, ETFE pillows are by no means a new technology, and neither is the core building material used here, geopolymer concrete, but the practice has nevertheless set new industry standards in the manner of their application. Roehrs explains how geopolymer – essentially concrete without the cement – "was actually invented in Russia in the 1940s, but this is the first time it has been used in a suspended structure. It is recycled silicon found in fly ash mixed with concentrated alkaline solution to create an organic polymer binder. By using this you are making a massive saving of CO2." Roehrs believes that, despite its extra financial toll, the material will revolutionise the construction industry.
The building's effectiveness as a model of sustainability also required a corresponding behavioural change from its occupants. While the cubicle walls came tumbling down in the private sector some time ago, academia remains one of the last bastions of cellular working. As Roehrs points out, these silos create serious problems for naturally ventilated buildings. Referencing the punctuated external louvres, Hassell created aluminium privacy screens around individual workspaces: "You still get the light penetration and it brings the richness of the exterior into the office."