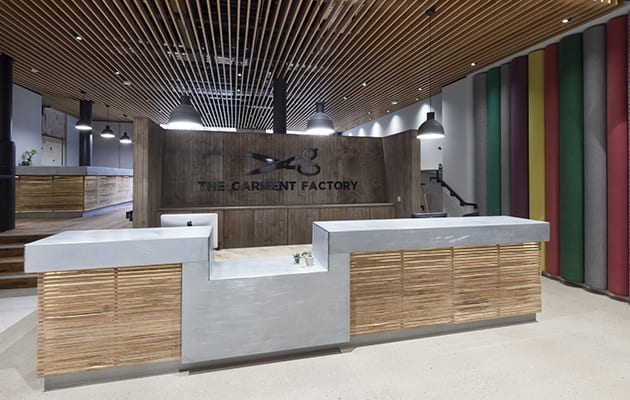 |||
Designed in 1898 by Glasgow architects James Thomson, the old J&W Campbell textile factory had fallen into a state of disrepair when Castleforge Partners took over the building. The former manufacturer is located in the desirable Merchant City Central Conservation area in Glasgow, and is ideally located for a workspace.
Central to the project was restoring the textile factory's original layout and architectural detail, without sacrificing any modern facilities. The main requirement was to turn the 19th century brick building into a healthy well-ventilated 21st century environment christened The Garment Factory.
The whole process cost £5.5million, and was undertaken by Morgan McDonnell Architecture, with engineering consultancy Cundall advising on sustainability and M&E. The careful restoration revealed the original layout and character of the building that had been hidden under years of unsympathetic alterations and subdivisions.
"The Garment Factory is a beautiful and unique building in a great location," says Rachael Pittaway from Castleforge Partners. "Our aim was to create a flagship office and leisure development in Merchant City and to provide a fantastic working environment for creatives and corporates alike. We invested significantly in the upgrade project and are confident the large, efficient floor-plates, which are rare to find in a building with such character and quality specification in Glasgow, will appeal to a wide variety of occupiers."
The seven-storey red-brick building will now offer six floors of modern, open plan offices, with retail spaces occupying the lower level. The original facade and all original sash and case windows were immaculately restored, though the whole fabric of the building is now completely insulated. A huge emphasis was put on natural ventilation with the view of making the office spaces as efficient and healthy as possible. According to Cundall, the benefits of natural ventilation include lower running and maintenance costs which has also helped the developer with lower capital outlay, increased useable lettable area with fewer plant rooms, and the potential for increased occupant satisfaction when given local control over internal environmental conditions.
"We have helped to transform this notable yet neglected building into a contemporary high-quality office space within a very tight budget," says Tony Centola, building services partner at Cundall. "Our approach from the outset was to create a unique and vibrant environment in line with Cundall's commitment to low-energy and sustainable design, whilst providing the flexibility demanded by today's office tenants. This design-focused refurbishment further enhances our already enviable portfolio of commercial projects and brings to Glasgow a unique space that has immediately attracted attention, with two floors of the building let and significant interest in remaining space."
The Garment Factory reached practical completion in December 2017 with architectural practice Threesixty Architecture and digital services provider Incremental Group confirmed as the first occupiers.
Never miss an issue – subscribe to OnOffice magazine here.
An old B-listed Victorian garment factory in Glasgow has been completely restored and converted into a contemporary office space