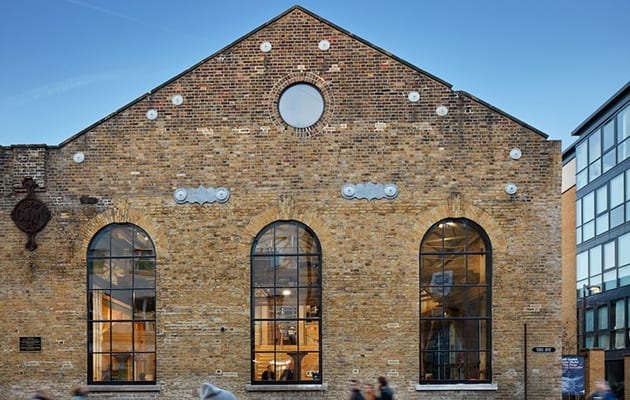 |||
An old Victorian iron shipping warehouse in London's Isle of Dogs that once launched Isambard Kingdom Brunel's paddle steamer in the 19th century has now been converted into a modern office and exhibition space.
Grade-II listed The Forge was thoughtfully converted by Emrys Architects and iSpace Corporate Interiors, a free-standing two storey timber structure was built that, by not touching the original building, maintains its heritage value and integrity while permitting contemporary new use within the immense internal space. Inside, there are new self-contained studios, workspaces, meeting rooms, and a large exhibition space spanning the full height of the warehouse.
The birch wood bleachers fill the vast interior of The Forge. Photo: Alan Williams
The project was conceived as a bold contemporary intervention within the historic Grade II listed former Millwall Ironworks – originally built in the mid-19th century at the zenith of the area's shipbuilding activity. The project sees design and making reintroduced to the Isle of Dogs district, an area historically associated with traditional industry currently dominated and characterised by larger, more commercially-focused firms.
Craft Central, a charity that supports craftspeople and independent makers, has taken a 20-year lease in The Forge, and has already debuted a packed summer programme in the new space, including a weekly market, and a variety of workshops.
Craft Central at The Forge is giving space to local craftspeople and independent makers. Photo: Alan Williams
For the charity it was important to make economic use of the immense internal space of The Forge without compromising the fabric of the building or the internal listed features that include two overhead tracked cranes. A bank of bleacher seating in the public area was the solution found to unite the whole plan, providing a striking entrance to the studios as well as a social space.
The Forge has been open to the public since September 2017, and has already proved a popular destination in the Isle of Dogs.
A Grade-II listed former shipping warehouse in the Isle of Dogs, The Forge has been thoughtfully converted to house a crafts charity. The new interiors include workspaces and an exhibition area for local craftspeople