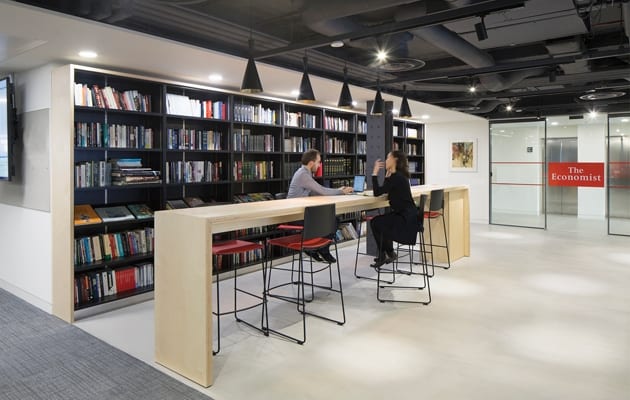 The Economist arrival breakout library|||
A little over a year ago the Economist left its home of 52 years and moved into new offices by Perkins+Will in London's Adelphi building. How are things going?
The Economist Forum by Perkins+Will
Client: The Economist
The new office has really transformed the way we work. It has changed the vessel, but it has preserved the wine. Perkins+Will has achieved what we thought was impossible. Our culture has been preserved and the mood has changed: it feels more dynamic and exciting.
We have repeatedly heard the phrases "sea change" and "night and day" since we moved in. We've really opened up the insides of the company and our processes, and this has contributed to a greater sense of teamwork and co-operation. Perkins+Will understood the way we work perhaps better than we do.
We're working better, and more cheerfully, as a team since we moved into our new office. The architect's references to the brand are everywhere, if you look; but they have done it with a light touch, and with wit.
The absence of nostalgia for our previous home is perhaps the most striking tribute that we can pay to the designers of our new one. Perkins+ Will took great care to listen to us and understand the way we work as an organisation; they shaped our new office around that understanding.
The design has been thoughtful, intelligent and immensely well executed. It is friendly and supremely efficient and has also helped forge deeper connections between the journalists and the other staff members.
Architect: Mijail Gutierrez, Perkins+Will
Competing with collective memories and the legacy of a place is challenging. The Economist's former home in the iconic tower in St James's was specially commissioned for a global, forward-thinking "newspaper" and a significant part of The Economist's identity.
The building, designed by Alison and Peter Smithson, where the title was based for 52 years, was a home where exceptional thinking and collective learning was usual. Deep relationships were cultivated. It was a meaningful place.
We had to ensure that the culture of The Economist was preserved, enhanced even – and then to capitalise on its richness to create a transformational workplace fit for today and for the future.
Our brief and mission was to design for purpose. We embedded ourselves in the weekly rhythm of the paper to understand its essence and its people. This allowed us to identify opportunities where design could make a difference to embrace process and culture.
The result is a vibrant, progressive and collegiate workplace where people thrive at work. We captured and brought home the essence of The Economist in the Adelphi and we succeeded in creating a sense of place with meaning: a new home for a caring, happy culture with a palpable sense of belonging, and where relationships will forge and new memories will be created.
A little over a year ago the Economist left its iconic St. James's home of 52 years and moved into new offices by Perkins+Will in London's Adelphi building