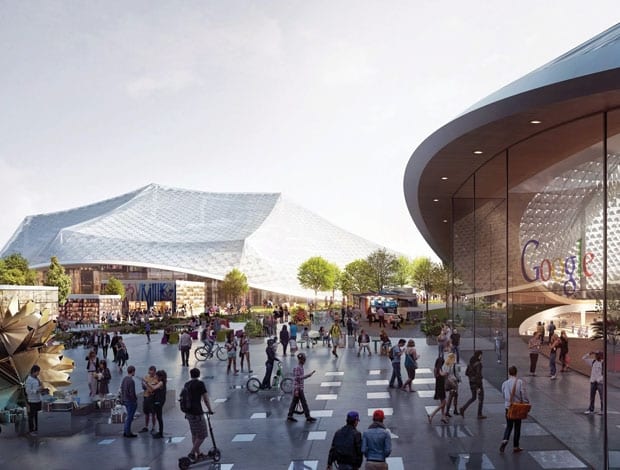 Thomas Heatherwick and BIG's proposed campus for Google||
Tech firms' search for the ideal 21st-century workplace makes a fascinating comparative study. Peter Murray asks, are you with BIG and heatherwick's radicalism, Gehry's simplicity or Foster's fine engineering?
A few years ago I went to a lecture by Frank Gehry at the Saïd Business School in Oxford, where the great architect talked about the way he ran his practice.
When he presented to potential clients, he said, he didn't focus on his iconic style, on his sculptural forms and complex aesthetic – he told them that, through his sophisticated BIM software, developed in conjunction with the French aerospace giant Dassault, not only could he could deliver his brand of architecture at 30% less than traditional design methods, but he could do so on schedule.
In one brilliant stroke he met head-on the usual client reservations about 'designer' architects and their ability to handle time and money.
I am a visiting professor at the IE University in Madrid, where the architecture and business schools collaborate to run an excellent Masters course in design and management aimed at young, ambitious architects wanting to work internationally. In my lectures I use this story as an example to students of how to present themselves to clients and to show that good business practice is not just the preserve of the 'commercial' architect.
So I was interested to read recently that Mark Zuckerberg, the founder of Facebook, "praised Gehry's down-to-earth approach" to the 40,000sq m workplace he designed as the social networking site's HQ. Zuckerberg had feared that Gehry would be very expensive and send the wrong signals about the Facebook culture. But it turned out that he lived up to the explanation he gave at the Oxford lecture.
As well as Facebook building itself a new HQ, Google and Apple are doing it too, each seeking the ideal working environment for the 21st century. Facebook wanted a building in which it could "create the same sense of community and connection among our teams that we try to enable with our services across the world".
Gehry's open-plan space, the largest in the world, features a 3.5 hectare (9 acre) park on the roof, with walking trails and spaces to sit and work. The architecture is pretty basic for Gehry, with a series of orthogonal boxes crashing into one another.
According to the architect: "Mark wanted a space that was unassuming, matter-of-fact and cost effective. He didn't want it overly designed. It also had to be flexible to respond to the ever-changing nature of his business."
This is in contrast with the new Apple building designed by Foster + Partners. Foster himself has been closely involved in the doughnut-shaped building, and it is as tightly and finely designed and engineered as any Apple product, but with a plan that provides for engineered change rather than the loose flexibility of Facebook's extendable spaces.
The proposals by BIG's Bjarke Ingels and Thomas Heatherwick for Google are also loose fit in a Buckminster Fuller sort of way, with a transparent canopy covering a diverse collection of spaces and volumes. This radical departure from the conventional box was a eureka moment for Google CEO Larry Page.
Google workers have long been known for their quirky working environments so beloved of the creative industries, but Ingels and Heatherwick went beyond quirky. So much so that Simon Allford of AHMM (commissioned to build its London HQ in King's Cross) was called to California for a ten-minute meeting with Page, to be told that Google were re-evaluating the company's design strategy. AHMM's response has still to be published, but watch this space – it is likely to be very different to the conventional boxes with wacky interiors that Google has been used to.