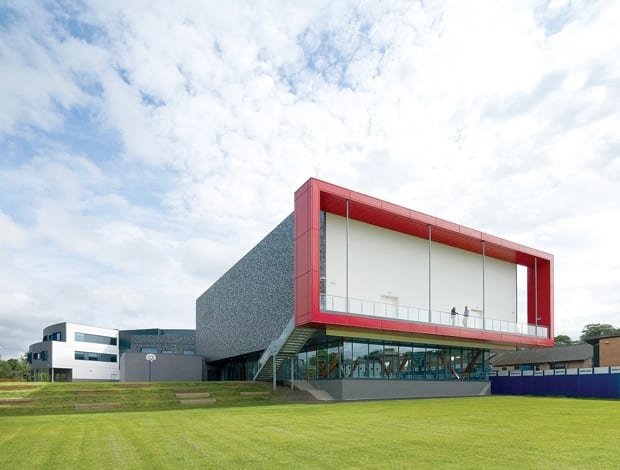 The school's sports centre with a games hall stacked on top of a pool|A play rehearsal in the circular hub; pupils gravitate here between lessons|Semi-private seating nooks have been made in the spaces under the staircases||
Sheppard Robson dispenses with tradition and designs a concentric school layout without corridors
Openness and inclusivity aren't words universally associated with school life, but at St Ambrose College, Greater Manchester, a truly original approach to layout by Sheppard Robson has achieved just that. Tasked with the usual puzzle of spatial arrangement – trying to squeeze the government-standard-sized classrooms, assembly hall, canteen, corridors and breakout space into a tight plan – the practice elected to amalgamate all the space assigned to corridors and communal areas, creating one big multifunctional hub in the middle of a circular plan. At the very least, it has fully exploited the square meterage; more importantly, it has instilled a far more interactive and connected school culture.
"Getting rid of the corridors led us to creating a radial design, based on a central hub space," explains David Ardill, partner at Sheppard Robson. "It adds value, because it's a more usable, adaptable space, and it makes for a better environment because it is open – there are no concealed corners, which is where bullying often happens. Once that was decided, we built out concentrically from there."
A bird's-eye view shows the plan to be a Celtic cross shape, with four wings extending from a circular heart. Surrounding the triple-height central space (used for assemblies, plays and lessons) are three sets of Spanish steps, used as seating, and a chapel, interspersed with canteen furniture and nooks with soft seating underneath the steps. Above, cantilevered boxes housing staff areas overlook the whole space, allowing for passive supervision.
Staircases link from the centre to circular balconies on the first and second floor, where each wing has its own faculty breakout area, used by its surrounding classrooms. "They're like university seminar areas," describes Ardill. "Groups of pupils can work there away from the classroom desks. It gives more flexibility with teaching practice, and it's a bit more mature."
The atmosphere changes from quiet and contemplative on the outer circumference, where classrooms and library areas are situated, to more animated as one moves into the middle of the plan. In between lessons, the whole school gravitates towards the building's voluminous nucleus.
"The idea was to create a three-dimensional cathedral-like space, which has a clarity in its layout but isn't disciplined in terms of space," says Ardill. "We wanted to make the transitions fluid between one type of space and another, blur the boundaries between separate areas, and give it dynamism and unpredictability."
Due to planning constraints, the exterior of the building is calm and austere, but in contrast, the interior decoration is bolder. Its stripped-back architectural language is made more cheerful with accent colours that highlight the minimal internal structure. Ardill explains that "we wanted the architecture to be legible, because it reflects the school's philosophy of transparency and community."