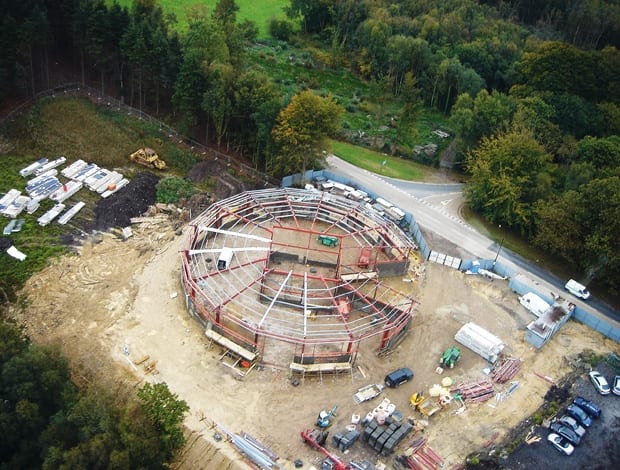 Arial view of 17 sided steel structure|Interior shot of the project taken April 09|External view of building site in progress|Original scale model of building||
Geoff Fox was browsing ebay for scrap metal one evening when he stumbled across a disused building for sale. The owners were stunned when his team turned up and dismantled it, piece by piece for rebuilding
Geoff Fox works for Solar UK, a solar research, development and manufacturing centre, which capitalises on energy converted from the sun.
When it came to salvaging an old building in Coventry, dismantling and reconfiguring it into the new company HQ in Sussex, he managed to harness the energy and goodwill of the entire company, making Solar UK client, project manager and, to some extent, contractor, on the build.
"It was virtually impossible to find people to take on a recycled building" he explains. "Plus companies do not have the skills required to redesign a new building from an existing one."
Fortunately, the fit-out skills of Solar UK's workforce, who install solar water heating systems, could be converted to create a workforce fit for the project.
Buying a disused building to reuse for the HQ was not an intentional move however. Fox was on eBay on Christmas Eve 2007, looking to buy some steel when the search engine threw up the out-of-use training building, belonging to the city college.
"A deal had been struck by New Year's day," he says, "and work began at the end of the summer, on dismantling the building, part by part, and transporting it, in 38 lorries, to an acre of land in East Sussex.
"The building was going to be bulldozed and sent to landfill. I think they had put it up for online auction for some pocket money – expecting people to come and buy the steel to sell as scrap. They weren't quite expecting someone to come and salvage the whole thing", Fox says.
"I think they had put it up for online auction for some pocket money. They weren't quite expecting someone to come and salvage the whole thing"
It became Solar UK's job to take the building apart, over the course of six weeks of "bloody hard work", with staff on rotas of two or three weeks at a time. "You can't hire in contractors for this kind of task; it's a job that required a real involvement, and commitment to the cause" Fox explains.
There were only three areas in East Sussex where planning permission was possible, so the plot was already purchased when the building came along.
Logistical problems led to the decision to reconfigure the building from its original oblong structure, to a 17-sided building. The build team had to be able to turn a 40ft articulated lorry around on the site, "with a rectangular structure this would really have limited the space we had to construct a building" Fox explains. "A circular building you can use as a roundabout for lorries, and we managed to get double the size of building from the same plot of land."
"It is hard enough to have an idea you put forward taken up," Fox says, especially one so unorthodox. "Without the backing of district council senior planner, Andy Rowlands, the new factory and headquarters, designed to support 200 plus people, would never have happened".
Steel frame specialists were bought on for the construction process, and consultant engineers to fathom the folders of calculations to create the geometrical model. The architect of the original building got on board, providing original specifications to help with conversion of his building. "It gave a positive spin to the story," Fox explains. "He was devastated when he found out the building was being demolished."
Getting the most out of something seems to be a given with Fox, with every last hinge, screw, nut, bolt, fire alarm system – and solid ash door of the college, being reused.
Building, painting and installation work was taken on board by Solar UK staff.
Being a solar company, the building harnesses natural light with a central lightwell. "An added benefit of the circular building is that everyone working near the edge will get daylight," Fox explains, "also people on opposite sides of a round building are more likely to move around and communicate."
For insulation the company used straw bales, a method Fox advocates as being twice as effective, and half the price of regular insulation, as well as keeping future running costs down. In fact, on the back of this project, straw bale work could soon become a new arm of the Solar UK business.
The underfloor heating is constructed out of an old recycled coal store from Gatwick airport. As well as being solar powered the site will have a wind turbine and any surplus energy will be fed into the national grid.
Once the structure is complete the building is to be clad in dark green granite, "a natural material that will match the landscape", Fox says.
The furniture for the new building came from a local company that was moving to France. "It was close to be being dumped in a skip, we took it off their hands, and in return made a donation to a local charity on their behalf," Fox explains. Everyone's a winner.
Salvaging materials, however, is not just about saving money – although Fox estimates a saving of between £300,000-£400,000 – it's about the recycling: "the savings are a by-product of that".
"We started the business in 1998 in a converted farm building next to some cowsheds, we had completely outgrown the site. Every out-building that could be, had been hijacked and adapted."
For the staff the reward is not just moving out of the cowsheds. The team effort and real sense of achievement gained from the project makes the new HQ all the sweeter and the project is much loved already – in fact, the roofer has asked if he can get married in the building – Solar UK said 'yes' and his wedding will pre-empt the launch party this summer.