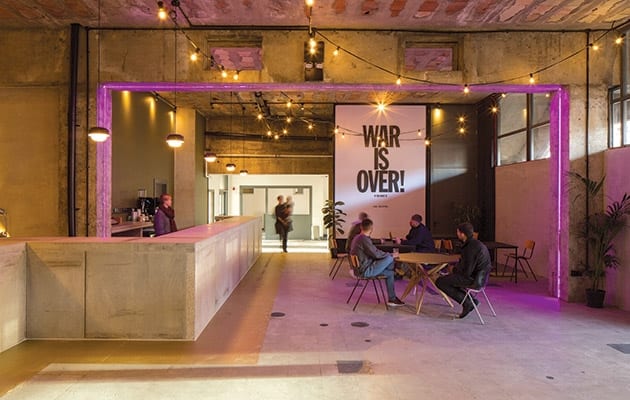 Photography by: Lewis Khan|||
As urban grit goes, the environs of new "meanwhile" workplace the Silver Building are about as gritty as can be. Deep in London Docklands, this creative outpost may only be a few minutes' walk from the redeveloped Royal Victoria Dock, with its Emirates Air Line cable car, hotels and neat new housing, but it feels far further. Passing from one to the other via a passage beneath the bleak elevated dual carriageway that separates the two is a bit like popping up through a wormhole to another world, according to Nick Hartwright, the social entrepreneur behind the 4,600sq m Silver Building's new incarnation.
"It's the only place we can get an old building cheap,' he laughs, of the rather bleak post-industrial location. On the one hand he is joking – with its brutalist aesthetic, resilience and adaptability, the 1960s Silver Building is just the sort of building that Hartwright admires, and one that seems absolutely right for the creative spaces with character that he provides. On the other hand, it's certainly true that post-industrial sites reasonably close to the centre of London are getting far harder to find – and there's usually a good reason why those still left haven't been redeveloped. Despite its handiness for the DLR, and with a site that stretches down to the river, the Silver Building's challenging location hard against the elevated road is not easy to love.
The 1963 building was once brewery company offices
However, like the nearby Millennium Mills site, this part of West Silvertown is on the brink of great change, courtesy of ambitious plans for 5,500 residential units, a park and 37,000sq m of commercial space. But will this regeneration succeed in relating meaningfully to its local community and tradition of small light industry? Or will this be the sort of Docklands regeneration that leaves no trace of what went before and struggles for a sense of identity? This is where the Silver Building comes in. Through providing a "meanwhile" creative use, it can play an important role in shaping the longer-term outcome of the site.
That is Hartwright's hope. He is acutely aware of the scenario of many a redevelopment that has benefited from the creative community making a down-at-heel area more attractive only to price it out of the final result. "That's not regeneration, that's displacement. The only way to solve this is to be part of the process," he says. "There's a lot we can get out of this."
The big build space was unoccupied for 20 years
He reckons he can do just this by engaging early with the developers. Having bought an eight-year lease for the building from landowners Keystone Developments and the GLA, he is in the process of negotiating a deal to take on the commercial spaces and guarantee the continuation of a significant portion of affordable creative space when the long-term redevelopment goes ahead. He recently achieved this at Bernard Works in Tottenham, securing a long-term agreementat a major discount to market rents.
Now renovated, the triple-height space is used for building sets
"We're getting into an agreement early on with the developers in return for a fixed price point option on the permanent place," he says, adding that this is likely to include a blend of affordable and intermediary workspace. In this way, the Silver Building community can potentially be decanted into the new build.
This long-term provision is typical of his commitment to providing affordable workspace for creative businesses, which he fell into after running a rug design and manufacture business. "Startups and small businesses are the ones who can grow and change areas. Without them, we'd have a very boring city," he says, adding that developers are becoming more interested in what these businesses can bring.
The Silver Building offers affordable creative space for businesses
He also established the Green Rooms in Wood Green, an affordable hotel for actors and artists (OnOffice October 2016). The Silver Building, which launches this month, is his 12th venture, with 34 no-frills spaces from 200sq ft (18sq m) single studios to 10,000sq ft (930sq m) at £15-20 sq ft – way below market rates.
Designed by Munce & Kennedy in 1963 and once occupied by the Carlsberg Tetley Brewing Company, the building had been unoccupied, except for squatters and ravers, for 20 years and was suffering from leaks, pigeon guano and a general state of mess – it had never been properly cleared out and was awash with filing cabinets, old computers and office debris.
Hartwright saw its potential and secured GLA funding of £458,000 from the London Regeneration Fund (now the Good Growth Fund) for site clearance including asbestos removal. He spent a further £1.4m on turning "this big concrete monster" into a creative hub for the Newham community. Its repurposing as affordable workspace has been carried out by architectural practice SODA, with which Hartwright collaborated on Green Rooms, and in-house designer Justin Burt.
SODA's interventions have been relatively light touch and appropriately utilitarian given the limited lifespan, adding a lift and servicing and stripping back suspended ceilings to reveal both the generous proportions and the concrete structure and servicing.
Stripped-back interiors and simple materials give a raw effect
Combined with simple, economical materials, this gives a raw, found space quality to the building. "We're trying to be true to the architecture we find, and let the building speak for itself, warts and all. It's an unashamedly straightforward and really simple and plain refurbishment," says SODA director Russell Potter.
The former canteen kitchen is stripped back and repurposed as the building's new entrance and concrete-panelled reception/cafe area, which everyone passes through on their way to the main staircase. Here, Hartwright and SODA were particularly fortunate in the fine quality and proportions of the original dog-leg staircase, with its terrazzo flooring and timber balustrading. Plenty of further communal and events space throughout the development encourages tenant interaction.
SODA's interior uses concrete to echo the space's utilitarian ethos
Most studios are reached off a central corridor along the two upper floors with further quirky spaces carved out of the former plant room."We used every single bit of the building to get workable space," says Hartwright.
One of the most dramatic spaces is a 930sq m triple-height workshop to be occupied by set builders Block9. This is being created in the former canteen by removing a suspended ceiling and inserting roller shutter-door truck access. SODA has introduced high-level windows so that those in the mezzanine breakout area can get a view of the activity. This studio is just the sort of exemplar unit that Hartwright expects will prove useful to help the architect of the redevelopment, John McAslan + Partners, understand what kinds of space work best, acting as a valuable part of the discovery phase for the longer-term development plans.
Large windows and overhead lighting enable technical work
When I visited in July, the finishing touches were yet to be done, including large 3D letters to signal the building's name on the rooftop. Already, however, all the spaces are let. While the commercial success of the meanwhile use is important, for Hartwright it's the success of the individual businesses that matters too.
But the real prize is ensuring that the Silver Building's emerging DNA is hard-wired into the permanent development so that affordable creative space remains an important part of the site's identity. While these negotiations are still to be concluded, Hartwright is confident that he can pull off the deal and ensure that even if the Silver Building itself doesn't survive, its meanwhile tenants and their ilk become key residents of what will replace it.
Nick Hartwright's new Silvertown 'meanwhile space' is putting startups at the heart of local regeneration