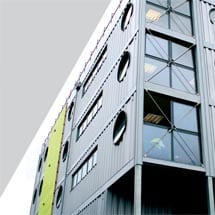 Words by Sarah Brownlee
Container City is a pioneering series of projects by Urban Space Management using shipping containers to create buildings. Sarah Brownlee went to experience the latest creation in east London
The eco-centric among you might have heard of Container City. It's one of those concepts, along with the uber-efficient Huf Haus, that's become a bi-word for sustainable building.
The first Container City project was completed in 2001 at Trinity Buoy Wharf in London's Docklands. Made up of 87 per cent recycled materials, Container City 1 was commendably green but, most importantly, it met demand for affordable work space in the area; providing 12 work studios and three live/work apartments in total. And its (very) basic premise – that shipping containers make for remarkably low-cost and efficient working and living environments – was quite rightly applauded.
Several years on and Container City projects of various shapes and sizes have popped up elsewhere in London as well as locations further afield such as Argyll and Bute in Scotland, all sporting porthole-style windows and clunky corrugated facades. And most recently one has landed in Pinchin Street, east London, a stone's throw away from Shadwell tube and Docklands Light Railway stations.
Believe it or not, London is still short of affordable office space, even in a relatively poor borough like Tower Hamlets. This latest project manages to meet this demand as well as the shortfall in primary healthcare provision. The first two floors of the scheme are home to Shadwell's newest general practice, while the top three are split into nine separate workspaces. Among the potential tenants are The Bromley Trust, some architects and a photographer – most of the tenants are expected to come from the "creative industries".
The building was commissioned by its next-door neighbour The Environment Trust – a London-based charity that, among countless other duties, has a responsibility to provide affordable workspace in the area. The Trust leases the land from Network Rail, which owns the DLR track situated just metres away from the site.
Harold Garner, senior projects officer at the Trust, acknowledges that as an organisation with environmental issues at the heart of its business, it made sense to get the Container City folk (that is the company Urban Space Management, who trademarked the system back in 2000) on board, but having worked with the team on smaller projects in the past he was more impressed by the system's speedy construction. "One of the problems of developing on land next to a railway line is the construction time and traditional new builds can take up to a year to complete," he says – a period of disruption that Network Rail would not have accepted. "The containers were craned onto site in just seven days so you've got no ongoing construction and very little mess and dust to deal with. In that respect the system is financially sustainable as well as being quite environmentally sustainable."
The Trust has spent £1.2 million on the project and clearly feels it's been money well spent (Container City generally comes out way ahead of the competition with regard to cost per square foot), but the tenants get their money's worth too – not only from the reasonable rents they are charged but also from low running costs.
The nine units above the general practice are serviced individually with electric heaters to minimise heat wastage, although Urban Space's preferred energy source is heat pumps, and the communal staircases and lift tower are cunningly situated outside so they don't need to be heated at all. Container City's big selling point is that it complies fully, and then some, with Part L of the Building Regulations. The structures require minimal concrete foundations, because although the containers are strong they are surprisingly lightweight, and they are naturally ventilated so there's no need for air conditioning.
Additional environmental features include rainwater harvesting facilities, wind turbines and green (that is grass) roofs. A plant nursery will be cultivated on the roof of the Pinchin Street premises. This is a bonus for the tenants who will get to sun themselves in the green haven during work breaks, but also the wider community as the Trust will take the plants and vegetables grown there to local schools for use in education projects – although most kids might be excited enough just to learn that their local doctor's surgery is actually made up of shipping containers.
Urban Space snaps up its redundant containers from anything between £750 and a couple of thousand pounds, and their sea-faring qualities make them a particularly sturdy prospect, as Container City's creator Eric Reynolds explains: "These containers are meant to withstand a minimum of 50 years' life at sea, where they will be potentially bashed and crashed about." This building is insured for 30 years, but there is no reason why it can't last forever. "And the thing about them is that they can be deconstructed almost as easily as they are constructed so you can take your investment with you and build on it if you so wish," adds Reynolds. He is hard pushed to think of an entirely sustainable building system: "If you grew your own that would probably be the most sustainable," he quips, "but no, these are pretty good. And it is certainly the only system available where the actual structure is 100 per cent recycled."
Whether you're impressed by the system's eco credentials or not, you certainly can't quibble over its efficiency. The containers are fitted out off site, craned into place and slotted together on site "a bit like lego". The biggest sized container is 12m by 2.5m while the smallest is 6m by 2.5m. Where more room is required the sides are simply removed to create more space, and conventional office set ups can be built within them with the simple application of stud walls. Were it not for the telltale exterior you wouldn't know you were in shipping containers at all – well, certainly in the bottom two floors where corridors and rooms are set out like any normal doctor's surgery.
In architectural terms, it's all pretty straightforward, but there's still room for creative flair, according to Urban Space architect Ebru Sural. "It's a prefabricated system so you do need to be creative with it. Whether or not we clad them depends on the location of the project. We are doing one for a farmers' market, for example, that is going to be entirely clad in timber and have a pitched roof and you would never know it was a shipping container," he says. "Although I find that a bit sad because if you're building something for the 21st century you want it to look like its from the 21st century. And the containers have their own character."
The Pinchin Street building certainly seems a good fit for its surroundings. It couldn't be more different to the 19th-century warehouse building next door (where the Environment Trust is happily ensconced), but the area itself is far from twee and the steely, grey facade simply adds to the hotch-potch of building types around, although its industrial appearance is a good match for the DLR track that runs alongside it. Incidentally, you can barely hear the trains when you're indoors thanks to the building's hefty insulation.
A lot of the Container City projects so far have been pretty colourful affairs, especially where outside architects (as opposed to the in-house team) have been involved, which serves to emphasise the lego-like quality of the system. Alsop Architects utilised the system for its design for the Fawood Children's Centre, which was later shortlisted for a RIBA Stirling Prize. Meanwhile, over in New York, Urban Space is working with ABK Architects on a particularly stylish development for residential and commercial use, which boasts a slick, heavily glazed frontage and bright, rusty-red framing.
The only real flashes of colour on the Pinchin Street plot come with the application of a lime-green balustrade that runs up and down the building and some coloured lights on the front. But the plant nursery will probably provide the most colour when it's in bloom. Boasting spectacular views over central London and Docklands, the nursery is undoubtedly one of the scheme's best assets. Looking out across the skyline it's easy to pick out key London landmarks including Canary Wharf and the Gherkin, and although one of the city's most infamous locations is round the corner – Cable Street, scene of a street battle that saw the British Union of Fascists leader Oswald Moseley's mob well and truly defeated by local anti-fascists in 1936 – it seems only right and proper that a scheme such as this, with high social and environmental values, should be built close by. Walking down Cable Street to get back to Shadwell DLR station you can't help but think it's decent housing, never mind office space, that this area really requires. There's no doubt that the project will benefit the community, not just by providing much-needed health facilities and affordable office space, but just by being there and getting noticed, which is something that Container City projects seem to do very well.