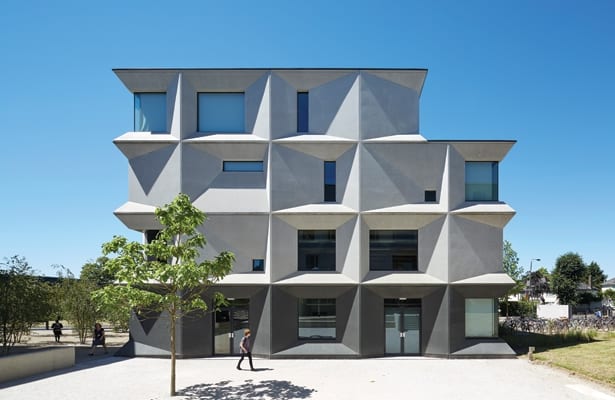 |||
Over a quarter of the 37 projects to win RIBA National Awards this year were schools. Educational buildings therefore dominated the roster, rivalled only by residential projects, and two even made it to the six-strong Stirling Prize shortlist. At the announcement, RIBA president Stephen Hodder said the UK was "blighted" by dilapidated school buildings, adding that well-designed schools have the power to inspire students and teachers but "this doesn't mean every new school needs to be a showstopper."
The winning buildings, summarised here, vary in style (from showstoppers to more demure offerings) but are more unified in their approach, showing a broad shift in the way schools are designed. The changes are seen by many architects to echo the transformation in workplace architecture principles of recent years, prioritising collaboration, openness, connectivity and even agile working, and the general concept that great spaces can improve productivity.
For Burntwood School, AHMM designed six new buildings to sit alongside a series of existing 1950s modernist buildings, forming one coherent campus. This is brought together by a central 'pedestrian spine', intending to create a collegiate feel. Similarly, the interior of each new teaching building is planned around a central corridor, and uses double-height spaces and voids to bring in natural light. The regularity of the modular interior is denoted on the building's exterior, clad in sections of pre-cast concrete, creating a bold demeanour that announces its presence unashamedly. This project is nominated for the Stirling Prize.
Alfriston School
Buckinghamshire
by Duggan Morris Architects
The origami timber form of this swimming pool building by Duggan Morris Architects has arguably received the most press attention of all, with just cause. A geometric, folded form of wooden slats seems to float above the charcoal grey concrete base, creating a subtle optical illusion thanks to a recessed glass strip separating the two sections. The pitched roof, inspired by other buildings at the school, is constructed using cross-laminated timber trusses and helps to reduce sound reverberation in the pool area.
Ashmount Primary School
London
by Penoyre & Prasad
This primary school in Islington has achieved carbon-negative status and a BREEAM Outstanding Award for the highest score in the education sector. The design uses minimal energy, but the energy it does require is provided by on-site renewables and a gas-fired CHP plant, which also provide heat and power to neighbouring housing. It is clad in warm-coloured cedar on a brick plinth, sympathetic to the woodland it overlooks, and planned around a central spine. The school features a wonderfully light double-height multipurpose room, toplit auditorium and rooftop playgrounds.
Arcadia Nursery
Edinburgh
by Malcolm Fraser Architects
Malcolm Fraser's Arcadia Nursery for the University of Edinburgh is designed around a 'free-play' concept, allowing children (aged up to five years) more independence to choose which activities they would like to do, or whether to play inside or outside. Each age group has its own playroom, given a domestic, welcoming environment, linked by a single-storey building with a large rooflight. The cross-laminated timber building achieved a 82.2% BREEAM score (just below Outstanding) at design stage.
The year's best new buildings are pioneering a new approach to educational architecture