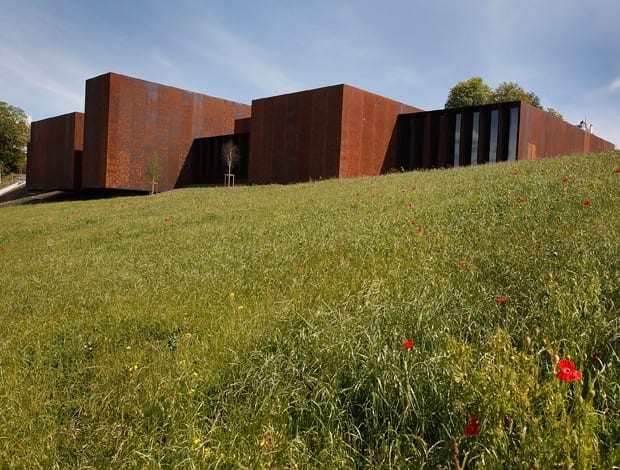 Soulages himself sat on the judging panel for the architecture competition|The building is a clever interpretation of Soulages' art|94-year-old Soulages in one of the gallery spaces|Each space was designed to suit Soulages various works|The artist is best known for exploring how light reflects off the colour black|The museum houses 500 works donated by Soulages to the city of Rodez|Daylight levels are controlled in the galleries to protect the more fragile works||
The French abstract artist gets a suitably monumental, Corten steel-clad building to house his life's work
Museums devoted to a single artist tend to fall into two camps: some, architecturally, have little or nothing in common with the aesthetic of the artist in question. The ordinary-looking exterior of the Andy Warhol Museum in Pittsburgh gives no indication that it houses Warhol's work. Yet the extraordinary facade of the Salvador Dalí Museum in Figueres, Spain, crowned with crazy, gigantic eggs, broadcasts its links with surrealism, even if not with Dalí specifically.
The recently built Soulages Museum, devoted to the work of French artist Pierre Soulages and based in his home town of Rodez in southern France, is clearly intended to embody his aesthetic. Now 94, he is best-known for being a member of the tachisme art movement in the 1940s and 50s, generally considered the Gallic counterpart to American expressionism. Tachisme is derived from the French word for 'stain', and in 1948, Soulages embarked on a series of idiosyncratic, abstract paintings featuring boldly gestural, loosely calligraphic marks created using stains from walnuts and tar. In the late 70s, he began creating his most famous, all-black, highly visceral canvases boasting various textures and finishes – matt or glossy, flat or ridged – which he dubbed outrenoir.
"I don't paint black itself, but rather the light black reflects," he says.
Nature, ancient art and medieval architecture have been Soulages' main influences, hence his work's primeval, elemental aesthetic. He was wowed as a child by a reproduction of a prehistoric painting of bison in Spain's Cave of Altamira, and later by the landscapes of Aveyron, the area around Rodez, with wide open plat-eaus populated by its statues-menhir (standing stones).
Since 2005, Soulages and his wife Colette have donated more than 500 of his works to the Greater Rodez Authority, which are now housed in the museum. Inaugurated last May, the building was designed by Catalan practice RCR Arquitectes with French architects Passelac & Roques. Situated in the appropriately natural setting of the town's Foirail park, it comprises a series of cuboid forms at different heights (aptly redolent of canvases) clad in Corten steel.
"The Corten steel ages with time and perfectly suits its natural surroundings," says Gilles Trégouët of RCR Arquitectes. "It's not lifeless and sanitised. And its colour range echoes Rodez's pink-grey colours."
Described by some as neo-brutalist in style, the museum is a clever architectural interpretation of Soulages' art, given the starkly obvious parallels between its organically textured facades and abstract forms and his paintings. In fact, Soulages – who once said "I feel closer to stone, wood and rust than nickel or lacquer" – sat on the jury judging the competition for the project, won by RCR Arquitectes in 2007. The four-storey museum, whose entrance, by contrast, is glazed, includes a permanent exhibition space displaying Soulages' output, a temporary one for showing work by contemporary artists and an educational area for children. Soulages was keen that the museum be accessible, not elitist.
Inside, daylight levels are controlled. Fragile works on paper hang in dimly lit rooms, comparatively robust canvases in daylight-flooded spaces. And, in a further sign of architecture echoing the art, many of the rooms are painted in sombre hues.
This moving, metallic monument to Soulages should prove a magnet to lovers of modern art.