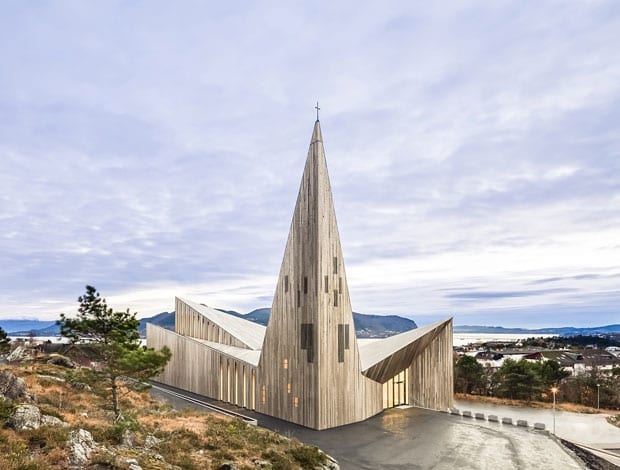 The church's cross-topped spire dominates the town below|The Oslo-based firm aimed to reinterpret Norway's medieval stave churches|The church is on two levels, and drops down away from the road|A reinterpretation of the traditional rose window|A timber and stained-glass window mimics traditional tracery|Inset strip lighting follows the vertical order of the pine planks||
Shooting up and out from its fjord landscape, Reiulf Ramstad's angular church in the Norwegian town of Knarvik looks modern, but has firm roots in traditional ecclesiastical architecture
With its defiantly geometric form clad in wood inside and out, architect Reiulf Ramstad's church in the west Norwegian town of Knarvik at once abstracts and relates to the country's traditional ecclesiastical architecture.
The Oslo-based firm aimed to reinterpret Norway's medieval stave churches, stripping away all ornamentation to leave a volume comprised of angular slabs. The tallest pyramid denotes a spire – albeit a starkly modern version – but the three other segments are comparable with the layered construction of traditional stave churches, jutting up and outwards from the centre.
Its pine wrapping also references the historic buildings, which were made entirely from wood. "The church signals its function with a recognisable form," says Ramstad, explaining that it is distinctive from the original stave churches because of its "clear, elemental geometries and homogenous materials".
By using pre-weathered pine on the exterior, the otherwise-monolithic form of the building is softened by its varying natural tones. Its vertical planks, however, give the overall structure a strict uniformity, and the illusion that the building – particularly the steeple – is being stretched upwards.
The church overlooks the town and surrounding landscape from its hilltop location, and is sculpted to fit its inclined site. As such the interior spans two storeys: the chapel on the upper level, accessed by a side entrance, and rooms for cultural events and administrative offices downstairs, across a rectangular plan.
The facade at the base of the slope spans both tiers, and one can make out the horizontal divide through its two-storey-high strips of windows. These, and all the other windows, never break with the exterior's unyielding vertical bands.
On the spire, randomly placed clusters of long, narrow cuts in the surface are a more minimal version of an ecclesiastical lancet window. On the opposite end of the building, a circular group of similar perforations allow light through to a contemporary stained-glass feature window inside the chapel. Tall rectangular windows around the rest of the structure have been meticulously sized and placed to control natural light levels, while falling in line with the timber boards. Even within the chapel, the strip lights follow suit.
Inside, the chapel occupies an asymmetrical space created by the sloped roofs, also completely wrapped in pine, this time raw, unweathered and pale in colour. It gives the interior a calm atmosphere (if a slight sauna vibe). Still, such a voluminous space pared back to its simplest aesthetic is just as stirring as the most grandiose of churches.