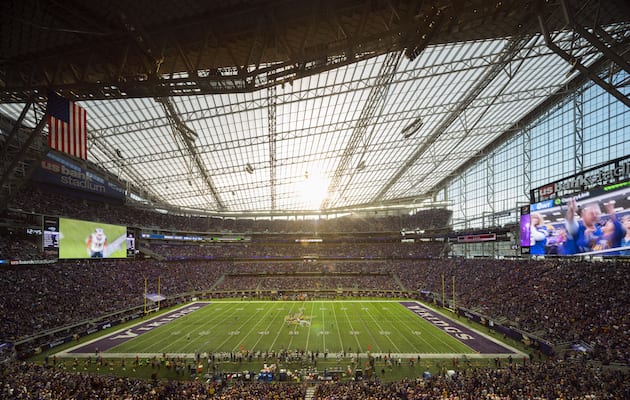 |||
Its been one year since the US Bank Stadium opened its doors.
Architect: HKS Architects
Our mission was to create a stadium that celebrates the people of Minnesota – a venue that offers an unparalleled fan experience inside the stadium and drives economic development in the neighbourhood.
Home to the Minnesota Vikings NFL team, US Bank Stadium is known as 'The People's Stadium'.
It has hosted global events such as the Super Bowl and the NCAA Final Four.
We designed it to reflect the local culture, climate and context, drawing inspiration from nearby ice formations and Scandinavian design like Viking longboats.
Two of its notable design innovations include the Legacy Gate, comprised of five, pivoting 29m glass doors, and the first ETFE roof in a US stadium. When open, the Legacy Gate connects the stadium to its adjacent urban plaza.
The translucent ETFE roof withstands the brutal climate, while flooding the interior with daylight, creating the feeling of being outdoors without subjecting players or fans to the elements.
The stadium provides Minneapolis with a year-round venue for concerts, baseball, high school and college athletics, which has catalysed economic development.
Since its opening, more than $2bn in private and public investment has been injected into the neighbourhood.
Client: Minnesota Sports Facilities Authority
US Bank Stadium is an epicentre of sports, entertainment and community events, in the heart of downtown Minneapolis. Its unprecedented design, public-private partnership, and best-inclass fan experience puts it ahead of the game.
The mission of US Bank Stadium is to contribute to economic prosperity in the Twin Cities and greater Minnesota, through a wide range of events including the Minnesota Vikings, University of Minnesota baseball, and Minnesota State High School League championships.
The 66,000-seat facility serves as centre stage for national and international entertainment, while also hosting various local sporting events, international concert tours, family shows, conventions, trade/consumer shows, and other large and small activities.
The unique architecture allows for the perfect blend of flexibility and functionality necessary for hosting any type of event.
Featuring the largest ethylene-tetrafluoroethylene (ETFE) roof on a sports facility in the United States, soaring glass walls and the world's largest pivoting glass doors, US Bank Stadium provides a true indoor-outdoor experience, giving guests the best of both worlds.
With the Superbowl fast-approaching, OnOffice takes a look at an unconventional and often-overlooked workplace… the sports stadium