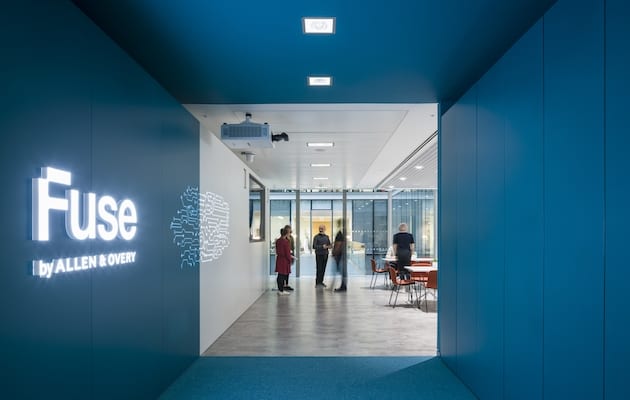 'Fuse' by Jump Studios|||
Jump Studios designed a collaborative new space for Fuse, the tech innovation project within law firm Allen & Overy. We find out how it's working, in our regular feature, One Year In
Read more from One Year In inside every issue of OnOffice – get your copy here
CLIENT: Allen & Overy
While Allen & Overy's London office is what you might expect from a city law firm, it was important to us to differentiate Fuse in a meaningful fashion. Right from the start, we knew our purpose was to enable our lawyers to engage and interact with technology in a very different way than they were used to. In order to foster the ethos of collaborative working, it was important to have an open-plan environment that was welcoming to lawyers across all levels of seniority.
Since launch in September 2017, Fuse has had over 14,000 visitors and much of this can be attributed to the office space. When you enter Fuse, you don't feel like you're walking in to a law firm – rather, you get the very real sense that this is a creative environment where legal technologies of the future are being developed. Lawyers from around the building are encouraged to come to Fuse and meet the companies in the cohort, as are clients. There are no barriers between the people sitting in Fuse and this means that conversations can take place on an easy, fluid and relaxed basis. It has really captured the essence of the open and inclusive workspace we wanted.
ARCHITECT: JUMP STUDIOS
Fuse challenges the perception of the generic office environment by creating a tech innovation space within the London office of international law firm Allen & Overy. The space has now welcomed its third cohort alongside the firm's lawyers and technologists and is also configured to be able to accommodate client visits.
Increasingly, we are seeing companies looking to gain more value from their workspaces by hosting alternative spaces which nurture and support innovation and collaboration with both internal and external stakeholders.
It is this collaborative nature that makes Fuse so successful – and this is what drove our design concept, to provide a socially engaging and collaborative space for cross-business integration of legal practice with technology and service innovation. As such, the interior offers a range of social, intimate and informal working areas that stimulate conversation between the lawyers-in-residence and the companies in Fuse.
We used a teal-blue entry portal to mark the gateway into the workspace in order to differentiate it from the hierarchical, cellular culture of traditional office models. This opens up into a generous area for social, collaborative and flexible use, comprising loose-fitting breakout furniture, a coffee area and a multifunctional event space for talks, workshops and external events which is so flexible that it currently houses a pilot team headed by the Bank of England and the FCA.
The access-controlled 'glass box' hub enables Allen & Overy's lawyers to conduct confidential business in private while remaining visually accessible to the rest of the office space, maintaining interaction between the two groups.
OnOffice catches up with international law firm Allen & Overy one year after moving into their new London office