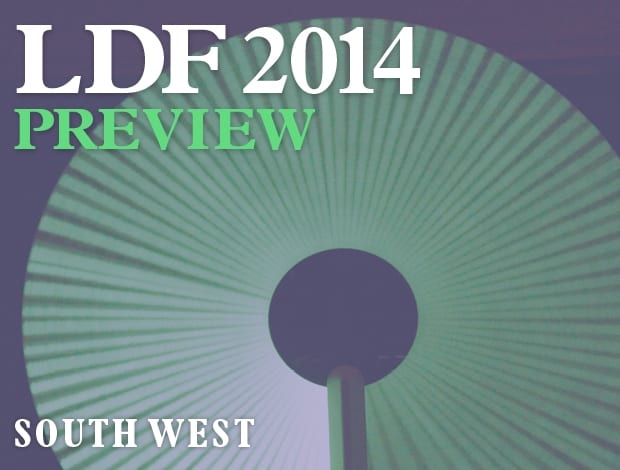 ||
The Wish List
Sebastian Cox with Sir Terence Conran
A roll call of acclaimed designers and architects that includes Zaha Hadid, Norman Foster and Richard and Ab Rogers are mentoring up-and-coming names, who they have tasked with making specific products for them out of American Hardwood.
The project was conceived by Benchmark co-founder Terence Conran and the American Hardwood Export Council (AHEC). The finished products – the world's first wooden furniture with full Life Cycle Analysis – will be exhibited at the V&A for the duration of LDF.
---
Zaha Hadid's Crest installation
Zaha Hadid's Crest installation will straddle the pool at the centre of the V&A's John Madejski Garden for the festival, before being relocated to the Hadid-designed ME Dubai hotel. The sweeping form will echo the curve of the courtyard paving, looking like it was always intended to be part of the space. It will be made in aluminium that is pre-stressed to make it as thin as possible, then assembled as a flat plate and bent into shape in situ. Hadid says the piece "will multiply the movements of the water and the historic backdrop", as its metallic surface will reflect the pool, the sky and the architecture.
---
Max Lamb talk
Furniture designer Max Lamb is known for his innovative approach to materials. He first made his name with the Pewter Stool, his graduate project from the RCA, which he sand-casted on a beach in Cornwall. For Milan this year, he worked with Dzek to produce Marmoreal, a new material combining coloured marble with a polyester resin to make a stronger, less porous and more durable stone for architectural applications. Lamb will be speaking about his influences and diverse portfolio at Sketch on Conduit Street on the evening of 21 September as part of the venue's ongoing creative talks series.
---
100% Design talks
Edward Barber (L) and Jay Osgerby (R)
18 September, 15.00 

Designing with data: is this the future for designing buildings?

A discussion on the future of building design with NBBJ partner Ryan Mullenix; Simon Allford, co-founder of AHMM (pictured); and professor Russell Foster, an expert on circadian neuroscience. Juliette Morgan from Tech City chairs the talk.
20 September, 10.00

What next for Ed Barber and Jay Osgerby?

As part of the Design Museum's 25th anniversary What Next? series, designers Edward Barber and Jay Osgerby will join the museum's director Deyan Sudjic to discuss their work and upcoming projects. This talk is a separately ticketed event.
20 September, 13.00

The big questions: What impact will synthetic biology have on design?

Kirsty Minns, creative director of The Future Laboratory, will chair a panel that includes architect Rachel Armstrong, who designs buildings that repair themselves; Daan Roosegaarde (pictured), designer of glow-in-the dark trees that harness the bioluminescent qualities of jellyfish; and Carole Collet, who has researched the possibility of reprogramming strawberry plants to create 'biolace' from their roots.
---
Oikos
Italian design company Oikos will be presenting the 'Oikos Google Glass' at B&B Italia's Brompton Road showroom. Visitors will be able to trial the voice-activated glass and assess their potential for architecture and design apps that could, for example, be used to visually modify the colour and matter of products.
---
Zeev Aram
Marking Zeev Aram's 50th anniversary in the London design industry, the pioneer of modern furniture will look back over his career and the changing cultural landscape in a talk at the V&A on 19 September. Aram has collaborated with architecture and design luminaries, such as Norman Foster and Eileen Gray, and introduced classic pieces to the UK market by Marcel Breuer, Le Corbusier and A&PG Castiglioni. He is well known for his support of up-and-coming designers, including being first to exhibit work by the young Thomas Heatherwick.