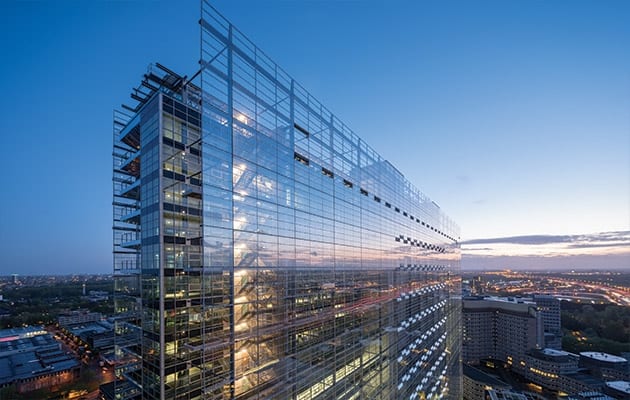 |||
It isn't very difficult to design a standout building in the second flattest country in the world. What might prove more challenging is designing a piece of architecture that is context-aware and beneficial to its incumbents as well as to the urban fabric it stretches over. Is this what the new European Patent Office has achieved?
The European Patent Office (EPO) has been providing patent protection for inventions in European countries since 1977. "It is the voice of Europe, and it is important for the knowledge economy," says the organisation's president Benoît Battistelli. "This new building expresses the values of the EPO: equality, efficiency, transparency, sustainability."
Rising from the outskirts of unpronounceable Rijswijk, just outside The Hague, the new EPO premises were designed by French architect Jean Nouvel and Dam & Partners Architecten of Amsterdam. The EPO site comprises two buildings – the New Main and the New Hinge – and sits just a few feet away from its old, weathered and asbestos-riddled counterpart. At the time of visit, this 1960s building is still in use but after the first wave of staff moves out in October this year, it will eventually be taken down and by 2020, replaced with a core element that promises to bring this entire site together – that is, of course, water.
Although the ground floor is still very much a dry bed, it isn't hard to visualise the reflective pool that will surround the two new additions, flooding over the transitional glass gallery which connects the main building to the New Hinge. "It's not a concrete esplanade, it's a mirror," says architect Jean Nouvel, who positioned the four-million-litrepond above Level 0, meaning that the entrance and lobby are literally underwater.
With its "mirror pool" and semi-reflective, low-iron glass surface, the New Main was designed to rise like a ship from the water and merge with the sky. "The glass is very important in the integration of this building," says Nouvel. "We built this in a flat country with a materiality that belongs to the country. It's subtle, I hope."
With its 156m height and admittedly slender 24.7m-wide profile, this high-rise ship of steel and glass is not exactly subtle, but that wouldn't be looking at it through quite the right lens, for subtlety lies in its inner workings. The particularity of the New Main lies in its double facade, and as Dam & Partners' Diederik Dam explains, the gap between the inner and outer shell serves as a climate buffer, as well as acoustic protection from the adjacent highway. "If you open your windows, you can still enjoy the fresh air in between," he says. "And on a technical level, these voids of air are also used differently in winter and summer."
This double facade is also home to an array of hanging gardens with 300 varieties of plants along the inner edge of the outer facade. "The linear gardens are a psychological extension of the workspace," Nouvel says, as we stand in one of the private office spaces, looking down and up at these freshly planted green planes.
Occupying 85,000sq m, the New Main building has capacity for 2,000 staff members, mostly patent examiners, and offers conditions far from the ubiquitous open-plan workstations seen elsewhere. As Battistelli says: "You need quiet to analyse each patent efficiently."
So, what exactly happens within these glass walls? In order for an invention to qualify for a patent, it must be new, inventive and industrially applicable. The examiners behind this complex assessment are each specialists in their own field, be it AI, digital technology, or something as specific as mechanical valves. These highly skilled intellects are all engineers who also trained as lawyers; they all have PhDs and speak English, French and German.
In 2017, the EPO received some 166,000 applications, 105,500 of which were granted a patent. And since one patent application must be assessed by three separate examiners, the EPO premises provides a mix of offices but also meeting rooms and open spaces, the proportions of which were decided according to the technological field or cluster, allowing for flexibility with easy-to-move partition walls.
Offices aside, the EPO also comprises lecture halls, hearing rooms for oral proceedings, a new red, blue and yellow fitness area, and a roof garden with sweeping views of the Low Countries. In Dam's words: "This is where you can experience theslimness of the building the best. On the east side, there is Rotterdam and your typical Dutch landscape. On the west side, you can see Rijswijk, The Hague and even the sea with oil ships passing by." He continues: "It seems obvious to say, but roofs are infinite opportunities. We enhanced the programme with a roof for people to meet, and in terms of architecture it's a continuation of the horizontality of the design."
Like a leitmotif of sorts, this horizontality keeps coming back, be it with Nouvel or Dam, who explains this was a "mutual adventure" from the start. "We have the same approach of making each project unique and contextual. We also have a tradition in not making volumes, but more a junction of planes," he says, drawing on the influence of two icons that perfectly symbolise this collaboration – Le Corbusier with his "plan libre", and Gerrit Rietveld, whose De Stijl Schröder House might well have inspired the primary-coloured fitness room. "One of the most interesting things is how this entire volume is monumental but delicate at once, and how it relates to a bigger landscape," Dam continues.
In 2017, the city council of Rijswijk approved a new vision for the Plaspoelpolder – the district where the EPO sits – highlighting its ambition to revitalise the area from mono-use to a diverse area. Project architect Haakon Brouwer of Dam & Partners believes the EPO provided a much-needed boost. "One of the ways to achieve a more vibrant urban area lies in densification, be it in transforming empty office space into housing, or making better use of land. When designing, we anticipated this, but because of the sheer programmatic need and the consequential size of the new building, we had to negotiate the interaction of the building on a far larger scale."
He continues: "Design a solid mass and it would overcast the area totally. Arbitrary design gestures would simply lose their meaning on this scale and in this context. Hence the poetic approach to design a modern 'mirage', or as Jean [Nouvel] puts it, the poetics of an abstract mysterious flagship: a rectangle of sky.
Ateliers Jean Nouvel and Dam & Partners' HQ for the European Patent Office is a 'modern mirage' that rises out of water to merge with the sky