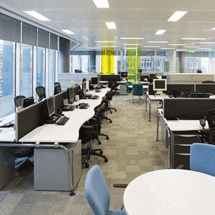 Blue Fin
There are a few things I want and expect from the offices of a commercial property development firm whose business runs into the gazillions. I want a glamorous building, obviously. I expect there will be accents of red and a liberal use of chrome. Generally, I should be reminded at every turn that big business happens within these walls. But more than anything, it doesn't hurt to have a painfully chic lounge area, preferably with fabulous city views – something that has the feeling of an Ian Schrager boutique hotel bar.
And this precise combination is delivered to me in the brand new offices of Mapeley Estates Limited – designed by Master Craft and housed in the Blue Fin Building in Southwark (glam building, check).
David Daly, Mapeley's corporate projects manager, explains that the hope was to break away from the feeling of their "tired and old" offices in Euston Tower. His explanation was simple: "We just wanted something we could show off a little bit."
And with that, we sweep through the double glass doors into the reception area, with its neutral carpets, porcelain tiles, recessed lighting scheme and understated taupe logo.
"We wanted something that is not ostentatious but quite slick and stylish, and that also mimics what is going on out there," says Daly, pointing towards the wall of windows overlooking the atrium of the building.
The one contrasting design element is three bright red Tom, Dick and Harry chairs by Boss Design, which were chosen because they are "BlackBerry friendly". Meeting rooms with custom-made walnut tables, pendant light fixtures and black leather and chrome chairs round off the corporate luxury motif.
The only slightly offbeat detail is a collection of photographs of the "guts" of some of the company's buildings, such as the nuts and bolts of the lift shaft, which have been hung throughout client-facing spaces as a way to illustrate Mapeley's business in an unusual way.
Master Craft designer Justin Chandler explains that a primary goal for the front of house was to showcase that Mapeley has come into its own as a powerhouse in the world of property. "It's meant to reflect how they've
grown as a company," said Chandler. "It's nice without going completely wild."
But what is really striking about the Mapeley offices is how the aesthetic changes so dramatically moving from the front of house to the back office space. Randomly patterned grey carpets made from 70 per cent recycled car seats lend some environmental credibility and funkiness, while the over-all palate shifts to white with splashes of (almost neon) colour. The offices of senior management are filled with industrial metal furniture, lime green felt and chrome chairs, which is quite a gear change from the taupe and oak veneers of the reception.
Six staff meeting rooms have colour manifestations on the windows (orange, green, blue, red etc), artwork and matching felt and chrome chairs.
"It would have been a bit stuffy to have the entire office as it is in the front," says Daly, tellingly. But Chandler reveals that it may not have been part of the plan: "We didn't sit down and decide it would be different, it just evolved really."
The main office space, which is about the size of a football pitch, is open plan with white-topped desking systems and Aeron chairs. "The chairs were about the only good thing we had in our old building other than the view, so we brought them over," he says.
Next we move into the crowning glory of Mapeley's new space – the lounge – where Daly tells me they've allowed themselves to have "a bit more fun". It's another gear change, to be certain, but all is forgiven because the black and green alcove sofas, cylindrical pendant lamps and white acrylic tables, sectioned off by hanging walls of red Algues – plastic seaweed-shaped elements designed by the Bouroullec brothers for Vitra – make up one of the grooviest office lounges ever. The only obvious downside is that it probably makes staff want a round of mojitos instead of a quick coffee and a brainstorm.
Around the corner is the "pantry", which has Wagamama-style timber benches for eating lunch, vending machines, a white foosball table and an entire wall covered with a photograph of the company's old view in Euston Tower.
The kitchen area is of course very slick with chrome cupboards and recycling bins, a red backsplash, oak barstools and rows of graphic black and white mugs. "It's more like a bar or cafe than an office tea point," says Daly, clearly understating things. "We didn't want to move somewhere and create the same feeling as in our old space – we wanted to try something a bit different."
From the sound of it, they have had success on that front. "We thought the changes would boost morale and make people work differently," says Daly. "That's what we got to do here – we were given a blank canvas."
Well done. Now where is that mojito.