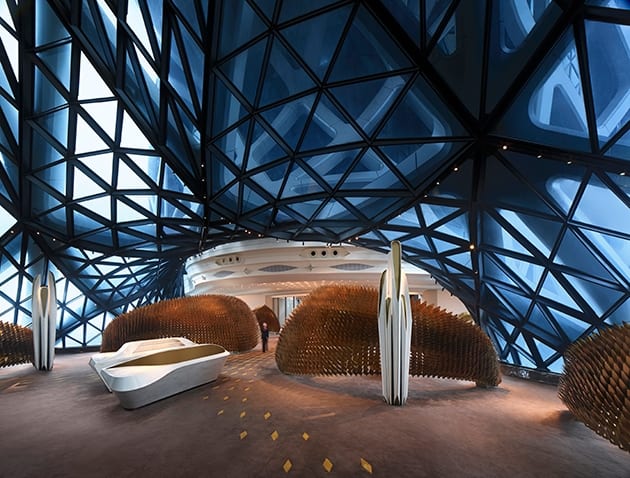 |||
Almost one year on from the opening of Morpheus Hotel in Macau in June 2018, how has the design by Zaha Hadid Architects performed, evolved and adapted?
CLIENT: Melco Resorts & Entertainment
From the very beginning, we shared Zaha Hadid Architects' vision and determination to push boundaries. Morpheus offers a journey of the imagination. From the building's spectacular free-form exterior to the dramatic interior spaces, it pleases the eye and excites the senses: a contemporary masterpiece to be enjoyed by many generations to come.
We were deeply committed to creating an outstanding building. Morpheus is an architectural masterpiece that raises the bar on Macau's leisure and entertainment, bringing together a world-class building with some of the most sought-after partners in hospitality, arts and entertainment.
The design is unique, both in terms of architecture and space planning. The lobby and bridge connections between the voids provide guests with extraordinary moments where they are immersed in the building's architecture while enjoying its superb facilities. The beautiful free-form exoskeleton creates dramatic interior spaces that are extremely adaptable, extending the overall life of the building.
We are pioneers of innovation, offering our guests truly unique and exhilarating accommodation and services. Morpheus' design set the stage for one of the most spectacular hotel experiences. I am immensely proud of everyone who worked on making this dream a reality.
Photos by Virgile Simon Bertrand
ARCHITECT: Zaha Hadid Architects
Morpheus' design combines dramatic public spaces and generous guest rooms with innovative engineering and formal cohesion.
The design revolves the hotel's many complex programmes within a single cohesive envelope housing 770 guest rooms, suites and sky villas. It includes civic spaces, meeting and event facilities, gaming rooms, lobby atrium, restaurants, spa and rooftop pool, as well as extensive back-of-house areas and ancillary facilities.
Zaha Hadid Architects (ZHA) was commissioned to build the hotel in 2012. At the time, foundations were already in place of a condominium tower that did not progress.
The Morpheus has been designed as a simple vertical extrusion of the existing abandoned foundations using this rectangular footprint to define a 40-storey building of two internal vertical circulation cores connected at podium
and roof levels where the many guest amenities were required.
A central atrium runs the height of the hotel and is traversed by external voids that define the hotel's dramatic public spaces. In between these voids, a series of bridges create unique spaces for the hotel's restaurants, bars and guest lounges by renowned chefs including Alain Ducasse and Pierre Hermé.
As one of the world's leading hotels, Morpheus' interior spaces necessitated a high degree of adaptability to accommodate the many varying requirements of its guest amenities.
Working with Buro Happold Engineering, ZHA designed the building's exoskeleton to optimise the interiors by creating spaces that are not interrupted by supporting walls or columns.
The world's first free-form high-rise exoskeleton, its rich pattern of structural members at lower levels progresses upwards to a less dense grid of lighter members at its summit.
Wellness: An innovative collection of experiences and spaces that cater to the wellbeing of guests
Light: Luxury facilities and overall comfort are at the heart of the five-star hotel's design
Comfort: Dynamic design maximises number of rooms with exterior views and access to natural lightDynamic design maximises number of rooms with exterior views and access to natural light
Flexibility: Interior spaces are extremely adaptable and help future-proof the buildingInterior spaces are extremely adaptable and help future-proof the building
How has Zaha Hadid Architects' hotel design for Morpheus in Macau shaped up since it was built?